Let's deal with the biggest Washington sports narrative of 2017 up top: nobody won anything this year. The Capitals and Nationals did their usual early-playoff-loss things again; the Washington football team is probably going to finish 8-8 and head into the off-season with a self-inflicted quarterback void; and the Wizards flourished late, but ran into the windmill of superior NBA talent. The championship drought continues untarnished heading into 2018. Heck, even DC United managed to tie for the worst record in Major League Soccer. Sounds like a sports year worth forgetting, yes? Hardly. Just because everyone lost, it doesn't mean there aren't still moments worth holding on. Here are seven of the best:
7. Bryce Harper, Food 'Grammer
When he's not sending Nationals fans into fits over whether he'll keep wearing curly W's beyond 2018, Bryce Harper has embarked on an occasional side project that doesn't require exceptional baseball skills: putting his food on Instagram. The right-fielder and his wife, Kayla, launched an account, @harp.eats, documenting some of their meals as they move between Washington, other MLB cities, and their off-season home in Las Vegas. They're fond of charcuterie, eat tacos for breakfast, and at least one of the Harpers eats steak frites with the fries directly on top of the meat. https://www.instagram.com/p/BW1zi1Xj33Q/ But, as Anna Spiegel noted in July, the commentary's a bit lacking. Still, if the Harpers are ever interested in elaborating on their culinary opinions, they follow Capitals defenseman Brooks Orpik's example and pitch us on their favorite restaurants.
6. DC Soccer Podcast > DC United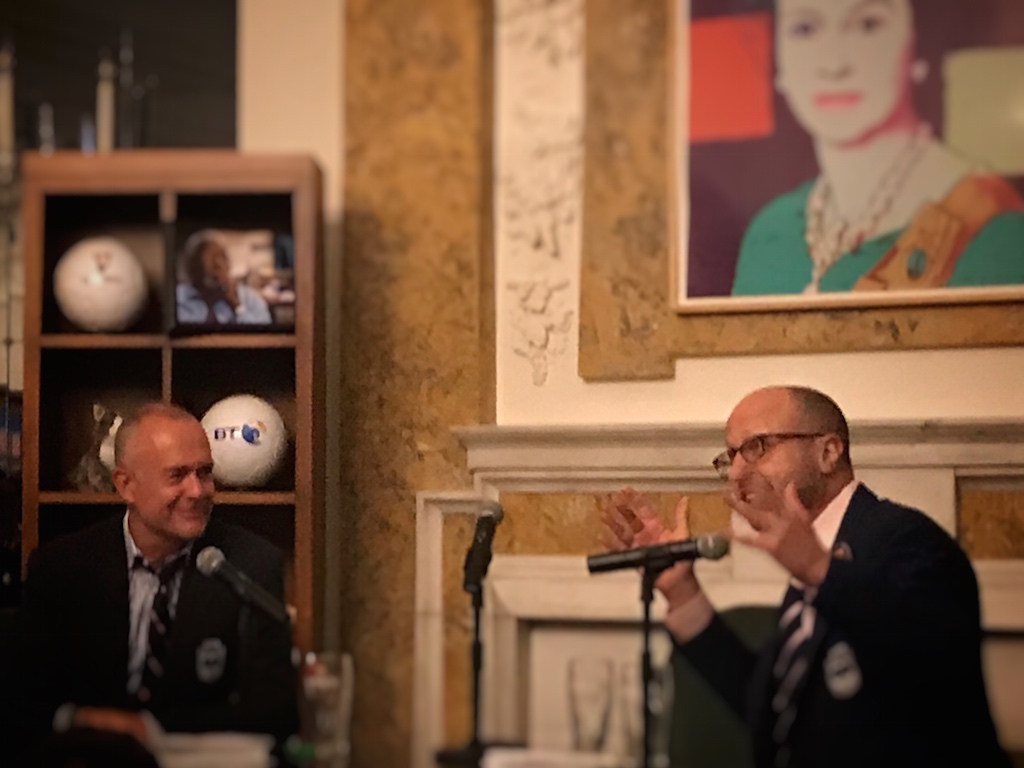 As much as DC United would like you to get excited for the new stadium opening next year in Southwest DC, they were trash on the pitch this year. But Washington was not entirely bereft of great footy experiences in 2017; you just had to be at the British Embassy the evening of August 16 for a recording of the popular podcast Men in Blazers. If you're into the English Premier League, this was your jam. Local supporters of scads of clubs showed up, and not just the #COYG-tweeting Arsenal fans and Man City front-runners. Rog and Davo brought supporters group repping the likes of Swansea City, West Ham United, even the second-tier Bolton Wanderers. Also, there was a cheese table and an endless supply of meat pies. Sounds like a great night of soccer.
5. Must Love Dogs and Strikeouts
Hurricane Harvey displaced thousands of animals when it inundated Texas. Storms of that magnitude usually result in the rescue and relocation of thousands of dogs to shelters outside the affected area, like, say Washington's Humane Rescue Alliance. But before taking in its hurricane rescues, the shelter had to clear some space, and to speed up the process, Nationals pitcher Max Scherzer and his wife, Erica May-Scherzer, paid the costs of all adoptions at Humane Rescue Alliance for four days following Harvey. (May-Scherzer sits on the shelter's board of directors.) The offer led to the quick adoption of more than 100 animals, Humane Rescue announced later.
4. Believe in the Wizards
Last season's Wizards squad did what the team hadn't done in quite a while: give fans confidence as they barnstormed toward the NBA's second-best record in the second half of the season. No, they're still not good enough to get past buzzsaw super-teams like the Cleveland Cavaliers, Boston Celtics, or Golden State Warriors, but they're building toward that. "They have the talent, chemistry, and edge to compete with the best of the league," long-suffering Wizards fan Jackson Knapp wrote for Washingtonian in February. "Let's get our hopes up. There's a lot else to be cynical about in Washington, so let's give this Wizards team our unwavering support, and help them make a deep run."
3. The Washington NFL Team's Name Isn't Going Anywhere
It's still a racial slur against Native Americans, but the name of Washington's NFL franchise got a new lease on viability—if not acceptability—in June when the Supreme Court issued a unanimous ruling in favor of a synth-pop band called the Slants, who had sought to trademark their name, despite it being seen as derogatory toward people of East Asian descent. (The band is comprised of Asian-American musicians.) The local NFL team might not have been party to the case, but the Supreme Court deals in precedent, and this one guaranteed that the team's federal trademark protection, which had been revoked by the US Patent and Trademark Office in 2014, would be reinstated. Dan Snyder said he was "THRILLED." (All caps Snyder's.)
2. The Nationals and Dread
This was an unhappy moment, but the Nationals' fourth playoff failure in six years confirmed the existential dread of cheering for this team. Once the National League Division Series reached a fifth game, was it ever in doubt the Nats would find a way to screw it all up again? Deep down, not really. So, once again, they've hit the reset button in the manager's job, sending Dusty Baker packing and giving first-time skipper Dave Martinez what will probably be the same short runway. And with the other four teams in the NL East looking like garbage headed into 2018, brace yourselves for more of the same.
1. The Wizards' "City Edition" Jerseys
This was a very late entry, but worth the wait. NBA fans have had mixed thoughts on Nike's takeover of the jersey contract (see: Christmas Day kits, lack of), but many of the alternate jerseys celebrating teams' hometowns revealed on Wednesday are great, and the Wizards got some of the best. Look at "the District of Columbia" instead of "Washington," the DC flag—which is subtly embedded in the team's main logo—front-and-center on the waistband, and how the piping on the sides of the jersey and shorts align to shape the Washington Monument, patterned to resemble a marble texture. The Wizards are only scheduled to wear these uniforms 12 times over the rest of the season, but they are instantly the best outfits of any Washington sports team. Athletes in other sports recognize this: Harper wants something like them for the Nationals, who haven't worn their alternate jerseys with an interlocking "DC" since 2011. Seriously, just look at how the Wizards' players reacted when they saw this get-up:
Welcome to The District. Introducing the City Edition. #NIKExNBA #DCFamily pic.twitter.com/iISr77ZM04

— Washington Wizards (@WashWizards) December 27, 2017
These jerseys might have salvaged what was otherwise a thoroughly mediocre year for DC sports.