The Hirshhorn Museum and Sculpture Garden has housed some pretty impressive exhibits in the past couple years, including Ai Weiwei's lego portraits, Yayoi Kusama's trippy Infinity Mirrors, and Ragnar Kjartansson's otherworldly takeover. But its lobby has  been a bit spare.
Melissa Chiu, the museum's director since 2014, says the museum could do more with its entrance hall. This week, it unveils a redesigned lobby, complete with 700-year-old tree roots and an outpost of Dolcezza Gelato. Japanese artist Hiroshi Sugimoto designed the revamp, which Chiu hopes will be a more social space.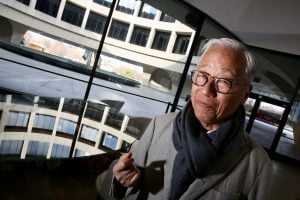 Sugimoto used roots from Japanese nutmeg tree that dates back to the 14th century as the bases for tables in the seating area. Chiu says that the lobby's walls, that were once reflective, are now glass, create a more open feel, along with a vista of the National Mall and some of the monuments. Above the space hangs a light sculpture resembling a rainbow disco ball, created by Icelandic artist Olafur Eliasson.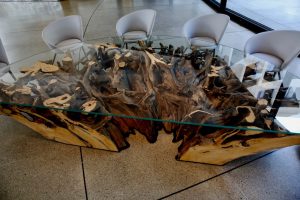 Sugimoto also designed Dolcezza's new coffee bar from brushed brass and tin, giving it a geometric pattern that almost resembles a fish's scales. Dolcezza, which has nine other shops around Washington, will be the first locally owned business to have a permanent presence at any of the Smithsonian museums. Dolcezza co-founder Violeta Edelman says she's proud of that achievement. The Hirshhorn café will be serving gelato push pops, espresso drinks, pastries, and in the future, possibly even cocktails.
Also in the works is a pastry inspired by the museum's toric shape. "The Hirshhorn is the shape of a donut," Edelman says. "They wanted a special donut that represented their museum. So we're working on that."   
The lobby and café open officially on February 23, though there will be sneak previews in the evenings this week for Hirshhorn visitors coming to see the revival of Krzysztof Wodiczko's 1988 installation projecting images of social commentary on the museum's exterior. Dolcezza will be serving coffee; gelato fans have to come back later this month.
In addition to being a more social space rather than a forgettable gateway into the museum, Chiu hopes that the redesigned lobby will be also be a place to pause. "People may be coming and going," she says. "But it's almost like a nice kind of cultural hub that is also visible from even Independence Avenue, or perhaps even the mall in the evenings."