What we really love is a love story. So we hear our alternative-minded bride and groom friends loud and clear: big traditional, over-the-top is not for everyone. If you're looking for a different approach, here's some inspiration from real, local couples whose offbeat weddings we love.
The Surprise Wedding: Dawn & Zach
As a wedding industry pro herself, Something Vintage owner Dawn Crothers felt a lot of pressure to make their wedding memorable. "I wanted it to be creative, beautiful, and an intimate party," says Dawn, "but I didn't want to spend two years planning it!" She and then-fiancé Zach Baldwin decided to marry at the new Something Vintage warehouse—after all, the event-rental company had brought them together, it was where Zach proposed, and it was home to the vintage pieces they both love. With hand-painted wooden invitations by Taylor and Hov, and a little indirection, they invited friends and family to a "warehouse launch party"—something Dawn knew would draw their guests from across the country. The secret-keeping was a success. In fact, Dawn says, Zach's parents didn't know it was a wedding until the minister walked in—at which point his mom asked the bartender to add some gin to her tonic water! During the ceremony, the minister read aloud letters the bride and groom had written to him about how they met and how they knew they wanted to marry each other. "Hearing what the other wrote for the first time was so special," says Dawn. "Especially surrounded by our closest friends and family." The subterfuge surprise, she says, kept everyone laughing and dancing into the night.
What they prioritized: The surprise. Plus the atmosphere and decor—"hence, my beloved husband agreed to build a 16-foot reclaimed-wood wall as the ceremony backdrop," says Dawn. Embellished with flowers by Holly Heider Chapple, the focal point hit it out of the park.
What they skipped: The long planning process and the bridal party. "It saved time and stress," says Dawn, "and we definitely saved money by having [the event] in our warehouse."
Photographer: Anne Robert Wedding Photography | Florals: Holly Heider Chapple Flowers with Ellen Seagraves Chic Florals | Dress: BHLDN | Catering: Kangaroo Boxing Club | Cake: Sticky Fingers Sweets & Eats | Favors: Uncle Chips Cookies
See more photos from this wedding here.
---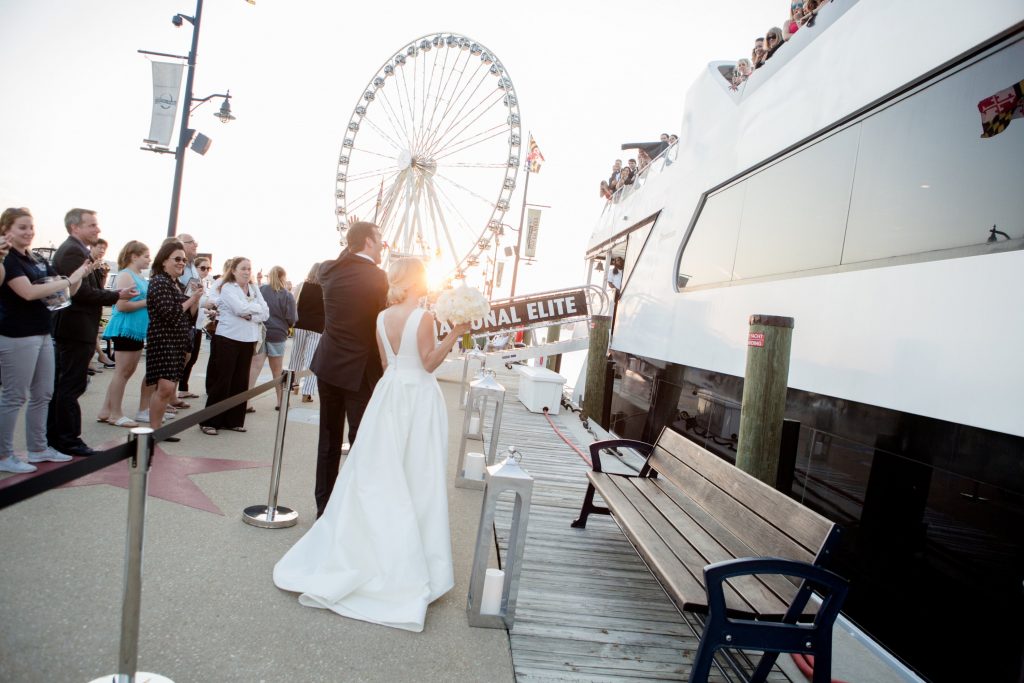 The Dinner and Cruise: Wetherly & Jason
Wetherly Barker and Jason Hemeon's four-part celebration was worth the logistical challenge. It began with a family-only ceremony officiated by the bride's brother at Alexandria's Carlyle House, followed by dinner nearby at Landini Brothers Restaurant. "I had reservations about doing a family-only dinner," Wetherly says, "but sitting back and watching our two families mingle and celebrate was everything we'd hoped for." While the newlyweds enjoyed dinner, photographer Mary Kate McKenna edited a few ceremony photos for a slide show at stop number three: the National Elite yacht at National Harbor. "Walking on the dock felt like walking down the aisle again," Wetherly says. "It was amazing to look up and see all our friends waiting for us to board!"
What they prioritized: A family-only ceremony and dinner, and a big celebration with live music on the water (Jason proposed on a boat and they wanted to bring things full circle). To avoid confusion between venues, the couple supplied transportation for their guests, and composed two sets of stationery inviting family to everything, and friends to the celebration. Efficient coordinators and proximity of the venues, including an after-party at MGM's Felt, were key.
What they skipped: A big bridal party (Wetherly's sister was matron of honor, and Jason's six-year-old son was best man). In place of a big reception dinner, they arranged for hors d'oeuvres on the yacht.
Flowers: Helen Olivia | Planners: Libby Ulman, Tyler Woods | Dress: Carolina Herrera | Hair & Makeup: Georgetown Bride | Cake: Fluffy Thoughts Cakes | Band: Bachelor Boys Band | Rentals: Sammy's Rentals | Transportation: Ryann Limo, America Bus Charter
See more photos from this wedding here.
---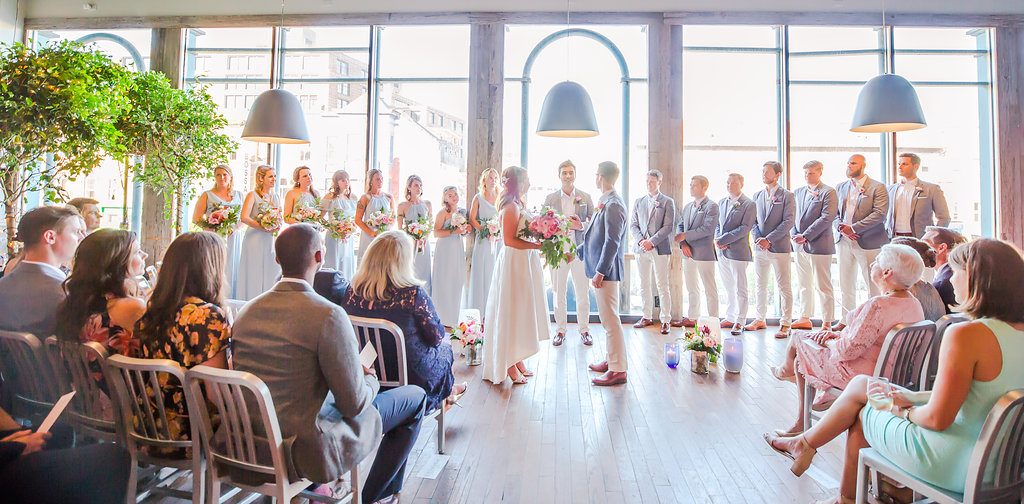 The Gastropub Gathering: Ella & William
For their eclectic wedding, Ella Claney and William Cooper needed a location for a "super-fun dance party," with enough tradition to please their parents. They chose Roofers Union in Adams Morgan, where they could do everything on-site. "Having multiple levels was key," says Ella. "We held the ceremony in the dining room"—Ella's brother officiated—"and then moved to the roof for drinks and appetizers while they flipped the room for the standing reception." For the afterparty, guests returned to the roof for late night bites and a few more rounds. As a nod to Ella's parents' native New Zealand, her mom presented guests with woven Maori bags decorated with paua shells and filled with Kiwi chocolates.
What they prioritized: The band, an open bar, and a rooftop city vibe.
What they skipped: Ella's bridesmaids used Kukka DIY Flowers to make bouquets and a few arrangements for the ceremony that they could repurpose for the reception; they skipped the centerpieces. The couple chose an all-night hors d'oeuvres buffet, which meant no place settings, assigned seating, or table wine. They also skipped the newlyweds introduction, but finished taking their portraits in time to slip into cocktail hour and greet their guests. Instead of a hotel suite, Ella and her maids got ready at the Airbnb rental where Ella's family spent the weekend.
Photographer: Liz Stewart Photography | Event Planner: Emily Mitchell, Love & Honey | Dress: Catherine Deane (top); Fillmore Bridal (skirt) | Hair & Makeup: TC Beauty  | Cake: Buttercream Bakeshop| Music: Bachelor Boys Band
See more photos from this wedding here.
---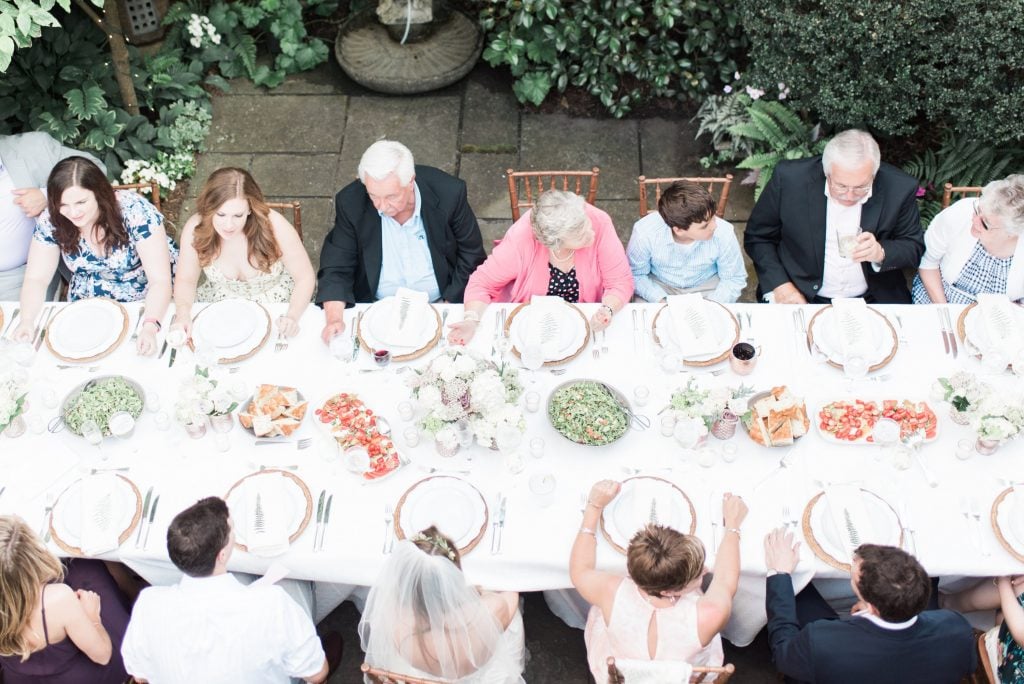 The Ultra-Intimate Affair: Emmy & Chris
Emmy Pascoe and Chris Hass wanted their big day to be "categorically simple"—sunshine and flowers, good food and drinks, friends and family. "Just love, no fluff." To honor their late dads, they wed on Father's Day, and to keep it low key, they held the celebration in Chris's mother's Chevy Chase back yard—"home to some of the most beautiful gardens"—with dinner on the patio. The result was a sweet ceremony and an impeccably catered al fresco dinner party for 17.
What they prioritized: Food and drink. "The best thing we did was go high-end with our caterer," says Emmy. Through Susan Gage Caterers, they worked with a coordinator to help plan, and had two servers who also set up and broke down the space.
What they skipped: Paper invitations—they made phone calls instead; elaborate entertainment—an acoustic guitarist played their favorite songs; a big bridal party—their siblings (one each) were the attendants; and a bakery cake—Emmy, with Chris's mom and aunt, made a four-layer yellow one with coconut cream cheese frosting. The couple also scrapped the typical wedding-day schedule: they went from their "first look" to cocktail hour. "There I was in my wedding gown, eating olive tapenade and signing our marriage certificate while chatting with my groom and our guests," says Emmy. "Around 5 pm my sister said, 'Should we get the ceremony started?' Everyone took their seats and we had a wedding!"
Photography: Luck & Love Photography | Floral: Park Florist of Takoma Park | Dress: BHLDN | Tailoring: Green and Blue Studio | Landscape Design: Bob Rhoades
See more photos from this wedding here.
---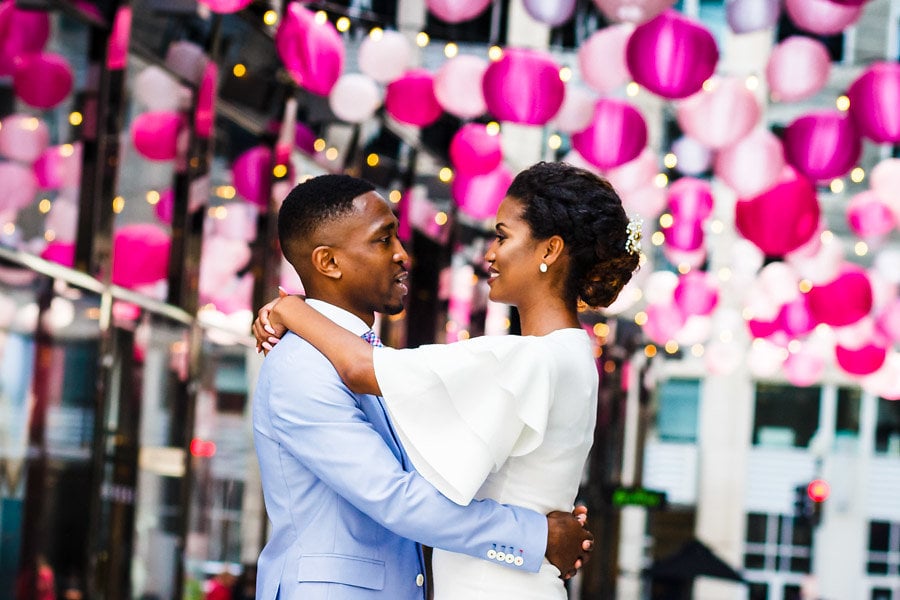 The Local Elopement: Niketa & Shane
Like many couples, Niketa Gordon and Shane Jenerette felt overwhelmed by the pressure to plan their wedding. "We wanted the magic of a wedding and to share that moment with our loved ones," says Niketa, "but without the big deal." They decided to elope. After checking with those friends and family they hoped could come witness, the pair applied for an April-afternoon civil ceremony at the DC courthouse. Following the vows—where their three-month-old daughter was in attendance—Niketa and Shane posed for portraits in Palmer Alley and then the Georgetown waterfront while guests gathered at Farmers Fishers Bakers for a celebratory dinner.
What they prioritized: A date that accommodated their guests. "We didn't want anyone to feel left out because of our elopement."
What they skipped: Most traditional wedding elements and engagement events—the bridal shower, venue rentals, gown and tuxedo, and decorations. They also decided to forgo attendants, but, Niketa says, their friends still surprised them with bachelorette and bachelor parties. Beyond the time and money they saved, Niketa says the peace of mind she gained was most rewarding. The newlyweds are planning a vow renewal and formal reception for 2018, and being already married, the bride says, eases the pressure. "Perfection is no longer the priority, leaving the main focus to be fun."
Photography: Ken-Won Miller, A Father's Lens Photography | Ceremony: Superior Court of the District of Columbia | Dress: Kosmios | Makeup: Aloni Marie | Hair: Michael Sean at PR at Partners | Bride's Shoes: David's Bridal
See more photos from this wedding here.