Toast used to be a slice of nothing special. Toast was for rushing out the door half-an-hour late for work with half a sip of coffee. Toast was for realizing you really should get to the grocery store but, hey, at least this loaf of bread hasn't expired. Toast was milque—well, you know.
Then came creamy, lovely avocado toast, and suddenly toast was sexy! Artisan cafes were serving it. Upscale hotspots were serving it. Soon enough, Cheesecake Factory was serving it. Next thing you know, avocado toast had become a total cliché. It's everything wrong with millennials—responsible for ruining the home-buying prospects of an entire generation. RIP avocado toast.
Avocado toast, though, was just the beginning. It was the gateway toast. It gave toast permission to be fancy. It was totally acceptable—nay, cool—to put on small plates menus, accompanying a $14 cocktail. Like every other simple pleasure, it could not escape the manicured claws of Artisanalization.
Whereas you'd rarely find toast on the menus of DC's top restaurants five years ago, the city's best chefs all seem to be on the bread-wagon now. At Himitsu in Petworth, toasted brioche is crowned with soft-scrambled eggs, Santa Barbara sea urchin, and house-cured Alaskan king salmon roe. At Tail Up Goat in Adams Morgan, red fife sourdough is swiped with a burnt bread sauce and adorned with bacon lardons, hydroponic lettuce, and meyer lemon aioli. On the new menu at Momofuku CCDC, toast is smothered in middleneck clams, Szechuan sausage, and smoked dill mayo.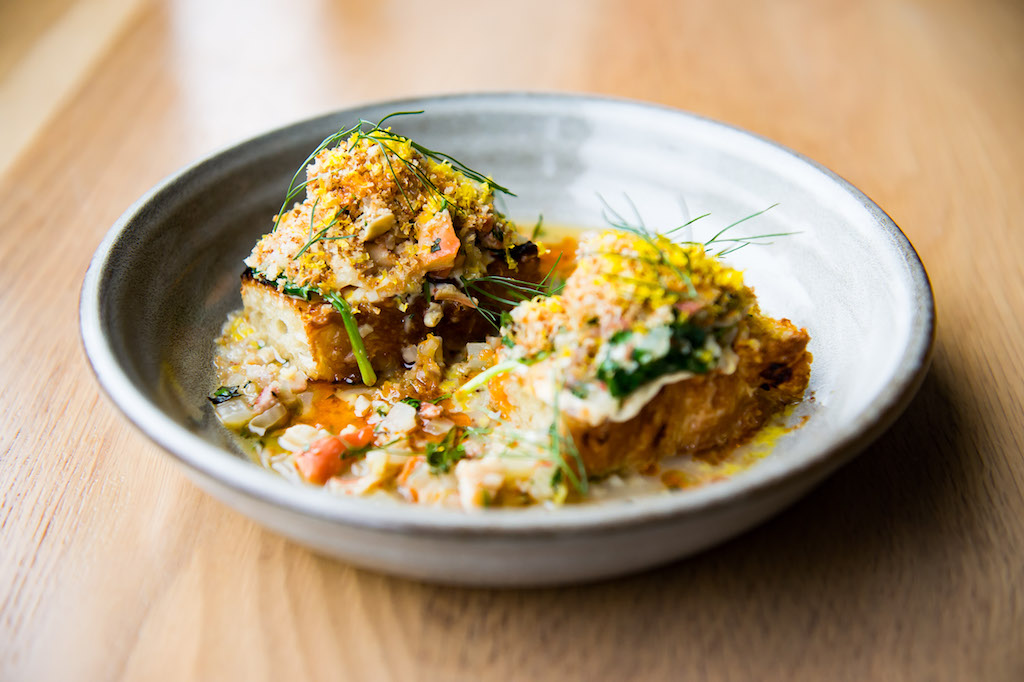 Perhaps, maybe, we're giving avocado toast too much credit for paving the way. Perhaps, rather, fancy toast just embodies the current dining zeitgeist. This is a moment where we embrace food that's clever and delicious yet casual and unfussy. It's also a moment where chefs love to declare, "I'm serving the food I want to eat." And of course toast is the kind of thing chefs love. It's an easy, elegant way to assemble their favorite ingredients, sop up flavors, or show off their latest curing or pickling or preserving projects. Toast is a canvas. Toast is a vessel. Toast is endless possibilities.
"It's what a lot of chefs like to eat when they're not working, or when they're just setting up and prepping and making a snack," says Brad Deboy, the chef of new Mount Pleasant bakery and restaurant Ellē. In fact, Deboy's country loaf toast slathered in labneh, grilled housemade kimchi, and a vegan XO chili oil started off as a snack that he and his sous chefs made as they were setting up the kitchen for the opening. "Why cook what you don't eat?" he says.
Despite the gluten-free craze, artisanal bread with whole grains or locally milled flours is having a bit of a moment—not just at bakeries (Seylou, Pluma, Bread Furst), but at restaurants.
"Maybe it became really fad-y at one point, and [San Francisco bakery] Tartine became this household name all of a sudden," says Tail Up Goat chef Jon Sybert. "People just started messing around with it a little bit more and refining it, and I think a lot of restaurants can now proudly serve really great bread."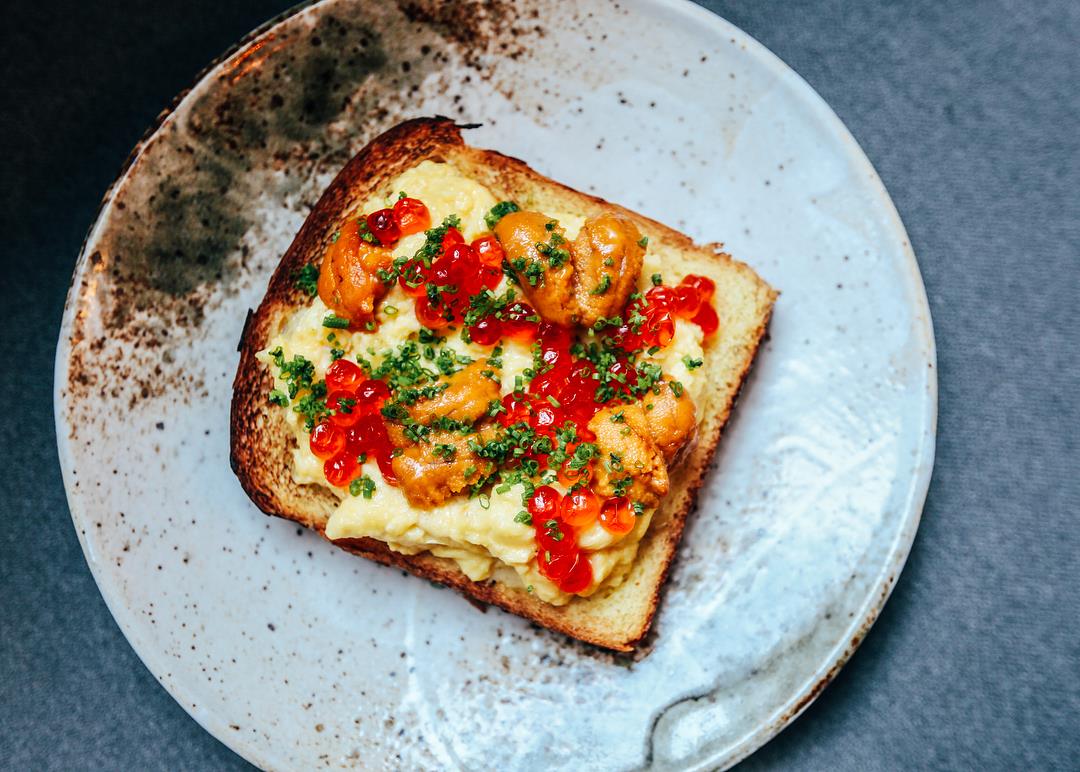 This new wave toast often isn't cheap. (Is toast price outrage the new cocktail price outrage?) Tail Up Goat's toasts range from $14 to $16 right now. Ellē's grilled kimchi toast is $15. The priciest I've seen: Baltimore Canyon lobster toast at A Rake's Progress for $27. But given the labor in baking bread and the premium toppings, toast isn't necessarily the high-profit margin item you might imagine.
Himitsu chef Kevin Tien says his $18 uni toast is actually the least profitable dish on the menu, but he keeps it around because diners can't get enough of it. Plus, of all his dishes, it's easily the most Instagrammed. Now, he's working on a new bread-based creation: a mix between butter toast and bread pudding that's soaked in bone marrow. Toast, Tien says, is not a trend. It's here to stay.
"Everyone really just loves bread in general," he explains. "It's a carb we can get behind even if we're trying to avoid carbs."
Toast to that.