It's almost prime rosé season, and for the first time, DC will have a pink wine of its own. District Winery is getting ready to release its inaugural blush bottles, made grape-to-glass in Navy Yard.
The Southeast waterfront is worlds away from Provence, but winemaker Conor McCormack channels the dry, lightly-colored rosés of Southern France in his method. Refrigerated trucks import freshly hand-harvested grapes from a vineyard in California—all old vine granache.
"Vines from the 1940s produce less fruit, but it's more intense," says McCormack. "I want bright, clear fruit."
A rosé's shade is determined by contact with the grape skins—the longer the exposure, the deeper the color. District Winery's rosé gets a 24-hour "skin soak" that'll eventually impart a salmon-like hue, plus additional weeks of fermentation and aging in stainless steel tanks. Though a light versus dark color isn't indicative of flavor (say, dry versus sweet), the paler rosés are generally leaner in structure and body—ideal for drinking in warm weather. Though the wine isn't entirely ready, my first sample from the tank was what you might think of as textbook rosé: crisp, bright fruit, and easy drinking.  
"It's perfect for summer," says McCormack of why rosé is so popular. "It's a type of wine you can think about, but you don't have to think too hard if you don't want too."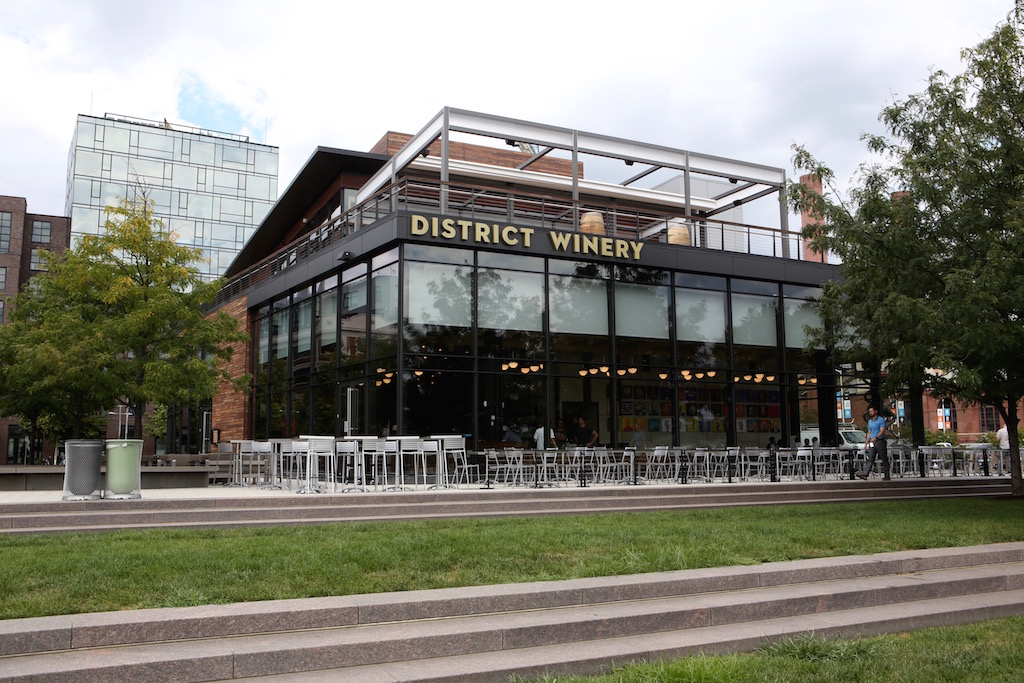 The rosé craze is also good for winemakers, given the wine is comparatively quick to produce. Whereas McCormack's red wines take at least three years from harvest to bottle, his rosé has a turnaround of seven to eight months. An exact release date for District Winery's blush bottles will be announced soon, but drinkers can expect a first taste in April. The wine will be available by the taste, glass, and bottle—to drink by the river to take home—in the winery and adjoining Ana restaurant. (Exact price, TBD.)
District Winery isn't the only DC spot getting in the rosé-making game. The newly revamped Cork Wine Bar & Market plans to produce its own pink wine, as is the forthcoming City Winery in Ivy City. And of course, don't forget Whaley's pop-up Rosé Garden that's scheduled to open for a second season in mid-April, making Navy Yard DC's official Blush Belt.