To read more about how grocery stores have shaped Washington, click here.
Past the displays of kettle chips and LaCroix sparkling water, toward the back of the Whole Foods at Fair Lakes, groups of friends are gathered on a recent Saturday around small tables, digging into oysters from the raw bar or a pulled-pork sandwich from the barbecue stand. As it gets later, they order second and third rounds of drinks and the chatter grows louder while the daytime shopping crowd dissipates. It's date night at Whole Foods.
For years, grocery gurus have been tracking the rise of the "grocerant"—the blurring of grocery store and restaurant—as supermarkets offer more ready-to-eat meals and in-store dining. A 2016 report by the Food Marketing Institute and Technomic, a food-service research and consulting firm, found that 88 percent of surveyed supermarkets had hired a corporate executive chef to oversee food preparation and 96 percent offered in-store seating.
The Whole Foods at Fairfax's Fair Lakes is a grocerant on steroids. As one of the chain's Mid-Atlantic flagships, it's bigger than most other locations—with a wine bar, a sports bar, a ramen bar, a seafood eatery, and a barbecue smokehouse.
"When it was built, they wanted to make it more than just a grocery store," says store leader Carl DePree of the 11-year-old location.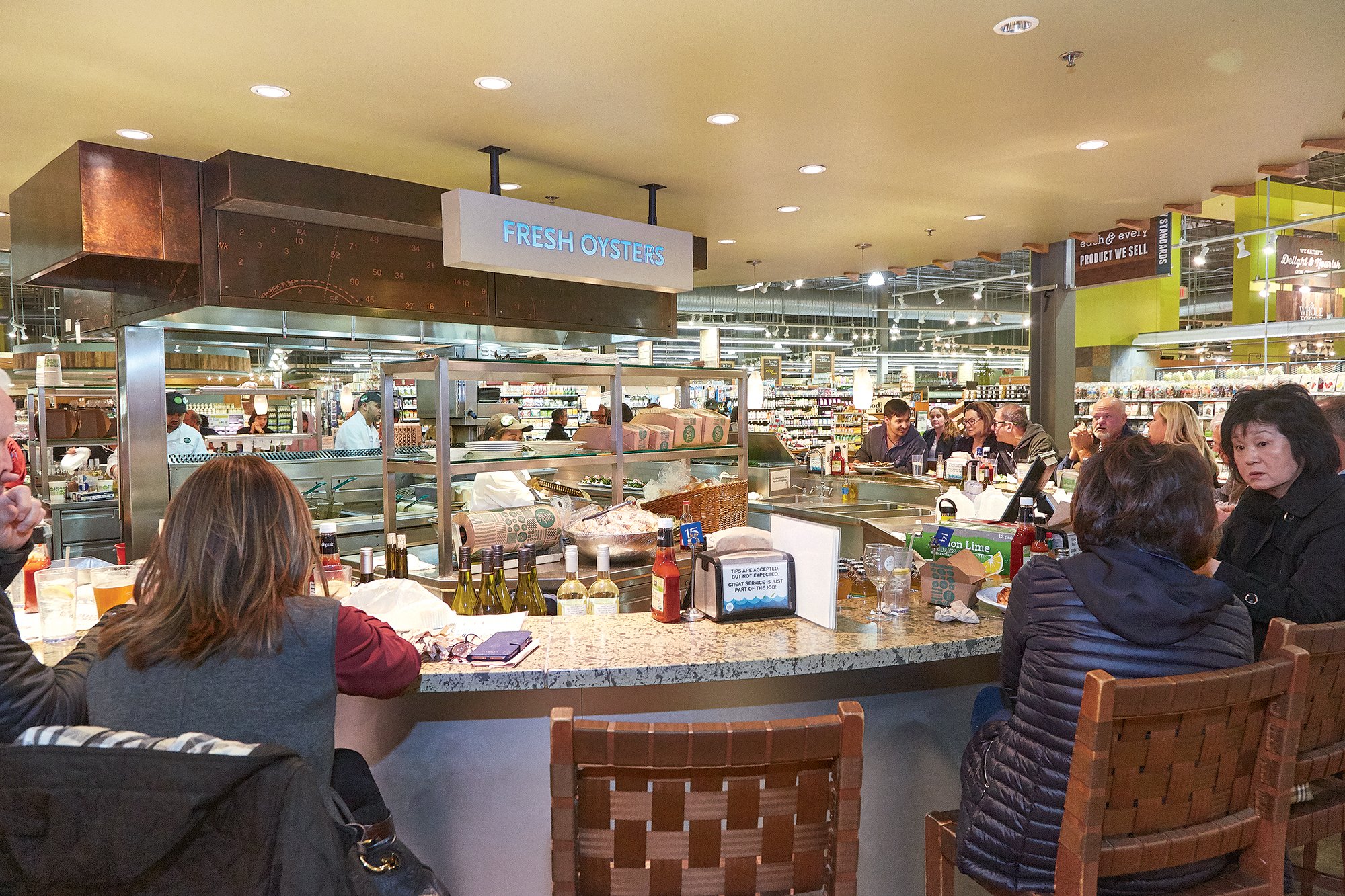 "This is where they cook me dinner," says Debi Marine, a proposal manager for a government contractor in Tysons. Marine lives alone and doesn't cook for herself, nor does she care to learn. She likes the grilled-haloumi salad, as well as the Indian food, at the hot bar. She knows all the bartenders, who recommend new IPAs from one of the 34 rotating taps. Marine hangs out at the bar near the cheese display so often that most shoppers know her as the "mayor of Cheese Grill."
"We're friends with everyone here now," she says of herself and Ben Elwood, a high-school friend who comes to the store with her at least once a week. Marine has a group text with eight people who gather at one of the bars almost every Friday. She met the last two people she dated at Whole Foods.
Elwood says there's a reason the store is a popular spot for people in Fairfax to eat and drink: There aren't many other options in that immediate area. "There's like an Olive Garden, a Red Robin. It's pretty bleak."
Families often settle in at the sports bar, which features 12 TVs plus kid-friendly fare such as chick-en wings and French fries. Older couples might dine on bouillabaisse and salmon at the seafood joint, listening to a local band, Swampcandy, that plays at the spot about twice a month. For patrons who come just to drink, there's an upstairs wine bar (guests buy a prepaid card and serve themselves) and the more casual downstairs bar where Marine and her friends are regulars.
As she and Elwood linger over a last beer, a friend, Andrew Kayne, comes by with a large bottle of Presto Prosecco and a package of tortillas. After a few glasses of red wine, he's heading home with his fiancée, Lisa Schmitt, to make her dinner. "I love this place," he says cheerfully.
His friends nod in agreement. Says Marine: "It's a spectacular grocery store."
This article appeared in the March 2018 issue of Washingtonian.