Cider is one of those amorphous beverages that can take on wine or beer-like qualities. It can be lean and acidic or crisp and effervescent, swirled in a stem glass or poured into a pint. It's the beer side of cider that Will Sullivan and Kyle Crosby channeled when founding Supreme Core Cider two years ago—and a style they hope to foster in their brick-and-mortar cidery and tasting room, opening in Ivy City on Saturday, May 12.
"Cider for beer drinkers—that's our background. We're in a can, everything is on draft, we pour into pint glasses," says Sullivan. "We want to promote the laid-back brewery vibe."
The duo are both self-described "big craft beer guys." Crosby, a home brewer, started making cider for his sister who has celiac disease. (Cider is naturally gluten-free.) Eventually, the friends quit their respective consulting jobs and became certified cider-makers at Cornell University. They've been operating out of Baltimore's Charm City Meadworks while building out their own 5,000 square-foot space near the National Arboretum, all while growing their distribution to 55 locations around Washington.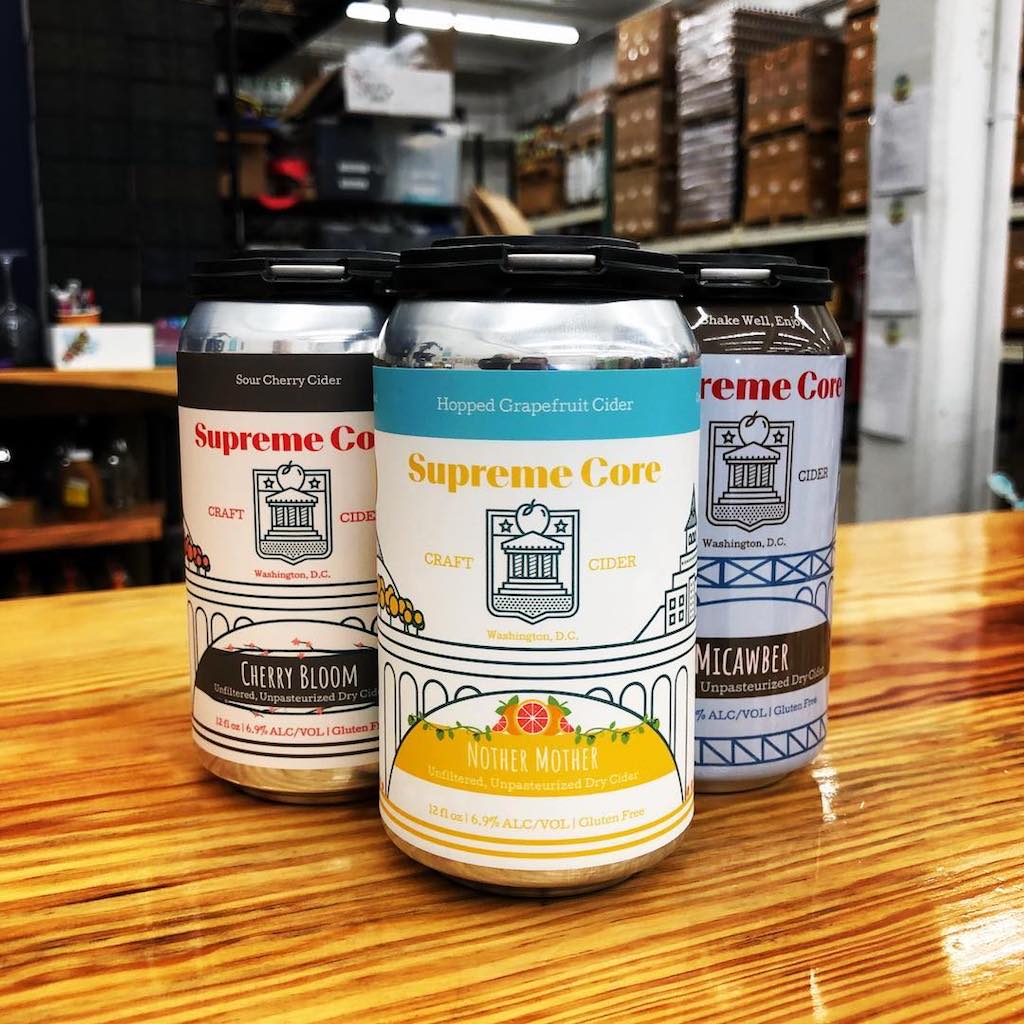 Part of what appeals to the friends about fusing aspects of the craft beer and cider movements is the creativity, which drinkers can sample in the tasting room. The duo source all of their apples from three small family farms in Virginia, and then get playful in blending fruit and different strains of yeast. Take the Gold Rush, where gold rush apples are fermented with a mix of wild yeast—which typically yields a funkier-flavored cider—and French saison yeast to temper the sourness. A Cherry Bloom cider combines sweet and tart cherries and Champagne yeast for a slightly effervescent quality.
Of the ten ciders available in the tasting room, Supreme Core plans to run two collaborations. One is a barrel-aged cider that takes its flavor from gin casks previously used by neighbor One Eight Distilling. Another is a cyser—no typo, that's apple mead—with half-and-half cider and hibiscus mead from Charm City. All will be served in three-ounce tasters ($2) or 12-ounce pints ($6).
The new cidery debuts with a party from noon to 8 PM on May 12, including a bluegrass band, steamed crabs from neighbor Ivy City Smokehouse Tavern, and of course, plenty of cider (plus a portion of sales will go towards FreshFarm Market's Nutrition Assistance program). Saturday and Sunday tasting room hours will continue going forward, so you can add a cidery stop to your Ivy City brewery and distillery walking tour.
Supreme Core Cider. 2400 T St., NE