1. Kendrick Lamar, SZA, ScHoolboy Q
Jiffy Lube Live, June 1
Fresh off of winning the Pulitzer Prize for music, Compton dynamo Kendrick Lamar headlines this traveling showcase of artists signed to the red-hot Top Dawg Entertainment label. Included on the impressive bill are R&B breakout SZA—who duets with Lamar on the Black Panther sound­track—and ScHoolboy Q, your favorite rapper's favorite rapper. $39.50 to $972.
2. One Journey Festival
Washington National Cathedral Grounds, June 2
In 1991, as civil war broke out in Yugoslavia, Vanda Berninger fled her home country for Germany. Now living in the DC area, Berninger—along with Wendy Chan, who immigrated here from China at age 12—is spearheading this new event, which aims to foster understanding between refugees and the broader local community. The daylong celebration will feature performances by refugee artists, presentations by chef José Andrés and former child soldier Ger Duany, and a digital portal that lets you interact in real time with people in a refugee camp. Free.
3. Hop Along and Bat Fangs
9:30 Club, June 5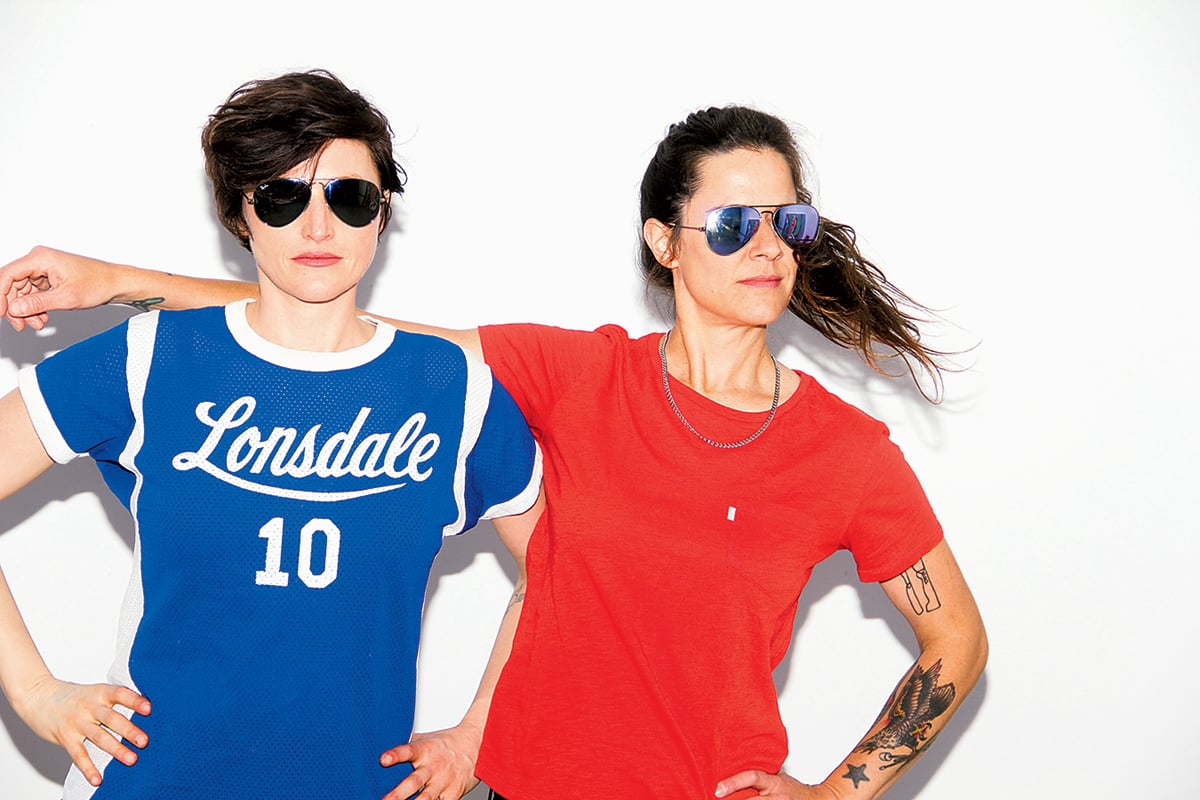 Hop Along's most distinctive trait is the voice of lead singer Frances Quinlan, but voices would really be more apt: On the Philly band's gripping new album, Bark Your Head Off, Dog, her delivery is alternately raspy, delicate, and earth-shattering. They share the bill with Bat Fangs (above), a propulsive duo featuring Ex Hex guitarist Betsy Wright. $20.
4. Less by Andrew Sean Greer
Politics and Prose (Connecticut Avenue), June 5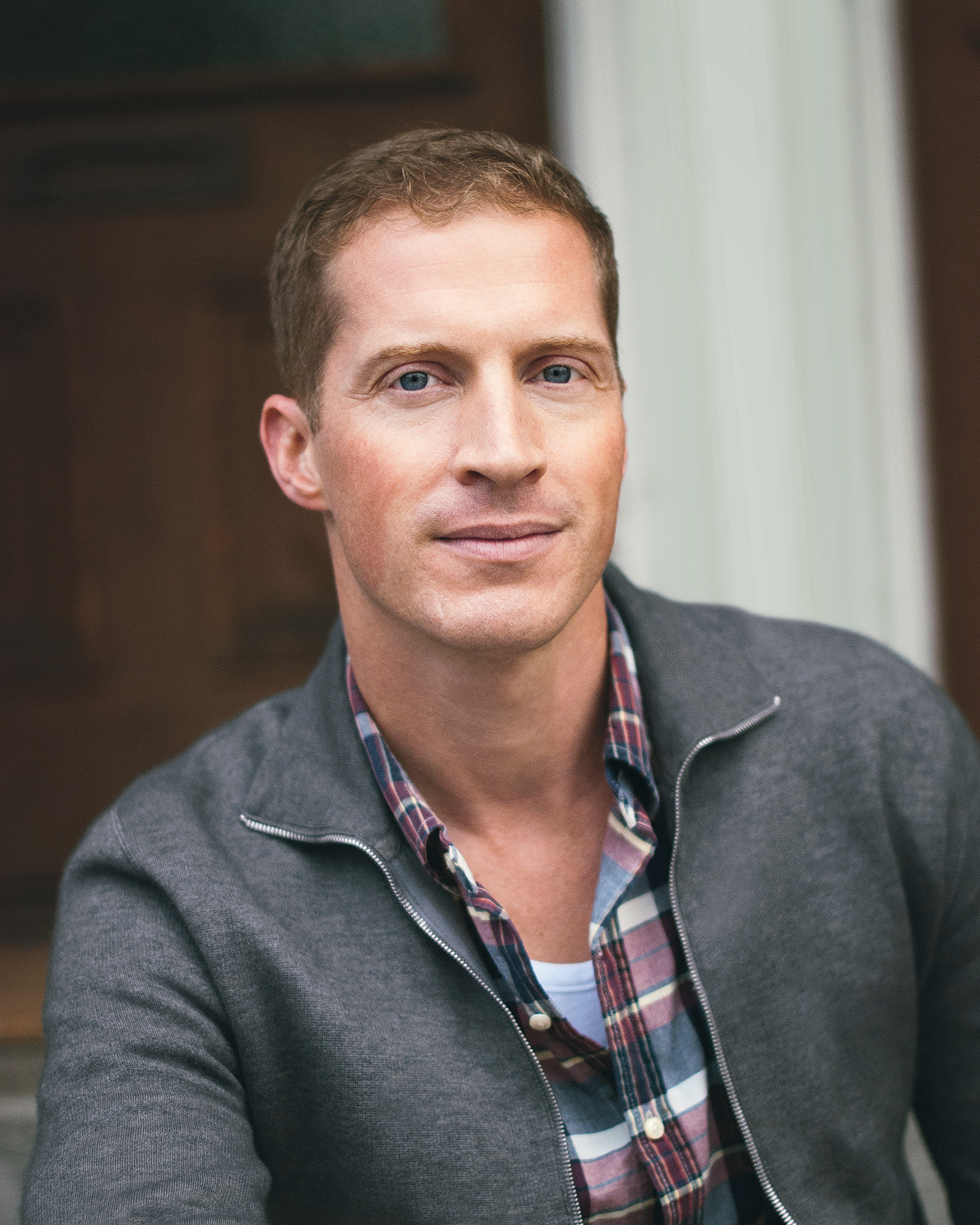 Rockville native Andrew Sean Greer was shocked when his latest book, Less, won the 2018 Pulitzer Prize for fiction. The comic novel follows a writer as he travels from Morocco to Berlin to Mexico to avoid attending his ex-boyfriend's wedding. "Greer is brilliantly funny about the awkwardness that awaits a traveling writer of less repute," wrote the Washington Post's Ron Charles, who will chat with Greer at this appearance (free). Just days after he won the prize, the Georgetown Day School alum talked to us from Italy—where he lives part-time—as he lounged on a ferry on Lake Como.
You actually used to work at Politics and Prose. While you were there, did you ever daydream about coming back one day after you'd just won a Pulitzer?
I'm sure I imagined that I would come back and I would show them all, the way you do when you're a bratty teenager. Honestly, I did not ever imagine I would win the Pulitzer Prize, which I'm still stuttering at—no. It was enough, for my first book [in 1999], to come back and give a reading there.
What was that like?
I'm trying to remember myself at 29. My guess is that I probably was more arrogant than now. I bet that I didn't know how to really do a reading, so I went on too long, took too many questions, and just enjoyed it thinking I'd never do it again. I just sort of indulged myself. Now I have a sense of what a reading should be, which is that you're trying to engage the audience and in some way entertain them. I'm sure at that point I just wanted to show off, which is also perfectly fine.
Are there any places in Less that you based on Rockville?
The main character is so like me that I kept trying to change little things so I wouldn't make it auto­biographical. So he's from Camden, Delaware. That was my stand-in for Rockville. He mentions it only briefly.
Have you ever been to Camden, Delaware?
No. I mean, have I been to Delaware? I don't think I have. It's more rural and farmy, isn't it?
There are a lot of outlets.
Outlets, right! I was just like, "I can't say Maryland, and I'm not going to say Virginia because it's basically the same." I picked Delaware because I thought, well, no one will ever ask me about that.
5. No Ashes in the Fire: Coming of Age Black and Free in America by Darnell L. Moore
Politics and Prose (Connecticut Avenue), June 6
Black Lives Matter activist Darnell L. Moore writes regularly about growing up as a gay African-American man. In this new memoir, he details scarring experiences—such as the time he was bathed in gasoline and nearly set on fire by boys who suspected his sexual orientation—and how he eventually found hope in religion and teaching. He'll discuss racism and homophobia with local poet and academic Clint Smith. Free.
6. Florida Georgia Line
Merriweather Post Pavilion, June 7
Some people like their country music fall-off-the-barstool depressing. Others just want to roll down the windows, crank up some fun tunes, and cruiiiiise. If you're in the latter camp, head directly to this pop-country duo's show at the suitably laid-back Merriweather Post Pavilion, where fans will shout along to hits like "Get Your Shine On," "H.O.L.Y.," and, yes, "Cruise."
7-8. Capital Jazz Fest vs. the DC Jazz Festival
Capital Jazz: Merriweather Post Pavilion, June 1-3
DC Jazz: Various venues, June 8-17
It's going to be a very jazzy June, with two big events wooing improv-music fans. But while Capital Jazz ($69.50 to $245) and DC Jazz (free to $140) sound similar, their programming suggests wildly divergent ideas of what qualifies as jazz. Which is right for you?
| Festival | Number of Acts | Biggest Names | General Vibe | Target audience | Likely Highlight | Jazz Cred |
| --- | --- | --- | --- | --- | --- | --- |
| Capital Jazz |  30 | '70s superstars Earth, Wind & Fire, Motown great Smokey Robinson, smooth-R&B singer Anita Baker, jazz-pop star Diana Krall, funk pioneer Larry Graham. | With a lineup heavy on R&B hitmakers of yore and lite-jazz saxophonists in fedoras, it leans smooth, soulful, and skronk-free. | People who tuck their T-shirts into their shorts. | Late-era Prince protégé Liv War­field performing with the Purple One's old horn section. | Low. Though organizers found room for American Idol winner Fantasia and New Jack Swing star Keith Sweat, it doesn't feature a lot of actual jazz acts. Time to rename it the Capital Pop Fest? |
| DC Jazz |  52 | Original Hamilton cast member Leslie Odom Jr., adventurous pianist Robert Glasper, legendary James Brown saxophonist Maceo Parker, jazz violinist Regina Carter, saxophonist Oliver Lake. | Full of critically acclaimed, Grammy-nominated artists, the ten-day gathering is multicultural, forward-looking, and skronk-friendly. | People who look for Rudy Van Gelder's name on vinyl reissues. | Guitarist Jeff Parker, a long­time member of the Chicago post-rock ensemble Tortoise who now makes mellow and melodic solo records. | High. Programming spans multiple styles and communities—from the traditional to the weird—while retaining a focus on innovation and improvisation. |
9. CupcakKe
Rock & Roll Hotel, June 9
Don't bring the kids. Chicago native Elizabeth Harris, who performs as CupcakKe, is known for her sex-positive—and blush-inducingly dirty—lyrics. But her concerns extend well beyond the bedroom, with tracks tackling class and consumerism, among other issues. Her most vulnerable song, "Pedophile," confronts the abuse she experienced as a teen. $20 to $25.
10. Grace Jamaican Jerk Festival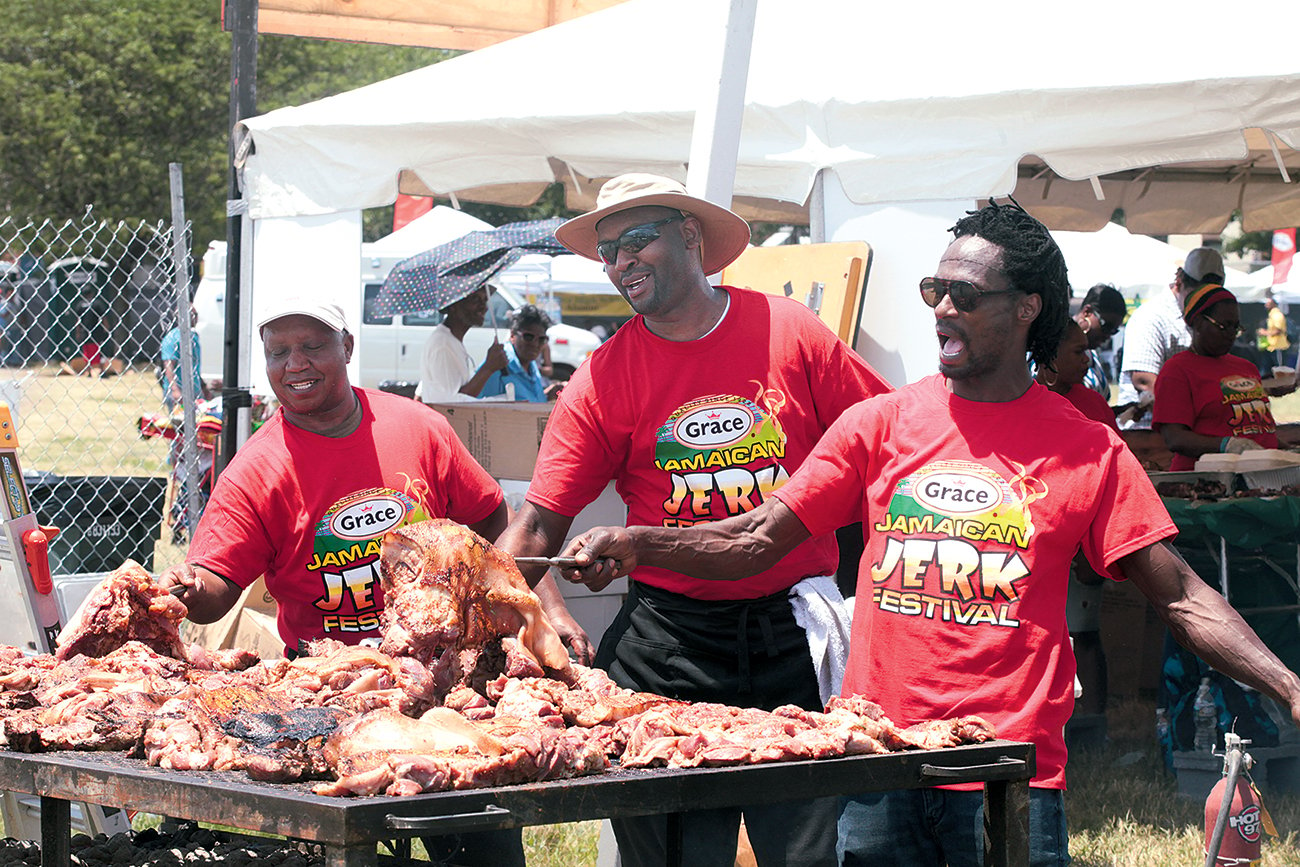 RFK Stadium Festival Lawn, June 10
Now in its third year, this giant party offers all sorts of Caribbean food along with music and other attractions ($25 to $35). But the main event is jerk, the Jamaican style of marinated barbecue. Celebrity chef Hugh "Chef Irie" Sinclair, who's appearing at the fest, gives us a primer.
How It's Made
"You have pimiento from the allspice berry, Scotch bonnet, ginger, thyme, onions. The traditional way is to cook it on the outdoor grill—just let it smoke and slow-cook. You can pretty much jerk anything. It is not just about seasoning but embodying the culture of Jamaica through that particular way of cooking food."
Where It's From
"Jerk was a method of preserving and cooking meats back in the days of slavery in Jamaica. Escaped slaves, called the Maroons, were able to preserve meats in the mountains where they were hiding using spices they found."
Why a DC Fest Makes Sense
"Because of the cultures that are represented in DC—not just Caribbean but a huge part of the African diaspora—barbecue is a big part of our culture. And everybody was cooped up in the winter and wants to be outside this time of year. To go outside and smell food cooking on the grill with fresh smoke, fresh meat—I think it's going to be huge."
11. Hamilton
Kennedy Center, June 12–September 16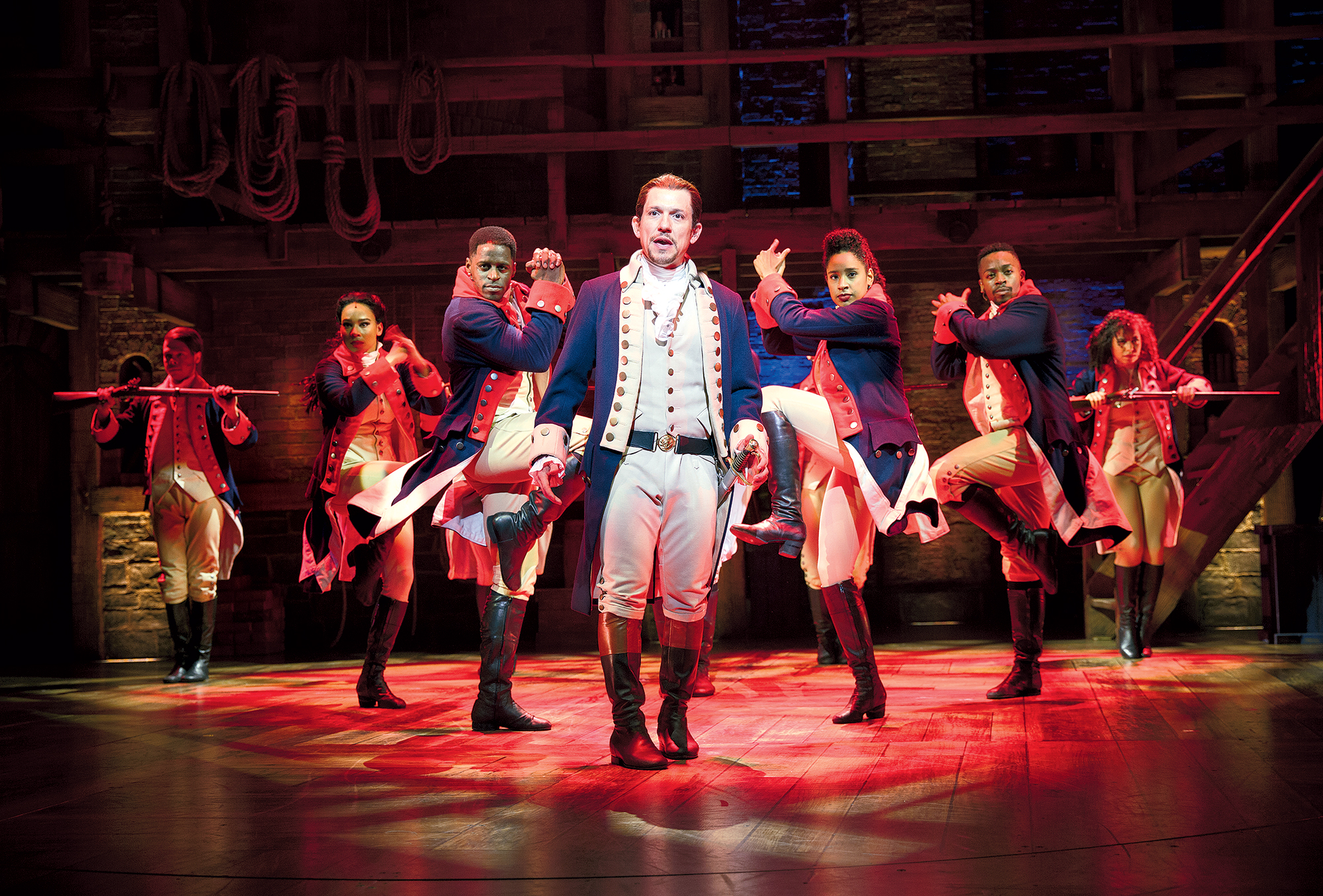 The box-office-breaking musical is finally arriving in DC this summer for a 14-week run ($99 to $625). Didn't get tickets? We know the feeling. Here's our three-step plan for avoiding FOMO on opening night.
1. Hit the Hamilton
This restaurant near the White House is named after the Founding Father, features live music, and offers a popular sushi happy hour. Sorry, Hamilton-goers: You won't be getting any half-price fish at the Kennedy Center.
2. Hit the bottle
When you get home, make yourself a Founder's Fizz, which is—who knew?—Hamilton's official cocktail. Shake 1½ ounces of gin, 1 ounce of simple syrup, and a splash of lime juice with ice. Serve it in a highball glass on the rocks, and fill the remainder with seltzer. Repeat as needed.
3. Hit the couch
Settle in to watch the PBS documentary Hamilton's America, which tracks the musical's impact and follows Lin Manuel-Miranda as he visits Hamilton-related sites around the country. You can stream it with a WETA membership (starting at $5 a month).
12. Reporter: A Memoir by Seymour M. Hersh
Politics and Prose (Connecticut Avenue), June 13
The swashbuckling Sy Hersh has spent some five decades opening Washington's (and America's) eyes to foreign-policy and national-security secrets, beginning with his famous investigation into the My Lai massacre of 1968. With his new autobiography, he's opening his notebooks to reveal how he scored all those scoops, as well as tracing his childhood plus several false starts in journalism. Hersh is lovably cantankerous in real life, which, along with plenty of insider-y narratives, will no doubt make this an entertaining night. Free.
13. AFI Docs
Various venues, June 13–17
Already watched every documentary on Netflix? Find your next fix at this annual festival of nonfiction films ($12 to $15). Here are three we're keen to see.
Mr. Soul!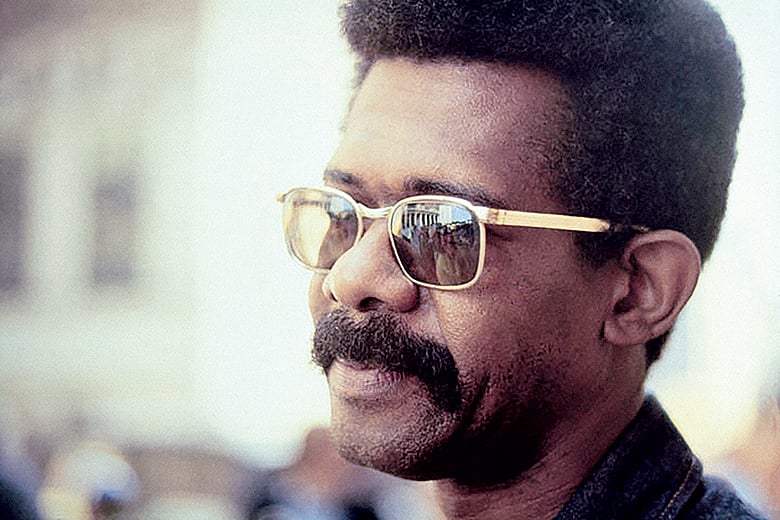 A look at the history of the titular talk show, which ran on PBS from 1968 to 1973, featured interviews with the likes of Maya Angelou and James Baldwin, and was known as "the black Tonight Show."
Above and Beyond: NASA's Journey to Tomorrow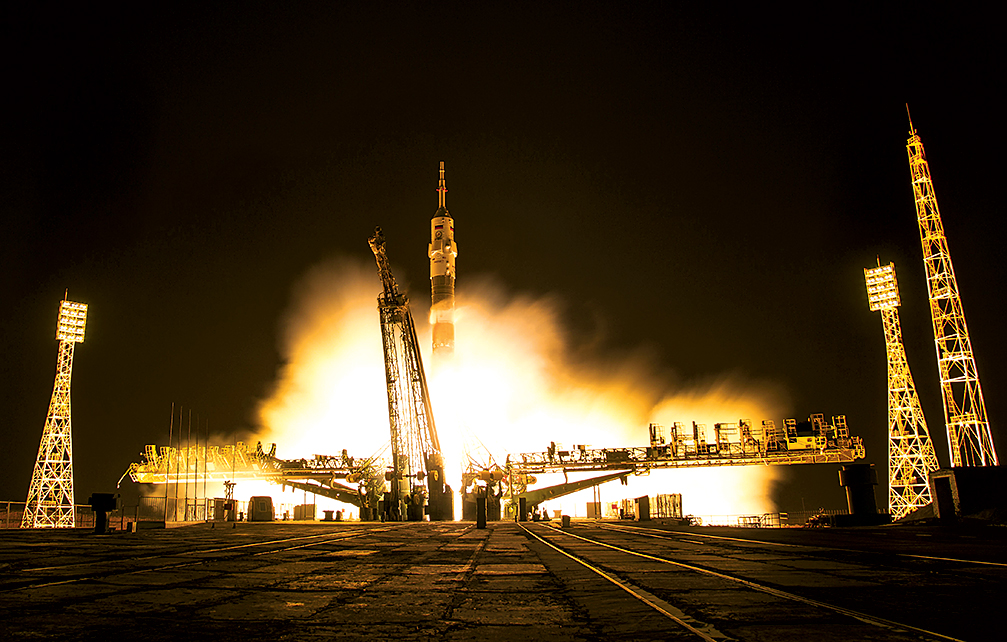 Directed by Oscar-nominated documentarian Rory Kennedy, this film is both a celebration of the agency's 60th anniversary and a consideration of where it might be headed.
The Cold Blue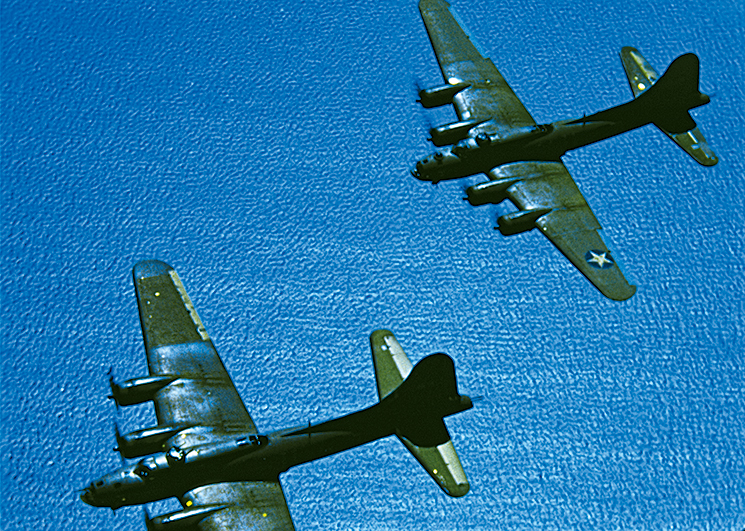 In 1943, director William Wyler (Ben-Hur) shot hours of color footage of aerial combat over Europe. That material is paired here with new interviews to create a vivid look at WWII's air battles.
14. "Does the body rule the mind, or does the mind rule the body?"
Hirshhorn Museum, June 20–August 12
One performer will depict a blinking keyboard cursor. Another will transform herself into Dorothy from The Wizard of Oz. Yes, things will probably get weird when this collection of performance-art pieces hits the Hirshhorn. If that's your bag (and why wouldn't it be?), come check out artists such as Jen Rosenblit, Will Rawls, and Moriah Evans, who will create original works in real time by interacting with museumgoers. Free.
15. "Trevor Paglen: Sites Unseen"
Smithsonian American Art Museum, June 21–January 6
Don't worry, Jared: No security clearance is required for this mid-career retrospective of an artist known for his photos of classified military sites. Paglen, who often explores issues involving surveillance and technology, will also show sculptures inspired by satellites as well as paintings he creates using artificial intelligence. Free.
16. By the People
Various venues, June 21–24
What exactly is this new event? We aren't sure. Described as an "arts and innovation" festival, it's so broad (installations, performances, and talks at venues all around the city) and its mission so vague (something about "the power of human creativity and compassion") that we're as puzzled as we are intrigued. But with partners like the Smithsonian and Artechouse, it's likely (we think!) to be worth investigating. Free to $45.
17. Smithsonian Folklife Festival
National Mall, June 27–July 1 and July 4–8
This latest iteration of the long-running international-culture celebration spotlights Catalonia and Armenia. As usual, there will be dancing, craft demonstrations, and cooking instruction along with lots of other activities. More surprising? This year's addition of Catalonian castells—impressively constructed human towers that can reach up to nine levels of people. Free.
18. "Heavy Metal"
National Museum of Women in the Arts, June 28–September 16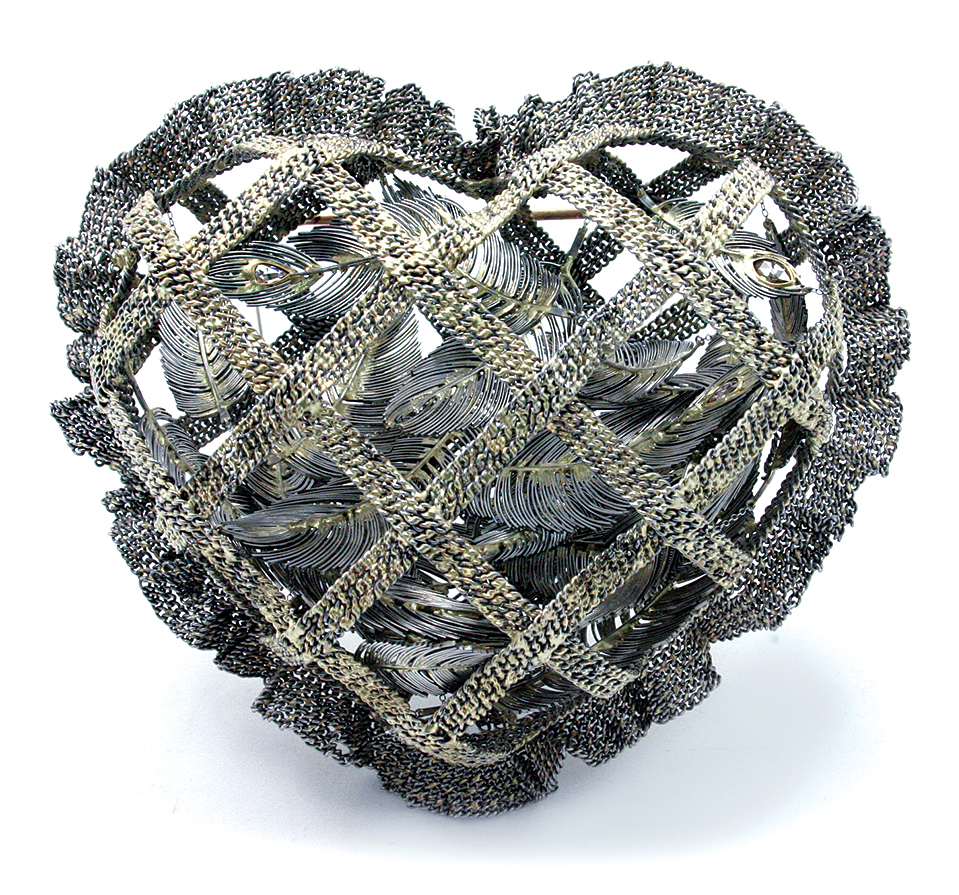 Not, as the name and location suggest, a collection of memorabilia from the all-female 1980s rock band Vixen. Alas. But we're still excited about this exhibit, which features different kinds of metal art from around the world, including intricate jewelry and large-scale statues. Perhaps they'll at least include a spiked armband? $10.
19. "One Year: 1968, An American Odyssey"
National Portrait Gallery, June 29–May 19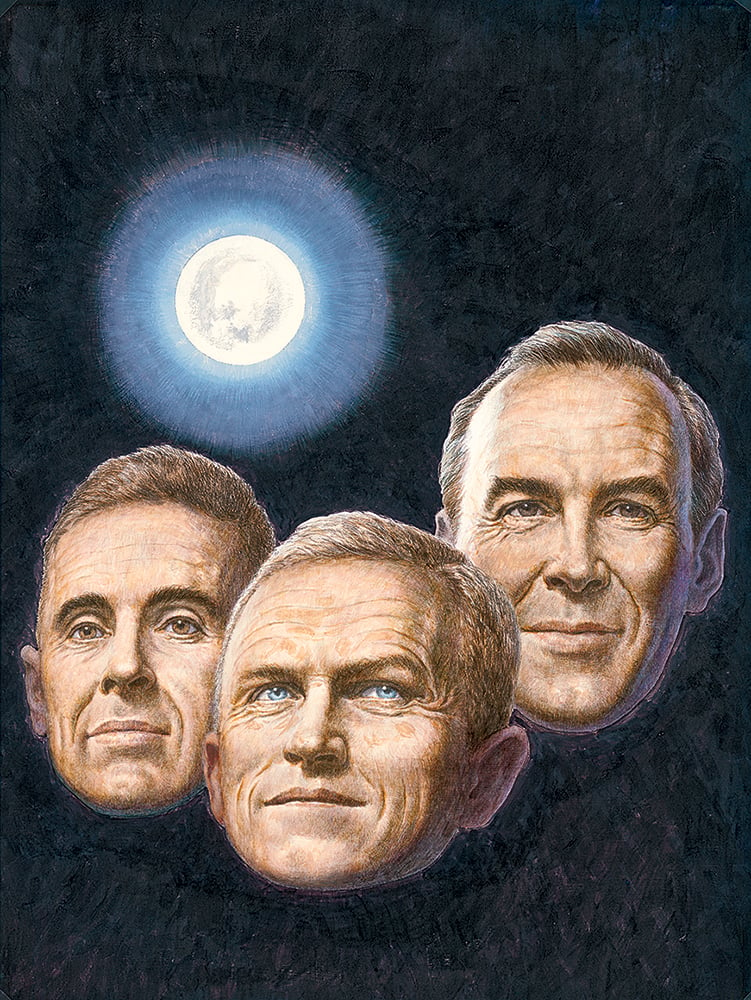 Even by the standards of 2018, a lot happened in 1968. The Portrait Gallery opened that October, in a downtown DC still smoldering from riots following Martin Luther King Jr.'s assassination six months earlier. "That year had it all," says museum historian James Barber, who distilled 12 months of powerful images into an exhibit celebrating the museum's 50th anniversary. The show ends with a painting of three astronauts from Apollo 8, a salve to a nation rubbed raw. "It was an event that really brought the nation together," Barber says. "You couldn't have scripted it any better."
This article appeared in the June 2018 issue of Washingtonian.