A new luxury listing in Washington comes with a spate of amenities: a state-of-the-art security system, a home theater, a free ride on a private plane—yes, really.
The home, at 5009 Cedar Croft Drive, is in the Bethesda Crest development. A buyer willing to pay the full list price of $1,449,500 will get a complimentary trip on the seller's jet. Up to six guests can fly to the location of the buyer's choosing, as long as the round-trip doesn't exceed four hours.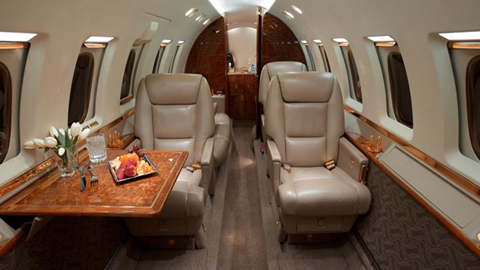 The idea came from the property's listing agent, Jay Bauer of Compass. Bauer—who's also a friend of the seller—says he likes "to think outside of the box" when it comes to marketing: In 2013, he worked with Taylor Gourmet's Casey Patten to sell the restaurateur's Penn Quarter condo. That residence came with a five-year supply of free Taylor Gourmet hoagies.
"I'm telling you, the phone starts blowing up," Bauer says. "It was a huge success. Obviously, this time it's much different, but even cooler."
The four-bedroom, four-and-half-bath house hits the market Tuesday. There will be an open house on Sunday, June 17 from 2pm to 4pm. Check out the house (and the Hawker 800) below.