First came Blue Apron, the company that will drop off all the fixings for a home-cooked meal right at your house, enabling busy professionals to whip up something sophisticated without shopping or chopping. Then a pantry's worth of local niche companies followed, aiming at foodies (Galley), gym bunnies (Territory), and homesick expats (Foodhini). But a pair of food-world notables believe there's still one huge demographic to satisfy: kids.
Tim Ma, chef at the French-Asian—and not especially kid-oriented—restaurant Kyirisan and the new Eaton DC hotel has teamed up with Rachel Ball, a former event director at a catering company. Together, they created Box'd Eats, a school-lunch delivery service that launched in late August out of Ma's Shaw restaurant. Think of it as Blue Apron meets Lunchables: The recyclable, pre-packed trays are customized with foods kids like, but designed with high-quality, often local ingredients.
Though programs such as Real Food for Kids are working with area schools for healthier meals—and 32 District public schools now claim salad bars—Ball says the goal is to provide more than just nutrition.
"A lot of working parents still want to hand their kid their lunch from home, to have that touchpoint on their kid's day," says Ball. Parents can even include personalized notes.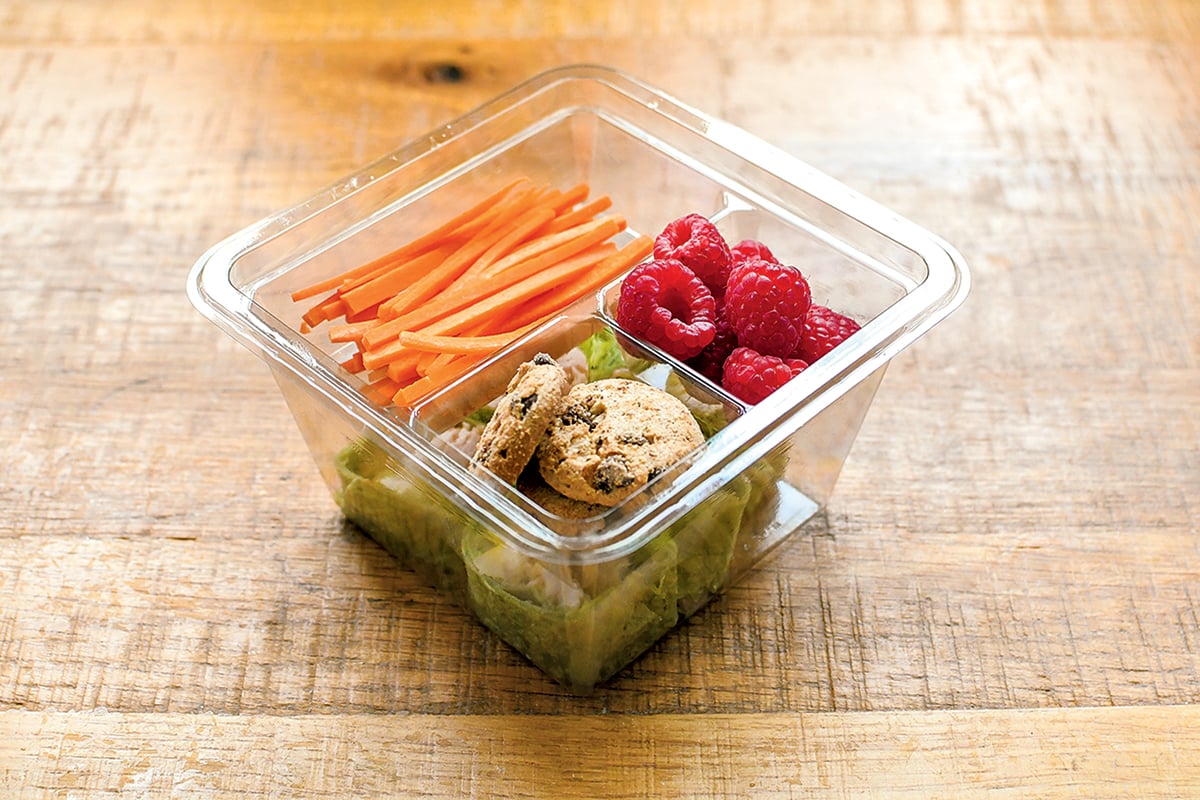 Subscribers—well, procrastinating subscribers—will also find a charitable component. Orders that are cancelled last-minute will be rerouted to local nonprofit Martha's Table to help feed kids in need, instead of being left to waste on a doorstep. (There's also a page for anyone to donate on the Box'd Eats site.)
The cost is $6.79 or $6.99 per lunch—depending on whether you order five or three per week—plus $5 shipping to anywhere in the Washington area. (The first order of food is free.) The meals arrive in a full set at your doorstep.  Ma has three school-age kids under seven and spent months testing mains and snacks on his children as well as a focus group. While some cheffy items like pasta with carrot-top pesto didn't fly—one tot deemed it "disgusting!"—the children warmed to dishes like from-scratch ramen and avocado-mango-and-black-bean salad, as well as the usual ham sandwiches and cookies.
"I'll stay familiar with some of the foods but also try and push it a little," says Ma, whose own children are of the ham-sandwich-and-cookie mindset. "There's no one more brutally honest than kids."
A version of this article appeared in the September 2018 issue of Washingtonian.