St. Anselm
1250 Fifth St., NE
Shhh…Stephen Starr and Joe Carroll's hotspot near Union Market isn't technically open for brunch yet, but they did a test run last weekend and you're in luck again this Sunday. Follow them on social media to see when the preview is happening, and look forward to brunch starting for real on October 20. The menu is still in the works, but chef Marjorie Meek-Bradley is planning her version of American classics like a fried-chicken biscuit, malted chocolate chip pancakes, and S.O.S. (a.k.a. something too crude to write a.k.a. chipped beef on toast). Take a look at the menu.
Call Your Mother
3301 Georgia Ave., NW
Park View's new "Jew-ish" deli has fun with tradition—think latke fries, pastrami fried rice, and bagels cooked in a wood-fired oven (the team also owns "Neapolitan-ish" pie joint Timber Pizza). Purists can still get a lox bagel and a cup of the house "just coffee." If you can snag a flamingo-pink rocking chair plan on lingering.
Mason Dixie Biscuit Co.
1819 Seventh St., NW
They're baaack. Traveling biscuit purveyor Mason Dixie has been all over DC with pop-ups and a short-lived drive-thru, but they just landed a new permanent home in Shaw. The shop's grand opening is Saturday at 8 AM, and the first few customers get a punch card for five free sandwiches. Also on the menu: breakfast sandwiches and coffee.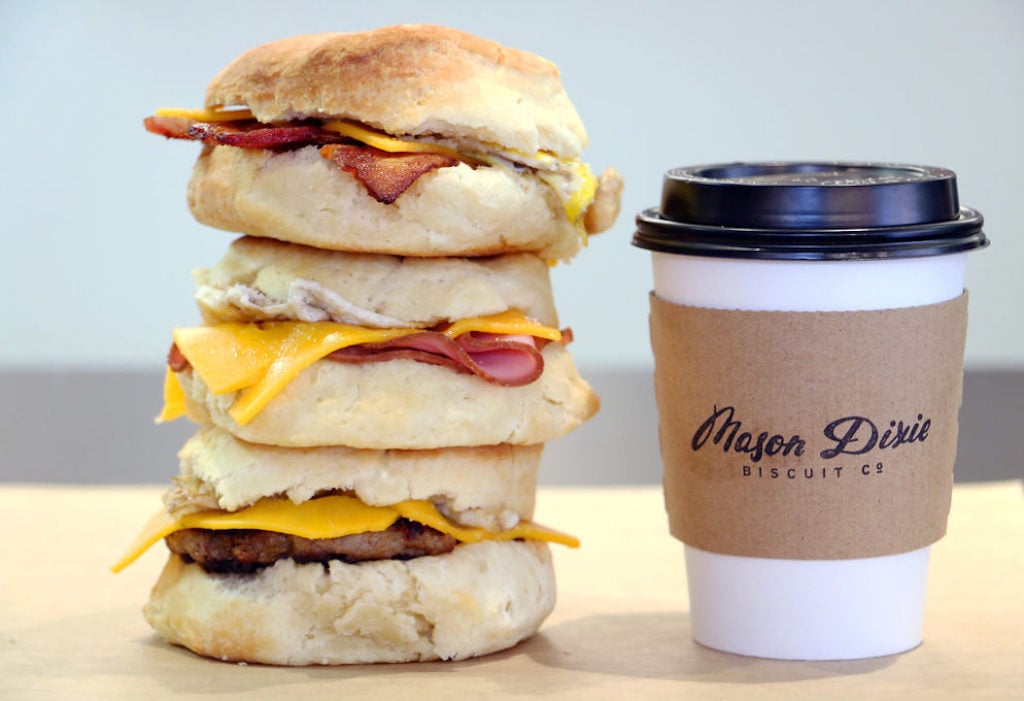 American Son
1201 K St., NW
Kyirisan chef Tim Ma is making food for three venues inside the newly-opened Eaton Workshop hotel—including a gorgeous rooftop and moody lounge—but the main culinary attraction is American Son. At the first-floor restaurant, which opened Thursday, he serves comfort food through the lens of a Chinese-American immigrant. For breakfast that translates to dishes like congee-style rice porridge with confit chicken and a shiitake-poached egg, or a classic American spread. You can also grab third-wave coffees, mushroom brews, and vegan pastries in the hotel's oh-so-hip cafe, Kintsugi.
The Village Cafe
1272 Fifth St., NE
This creative cafe—another newcomer in the Union Market area—comes from three DC locals and Wilson High School grads. Grab a cup of District-made Southeast Roastery coffee and a egg sandwich, and check out their lineup of programming; the team built a creative space for sign language classes, networking, and more.