This spot in Columbia Heights is the first home partners Emily Goodstein and Ron Kelly have owned together. They originally lived in Petworth, so they were happy to stay in a similar area close to friends. (Fun facts: Emily was born a few blocks away at Washington National Hospital Center, and her sister lived right across the street when they first moved in.)
Ron, an urban planner, works in Crystal City, so he loves their home's Metro accessibility; Emily, a digital marketing strategist, works from home and coffee shops, so she's obviously a big fan of Colony Club and the Coupe (and she says she's been anxiously awaiting the opening of Call Your Mother).
Maybe the best part of their tiny but cute home is that it reflects them—bright, fun, and quirky. "Don't be afraid of color or patterns," says Emily, and she means it: Throughout the space, Moroccan rugs pair with cattle skulls, and cowhide chairs sit next to rainbow-hued bookshelves.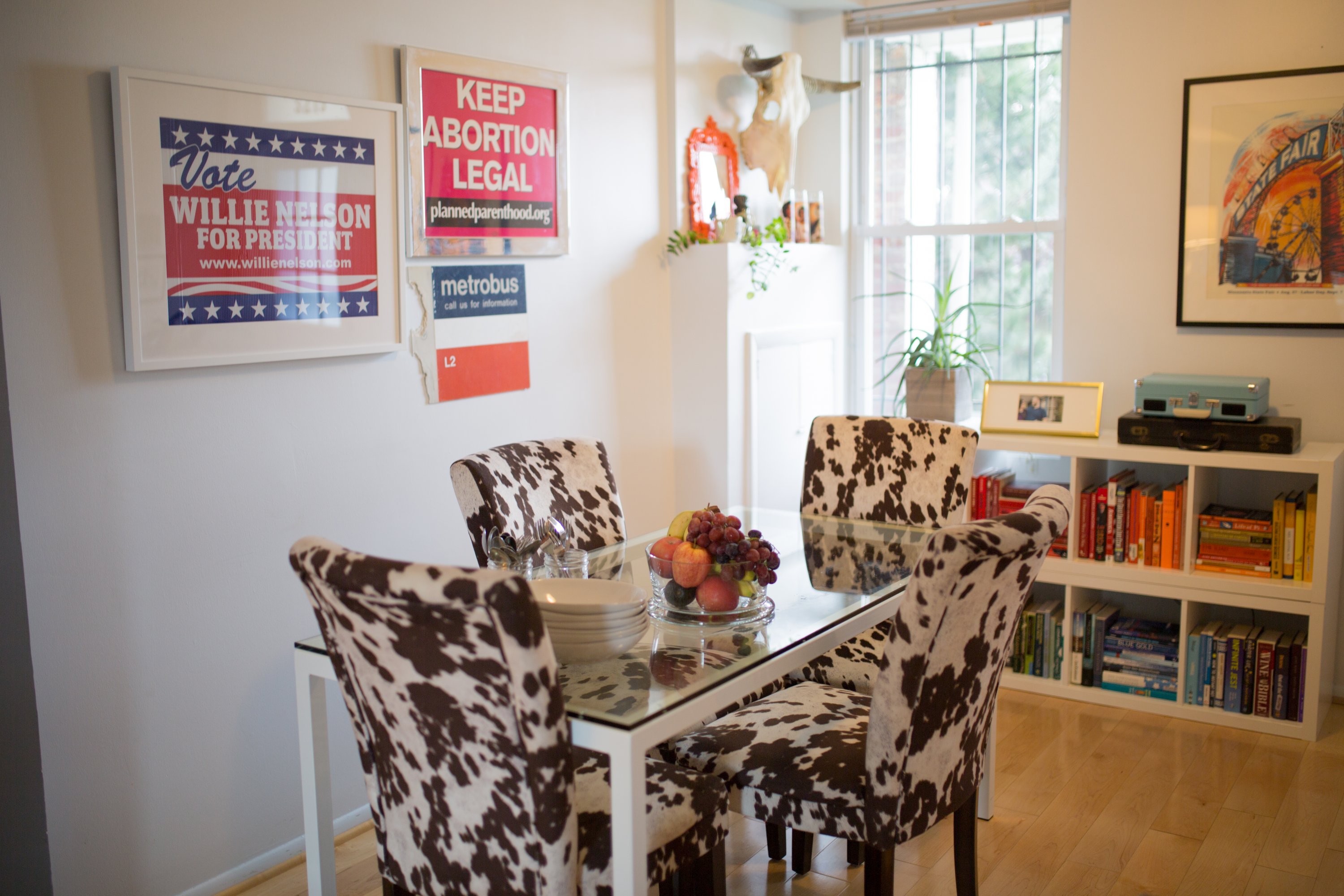 Who lives there: Emily Goodstein and Ron Kelly
How long they've lived there: 18 months
Approximate square feet: 1,050
Number of beds: Two
Number of bathrooms: One
Favorite piece of furniture: Their yellow Parsons bed from Room and Board. They paired it with plain white bedding to make the small bedroom feel more open and emphasize its bright color.
Favorite DIY: They originally hung the white sheer curtains in their bedroom by themselves; then they fell down, and they had to hire someone to help with a re-installation. "But we now own a drill and ladder, so that's a win!" says Emily.
Splurge: The Moroccan rug in the living room wasn't necessarily a monetary splurge, but it definitely cost a lot in labor. Ron found it on an international trip and lugged it on the plane and through customs. Emily loves the bright colors, and Ron loves recalling the trip every time he looks at it.
Steal: The coffee table—Emily snagged it from a friend who keeps furniture in her basement.
Design advice: "Remember, everything is temporary," says Emily. When they were deciding on a couch, she wanted something bright, and Ron wanted something subdued. They ended up with a gray couch with lots of colorful throw pillows, but it's not forever, she points out. "Maybe the next couch we buy will be chartreuse?"
Have a house you'd like to be featured in a Look Inside My Home post? Post a picture of your space on Instagram and tag it with #WashMagHome.