Savvy Washingtonians know Union Market as a go-to food market, a place to peruse booths peddling everything from fresh-baked empanadas to locally-brewed kombucha. But lately one particular booth has stood out, its foliage-covered shelves and brightly-colored stacks of leather shoes drawing customers in as they sip their morning coffee. The company can be found in the front row of Union Market between Peregrine Espresso and Rappahannock Oyster Bar and is called Sabah, which is Turkish for "the morning time"—an appropriate name for a line of shoes handcrafted in Turkey and based on traditional Turkish shoes. Though the shoes are designed in New York, it was a series of pop-ups on H Street that helped the brand solidify its customer base.
Mickey Ashmore, the free spirited 31-year-old founder of Sabah, says the booth is more of a good vibes dealer than a shoe store. Take one of the company's holiday email blasts, for instance, which advertises that there are only 40 pairs left of a customized constellation-themed shoe, but also invites customers to a Sabah-hosted party in New York. Party guests include the artist Fernanda Uribe, who designed the shoes, a palm reader, a Spanish guitarist, a mixologist, and a Venezuelan chef.
This is all part of the Sabah experience, says Ashmore, who has opened up Sabah stores in four locations—New York, Dallas, Los Angeles, and DC—since the first pair of shoes were created in June of 2013.
"The origin of our brand is the idea of a place where you can meet people and hang and buy a pair of shoes," says Ashmore. "It's very Old World—not dissimilar to how you might buy shoes in Turkey."
Before he launched the shoe line Ashmore was a financial and strategic analyst for Microsoft. A Dallas native, his love of other cultures led him to Istanbul for what was supposed to be a six-month work-related trip. He ended up living there for two years, falling in love with the culture and the people. At one point he dated a woman whose grandmother gifted him a pair of traditional Turkish shoes with soles made of water buffalo-leather.
"I loved the way they felt," Ashmore says. "I've always blended funky things into my outfits, so I started wearing these curly-toed shoes around Istanbul. All of my Turkish friends were laughing at me because I was wearing their traditional shoes."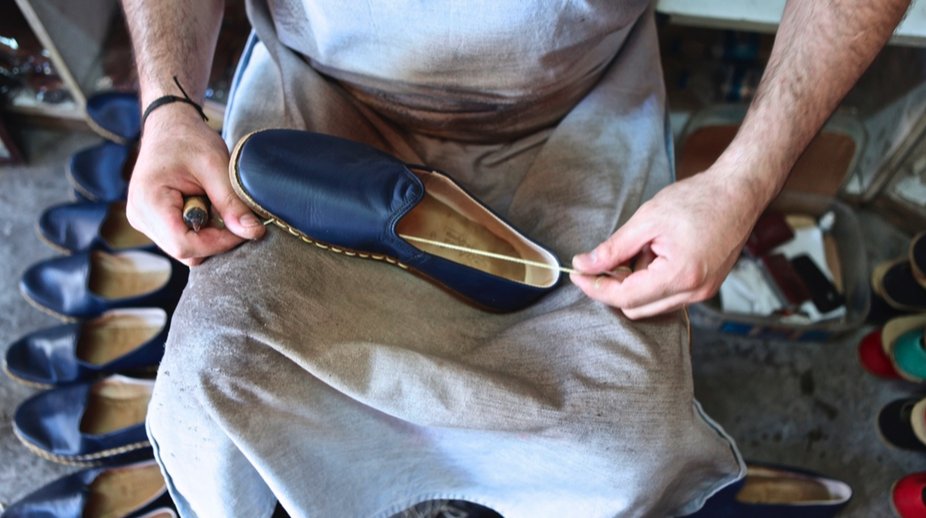 He wore them to weddings, parties, and while traveling, eventually bringing them back to Manhattan when he moved back to the US in 2012. But the New York streets proved tough on the shoes, and within six months they were torn apart. Ashmore liked the shoes so much he decided to contact the original maker in Gaziantep and commission a higher quality redesign with black leather and a rubber sole to protect it. With no curly toe or traditional pattern on the top, the slipper-like pair was a precursor for the current Sabah shoe.
Ashmore liked the new pair so much, he had red and blue versions made and started giving them out as gifts. In the summer of 2013, he threw parties at his townhouse every weekend where he'd sell the shoes, each one stamped with the Sabah logo. Then he would fly back to Turkey to pick up the next batch.
"People were coming over, having a glass of wine, listening to music, bringing friends by," says Ashmore. "I would cook a bunch of food and we'd all go dancing. It was just fun."
Fun enough to quit his job at Microsoft.
As word spread of Sabah's popularity in New York, Ashmore started getting requests from interested customers across the US—including DC. In 2014, he set up the first Sabah pop-up shop at an Airbnb he rented on H Street. The success of the pop-up inspired Ashmore to keep coming back to DC twice a year until he officially opened the Union Market stand in March, selling Sabahs for $64-$195 a pair.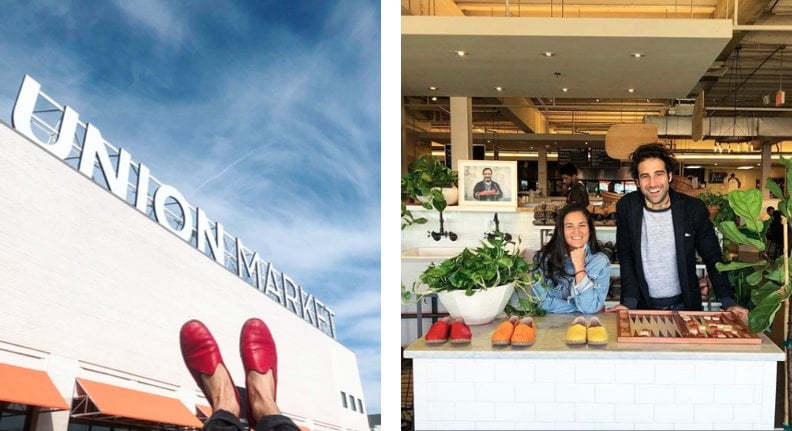 But the space is small and the company is growing rapidly. Sabah, which started with five makers, now employs 30 craftsmen in southeast Turkey, and Ashmore flies to Turkey three times a year to handpick the leather. He's already looking for a larger, more permanent space to continue the company's growth here in the District.
"In Union Market, we're not able to fully spread our wings because we don't have the proper shop space. But even there, I think we bring something unique to DC—the independence of our product, our story. Our business is very much governed by how we feel," Ashmore says, "and DC feels right."
The Sabah Stand is open from 11 AM to 6 PM every Tuesday to Sunday (and until 7:30 PM on Fridays and Saturdays); Union Market, 1309 5th St NE, 20002.