It's time for the Nationals to #finishthefight. The World Series starts Tuesday, October 22,  and as you'd expect, there are plenty of creative specials, all-day happy hours, and watch parties. The team is also opening the doors to Nationals Park for free on Tuesday and Wednesday so fans can catch the game on the Jumbotron (parking is also free, while concessions are priced individually per usual).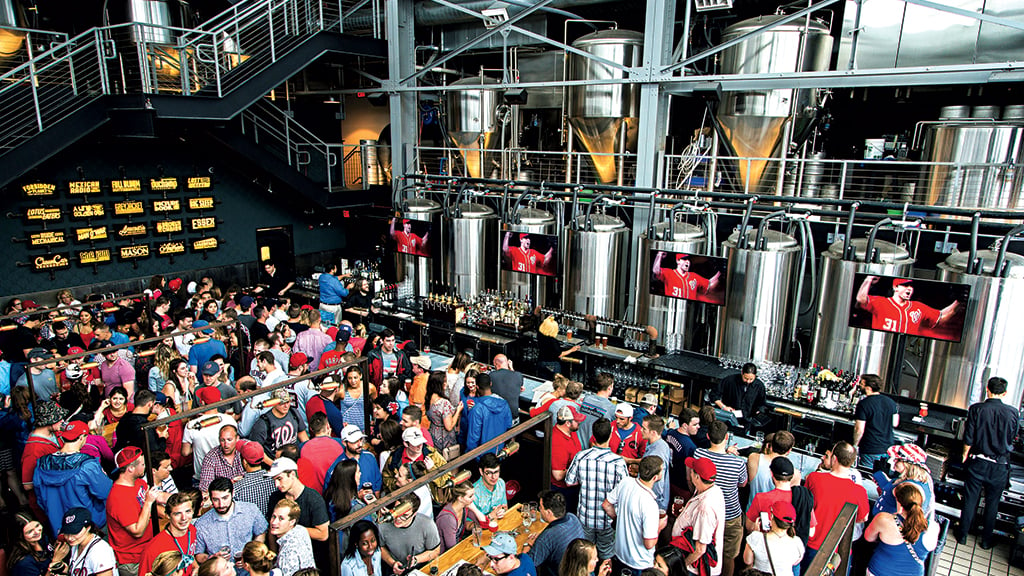 Near Nationals Park
Agua 301
301 Water St., SE
Watch all the games at this Yards Park eatery and when the Nationals score, so do you. Margaritas start at $7 with 25 cents off for every run the home team scores at each game. Also on the menu: rotating food specials for each game, including nachos, tacos, and empanadas. Wear Nats gear to be entered into a daily drawing for four tickets to a 2020 season game.

All-Purpose Riverfront
79 Potomac Ave., SE
If you're looking to avoid the cool fall weather, head to this watch party in a heated garden patio. Sip DC Brau (or wine, if you prefer) and enjoy pizza and sandwich specials during extended hours, with last call at 2 AM on Friday, Saturday, and Sunday.

Bardo Brewing
25 Potomac Ave., SE
Want to get your pup in on the #Natitude action? Head to this dog-friendly waterfront beer garden. It's set to host pregame parties on Friday, Saturday, and Sunday with $7 pints until midnight. Bonus: wear a Nats costume to Saturday's Halloween party  (6 to 11 PM) and you might win a prize.
Bluejacket
300 Tingey St., SE
The Navy Yard brewery will tap its 86 Years IPA just in time for Tuesday's game (the name refers to how long it's been since a Washington team made it into the World Series). The double IPA includes hints of passionfruit, peach, and orange, and it may be bottled soon with a commemorative label.
The Brig
1007 Eighth St., SE
The popular pregame hangout is projecting every game throughout its German-style outdoor beer garden (after dusk, the game will be shown on a 25-foot projection screen). Brats, pretzels, and $28 buckets of tall-boys are on the menu. Choose from Natty Boh, Narragansett, PBR, Bud Light, and more.
The Bullpen
1201 Half St., SE
The beloved pregrame venue right near the entrance of Nats Park will screen all the games. With no cover charge, the open-air bar will also feature live music all weekend long. Doors open at 2 PM on Friday, Saturday, and Sunday with a happy hour special for Chase cardholders. Bop to bands like 19th St Band, The Crawdaddies, Maggie Rose and more before, during, and after the games.
Mission Navy Yard
1221 Van St., SE
Right across from the center field entrance, this Mexican spot plans to host hundreds of fans at its two-level bar. The bar will open two hours before each game, and will serve $25 buckets of beer and $5 margaritas and shots until 2 am. Plus, there are appetizers like chorizo sliders or quesadillas.
Novel South Capitol
2 Eye St., SE
The luxury apartment building will be opening up its rooftop lounge to the public for a watch party on Friday. From 6:30 to 10 PM, snack on ballpark concessions and brews while watching the first home game on flatscreens. The best part? There will be several Nats giveaways, including a chance to win a pair of highly-coveted tickets to Saturday's game.
Nicoletta Pizzeria
301 Water St., SE
Head to the waterfront fast-casual for pre-game pizza and a limited time pie: Howie's Grand Slam, with spinach, banana peppers, crispy porchetta, and a creamy white sauce ($20). Plus, there's cornhole.
Shilling Canning Company
360 Water St., SE
The Mid-Atlantic-inspired restaurant will shell out $2 oysters and host a special happy hour from 5 to 6:30 PM on Tuesday through Friday. To wish Howie Kendrick good luck on his homers, order a special $9 cocktail with vodka, ginger, nutmeg, and bitters.
Walters Sports Bar
10 N St., SE
This fan favorite sports bar across from Nats Park offers 24 self-service beer taps and a 220-inch TV. The bar will serve up buckets of wings, Bud Light, and Truly seltzer for under $20 until 2 AM (or 3 AM on Saturday).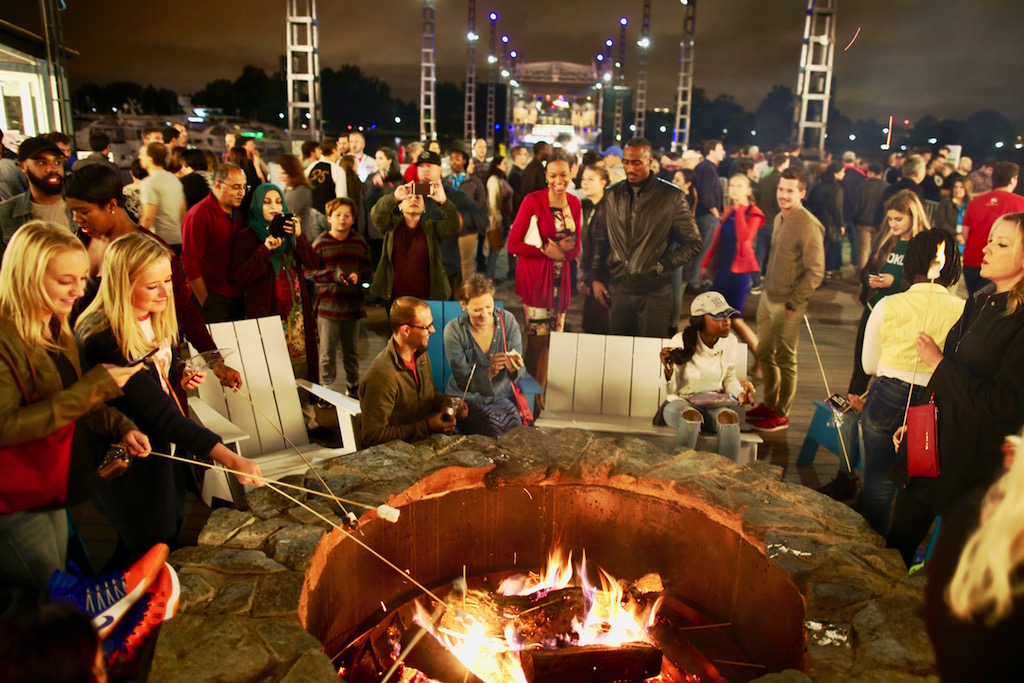 Elsewhere Around DC, Maryland, and Virginia
Atlas Brew Works
2052 West Virginia Ave., NE
Stop by the Atlas Brew Works tap room any time on game days to enjoy Atlas's 1500 South Cap Lager for $5.
The Blaguard
2003 18th St., NW
This two-story sports bar in Adams Morgan is serving up game day grub like chili-cheese hot dogs, along with $3 Bud Light and Natty Boh until last call at 1:30 AM (or 2:30 AM if it's the weekend).
Clyde's
Multiple locations in DC, Maryland, and Virginia
Washington's local chain of American bars and restaurants is anticipating a Nats victory. Get 50 percent off your bill if the home team wins, from last pitch to the last call, which varies by location. Watch the games at any of their locations.
Dirty Habit
555 8th St., NW
The Penn Quarter is offering a special cocktail with a twist–a portion of the proceeds benefits the Washington Nationals Dream Foundation. The $6 green apple Absolut cocktail will be available all day through Oct. 30.
Duffy's Irish Pub
1016 H St., NE
Duffy's has some of the best wings in DC, and you can grab them for half price on Wednesday, October 23. There will be a $9 Budweiser tall-boy-and-shot special on each game day. The pub closes at midnight on weekdays, but it stays open until 2 AM on Friday and Saturday.
The Greene Turtle
7879 Heneska Loop, Alexandria
Head over to the Green Turtle's Hilltop Village Center location for a game 3 watch party on Friday from 8 PM to 1:30 AM. Watch the Nats on all the big screens, then sing your heart out at karaoke hosted by M.C. Big Swig until close. Wear your best Halloween costume for a chance to win over $300 in prizes.
Last Call
1301-A 4th St., NE
Gina Chersevani's new dive-y bar near Union Market will serve a specialty cocktail named after our favorite home run machine, Howie Kendrick. Howie's Hurricane includes Don Q White Rum, Black Heart Duck rum, passionfruit, strawberry, basil, and lemon. Games will be on TV (and there's also billiards).
Logan Tavern
1423 P St., NW
Enjoy all-night happy hour while watching the World Series at Logan Tavern. Drink specials include signature cocktails for $7.25 and bar bites like crispy Brussels sprouts and empanadas. If you're watching with a group, grab a bucket of beer or $25.
Lou's City Bar
1400 Irving St., NW
The Columbia Heights sports bar will host a live radio broadcast Tuesday from 4 to 8 PM with The Team 980 and hosts Steve Czaban and Scott Linn. Draft beers are $5 and under, and house wines and rail drinks are $6 and below.
Matchbox
Multiple locations in DC, Maryland, and Virginia
All locations of this pizza/miniburger chain are celebrating by offering happy-hour-priced food and drinks to anyone wearing Nats gear (hopefully you weren't waiting to buy a Scherzer jersey).
The Midlands
3333 Georgia Ave., NW
Park yourself at one of this Park View beer garden's fire pits and watch the game on the patio. It'll serve hot mulled cider with spiced rum, and closing time is normally midnight on weekdays and 3 AM on the weekend, but the games will be shown until the Nats #finishthefight.
The Occidental
1475 Pennsylvania Ave., NW
More than 80 years ago, the Washington Senators celebrated their World Series win at this downtown dining room. Now, you can sip $10 bourbon cocktails named after the former team and watch the games on the patio while supporting a good cause: the Youth Baseball Academy Initiative.
Quincy's South
11401 Woodglen Dr., Bethesda
Honor Gerardo Parra with "baby shark" sliders, covered in provolone and blackberry habanero sauce, and dig into Howie Kendrick-inspired nachos, an MVP bacon hot dog, and classic wings. The neighborhood hangout will also offer bottle buckets and pitchers during the games.
Rock and Roll Hotel
1353 H St., NE
The concert venue is hosting a watch party Tuesday, October 22, with multiple TVs playing the game on its rooftop bar and second-floor space. There's no cover charge, and drink specials include $7 Devils Backbone Earned Run Ale and $1 off rail drinks. Doors open at 6 PM.
ThinkFoodGroup
Multiple locations in DC, Maryland, and Virginia
Celebrate at the restaurants of local celebrity chef José Andrés. America Eats Tavern, China Chilcano, Jaleo, Oyamel, and Zaytinya will all serve space Green Hat gin-and-tonics ($10.33) and cans of Right Proper Raised By Wolves ($5.33). In case you're wondering, the price nods to the last time a DC baseball team competed in the World Series.
Tico
1926 14th St., NW
Wear your gear for bottomless beer at the taco and tequila hangout on 14th Street. Sport your favorite player's jersey (both teams welcome) and you can have bottomless beer, wings, and nachos for $30. The special will last through the entirety of each game, which will be played on a large projector screen.
Vim & Victor at The St. James
6805 Industrial Rd., Springfield
Spike Mendelsohn's restaurant in the mega-sports complex will serve signature cocktails in addition to its 4 to 7 PM happy hour on Tuesday. Watch the first game on the big screen while sipping a $12 "national miracle" with Malibu, almond milk, and grenadine.
The Wharf
970 Wharf St., SW
Watch the World Series on the water at the Transit Pier at the Wharf. A 17-foot LED floating screen will show every game starting at 7:30, with giveaways. DMV residents can even win tickets to Game 4 on Wednesday night with drawings in the third, sixth, and ninth innings. Head over to Union Pie or Cantina Bambina for food and drinks during the games.
This post will be updated as new details become available.