Pleasant Hill is a historic five-bed, four-and-a-half bath home in Charles County, Maryland. The original section of the Tidewater-style house was built in 1761, and today, Travis and Tig Wright own and live in the home. The Wrights—Travis, 51, is a consultant, and Tig, 52, is a Realtor—also operate the property as a wedding venue.
The couple was debating moving out of Maryland when this home came on the market last year, and they purchased it and decided to stick around. "We have always loved and appreciated old homes," says Travis—when he and Tig met, she owned an old shotgun-style home in Cincinnati that they ended up renovating together. "We were hooked!"
The couple renovated Pleasant Hill, too, and live in it with their children, Brooke, 18, Harrison, 16, and their cats, Oppie and Awnie.
Here, we talk with Travis about fixing up the home and outfitting it in a French country style: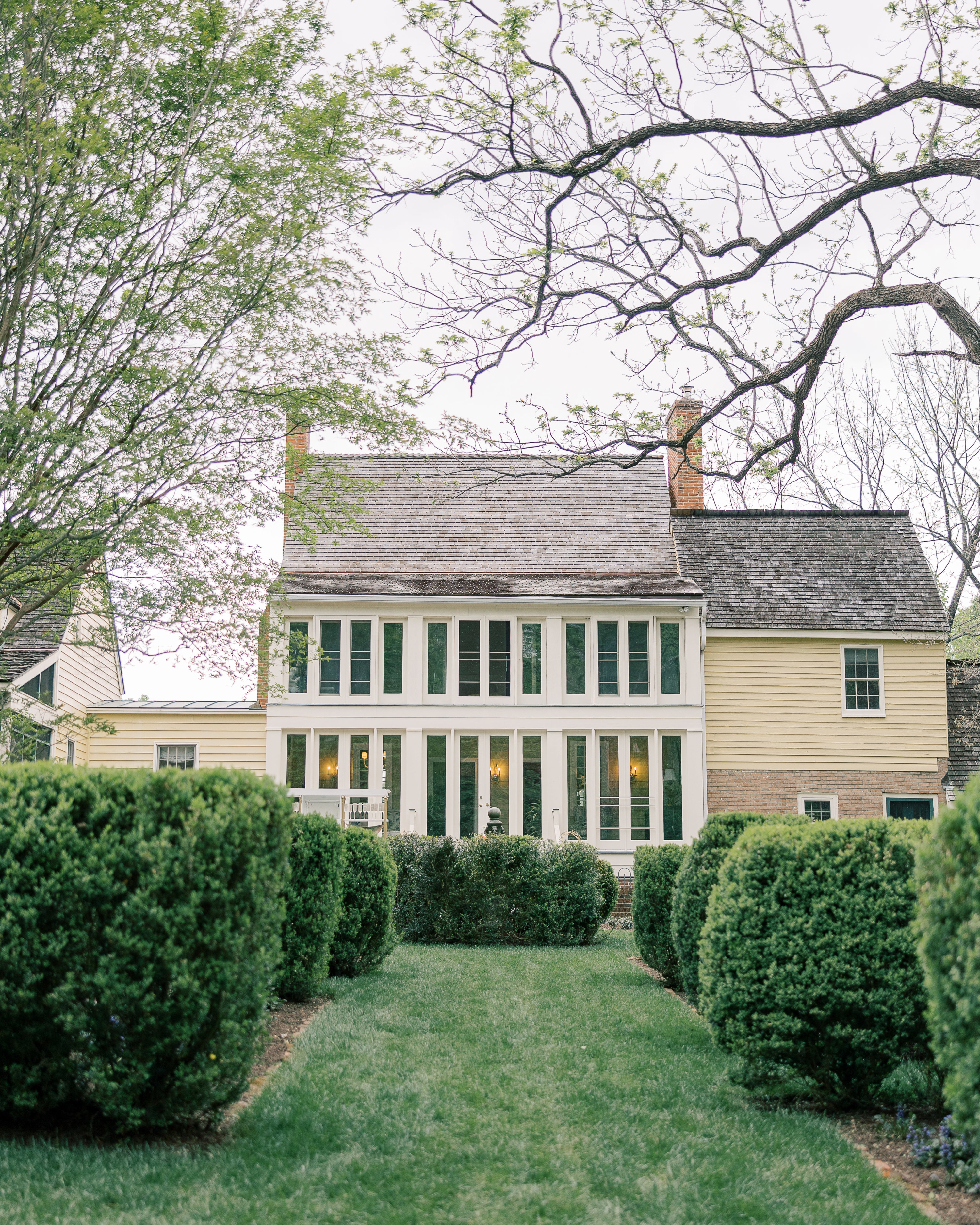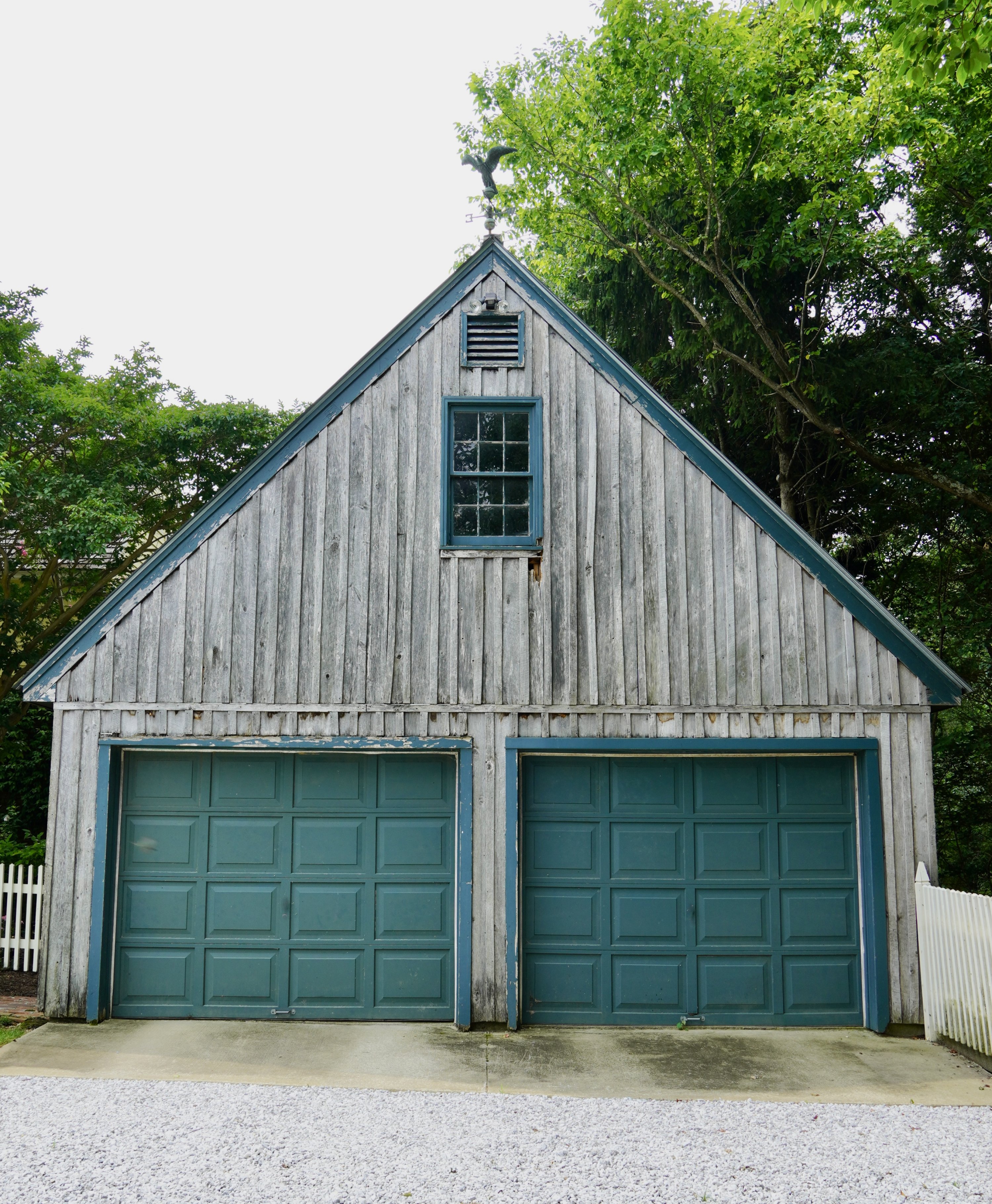 What was your inspiration for the home's aesthetic?  
With old homes, many times you work with what you have—Pleasant Hill had strong bones. We wanted a mix of modern and historic, and we love the French country style and wanted to incorporate that, as well. Since we're providing a luxury experience for our guests, we wanted to make sure they would feel transported to someplace special.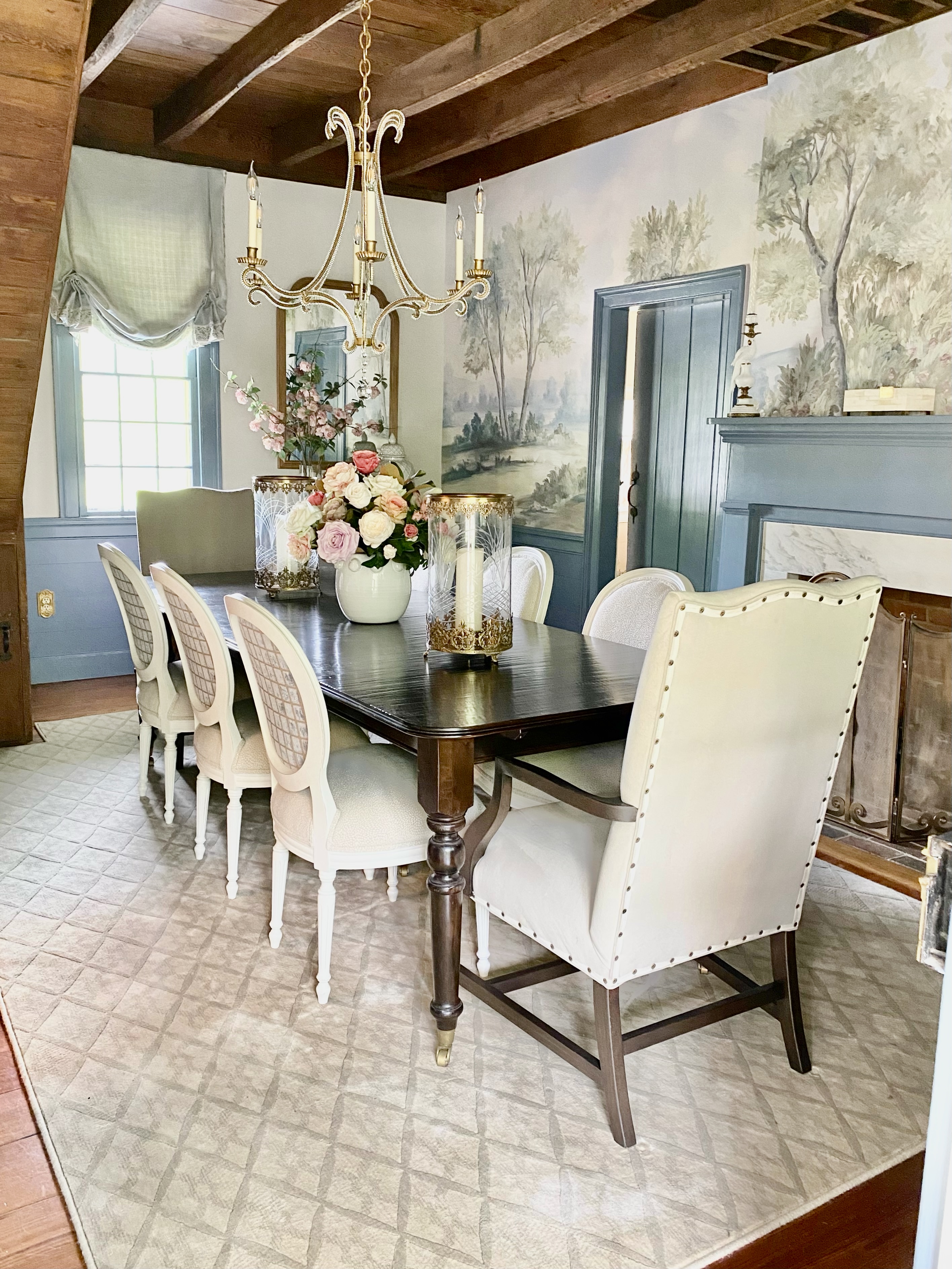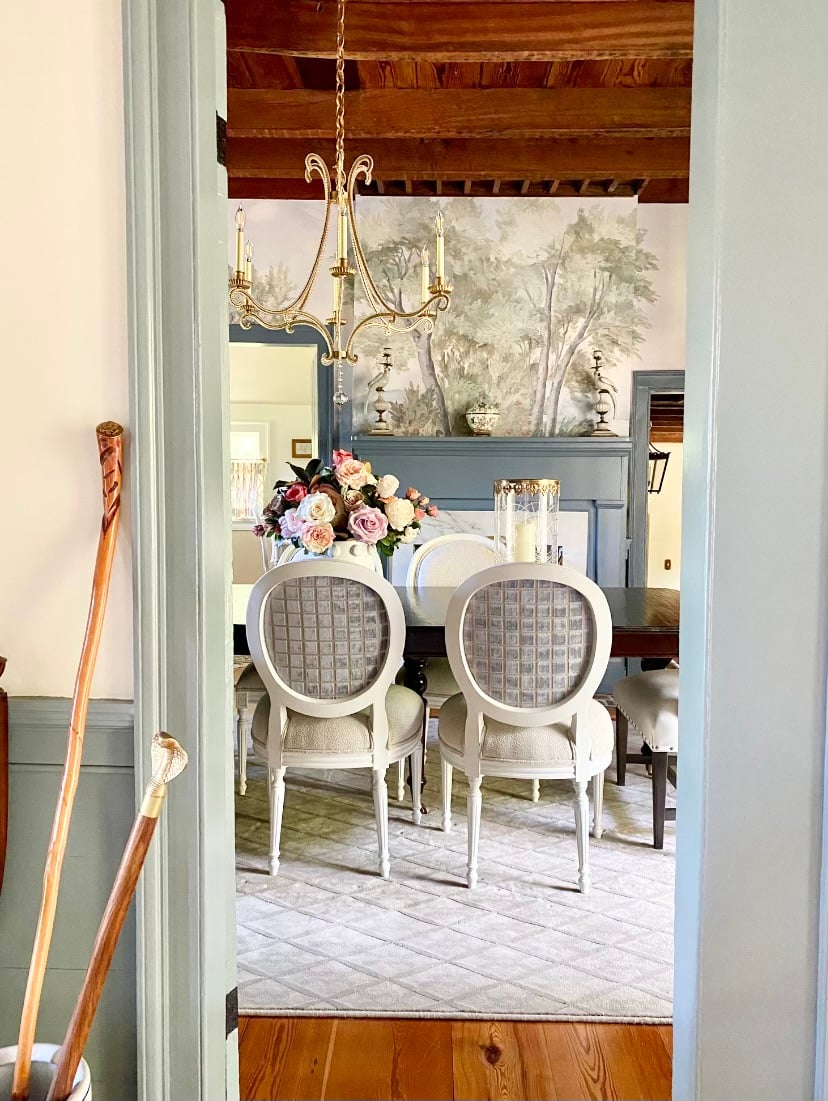 What's the biggest splurge you've purchased for your home?
The Susan Harter wallpaper in the dining room. The room is narrow and has poor natural light, so knew it needed more than just new paint to create the luxury feeling we were after. We initially thought about a painted mural but then found this amazing wallpaper. We worked with our designer, Amanda Martin of Amanda Elizabeth Interiors, to ensure the scenes fit well into our decor and vision for the room.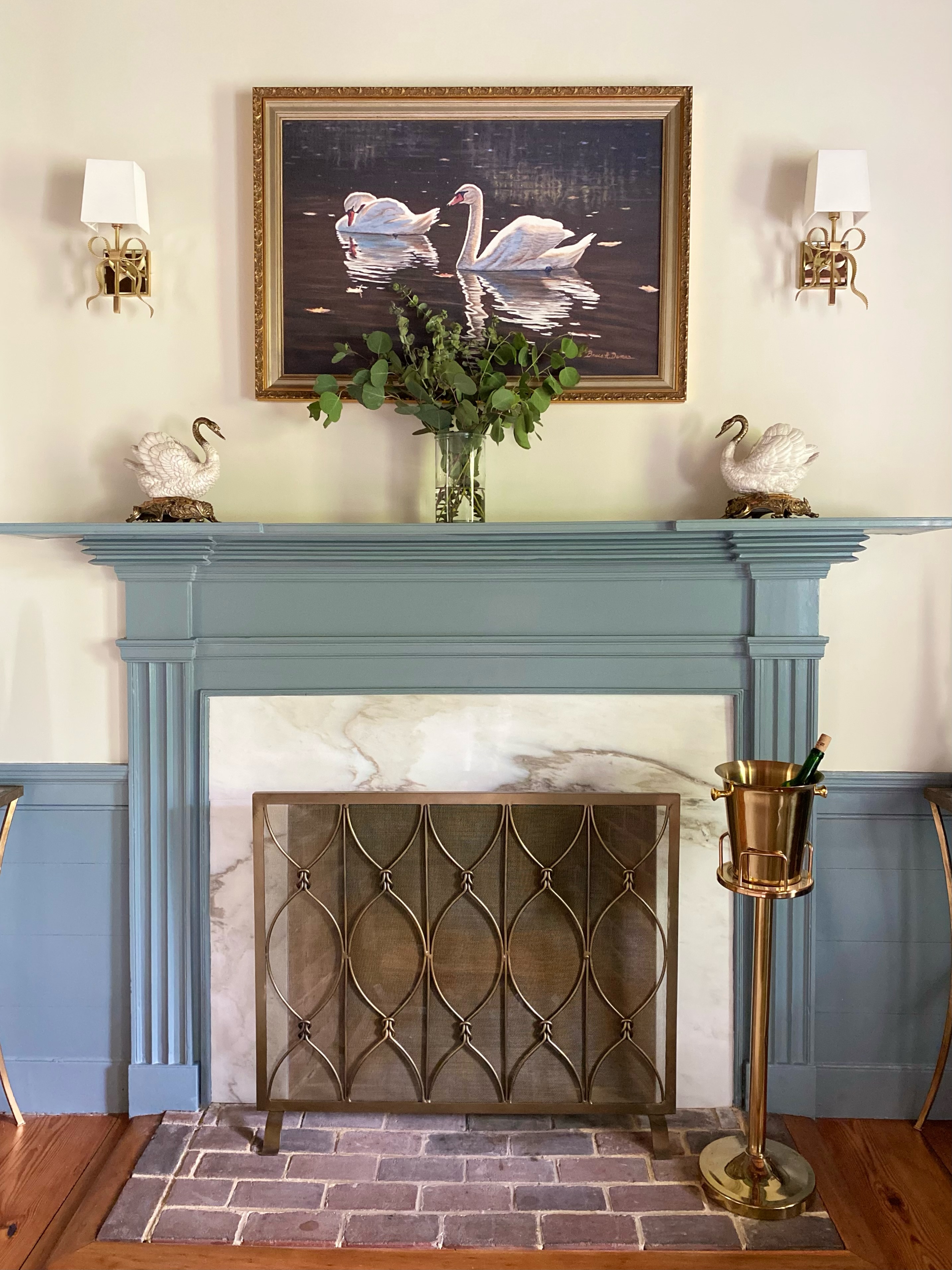 What's the best deal you've received on an item for your home?
We repurposed several pieces of furniture from our former home with new paint and stain. Also, the previous owners left behind a beautiful wood dining table that fit the narrow room perfectly. Additionally, we found unique vintage items on Chairish and Ebay.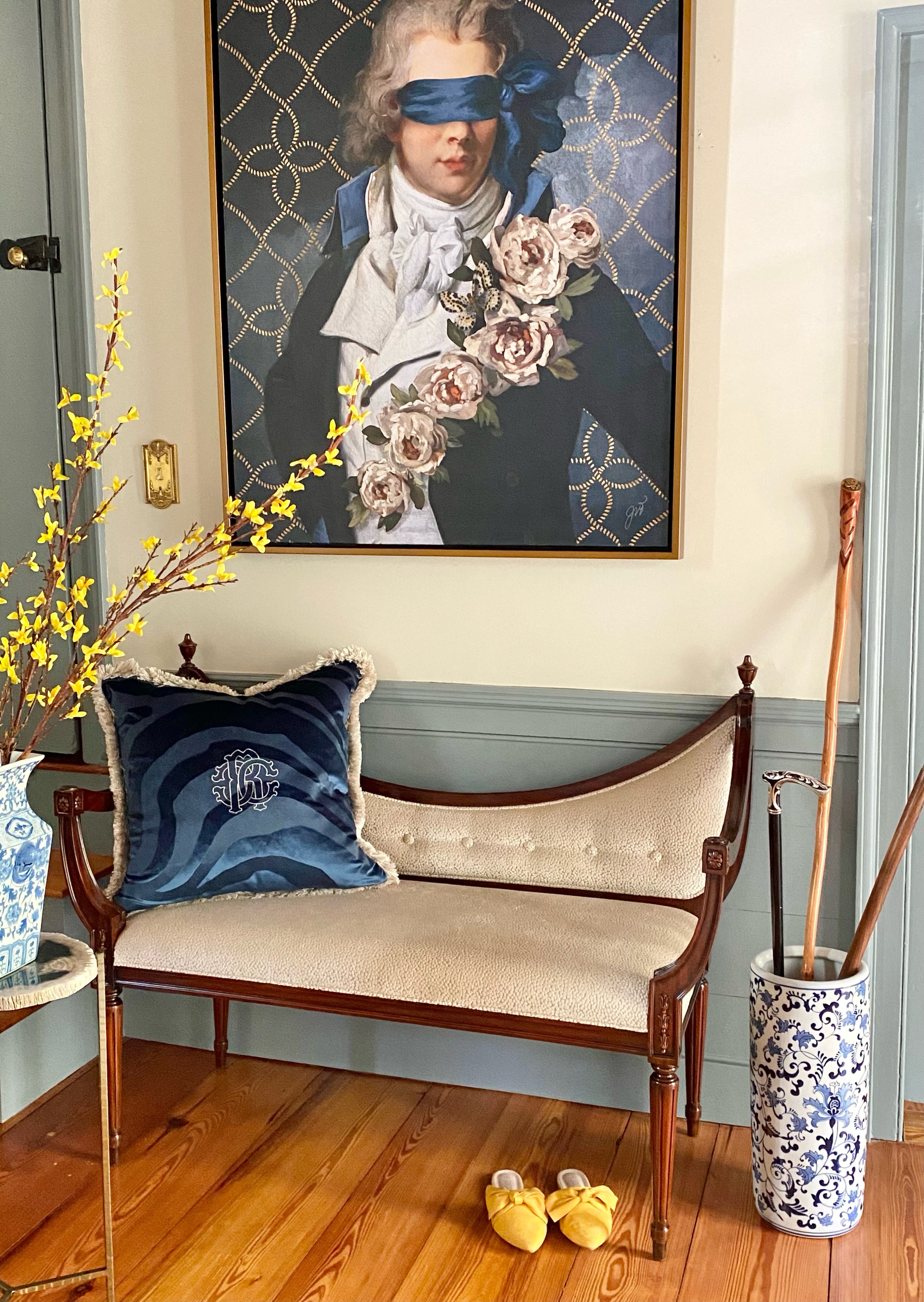 What renovations did you do to the home?
Most of the interior renovations were cosmetic, such as giving each room a fresh coat of paint and refinishing the original wood flooring. We replaced the living and dining room fireplace surrounds with Calacatta marble and updated the half-bath.
The most interesting renovation was in the basement, where we had to add posts and replace some structural beams that were 200 years old. Before installing the beams, we distressed the wood by burning and beating it with chains and axes to achieve that old antique look. Now they are structurally sound and fit the tavern look we were going for.
The exterior renovations included extensive landscaping in the front and refurbishing the back garden. We completely renovated the pool, adding new plaster, tile, coping, and pumps. We installed synthetic grass in the expansion joints, too.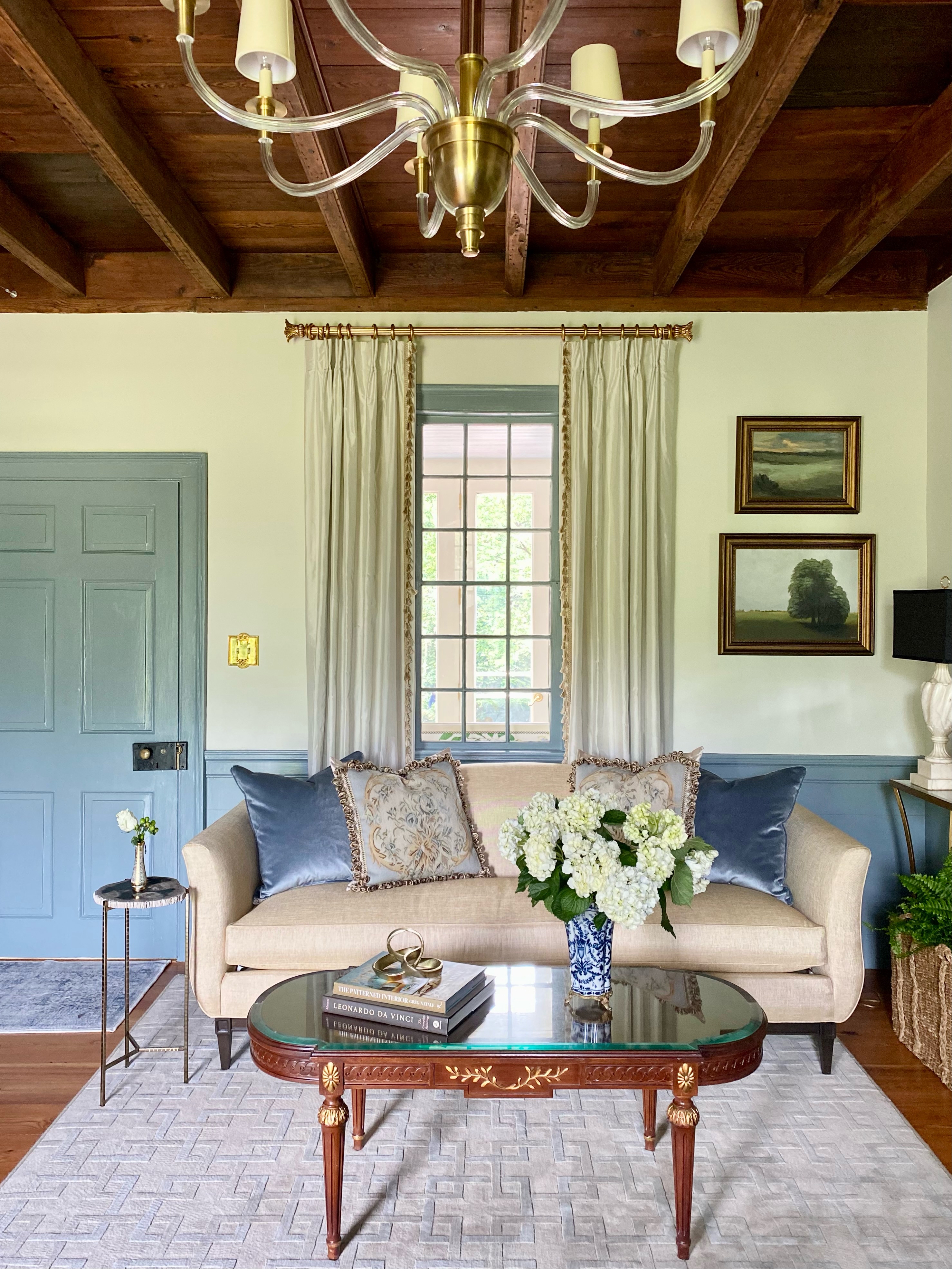 What DIYs did you do to the house?
The hyphen and butler's pantry connect the old house to the new house, where our kitchen is located. After installing a marble backsplash, it became very clear that the wood counter had to be refinished—it was fading and peeling from sunlight, and it looked dingy. I decided to tackle the staining and refinishing on my own, and I'm proud every time I walk by it.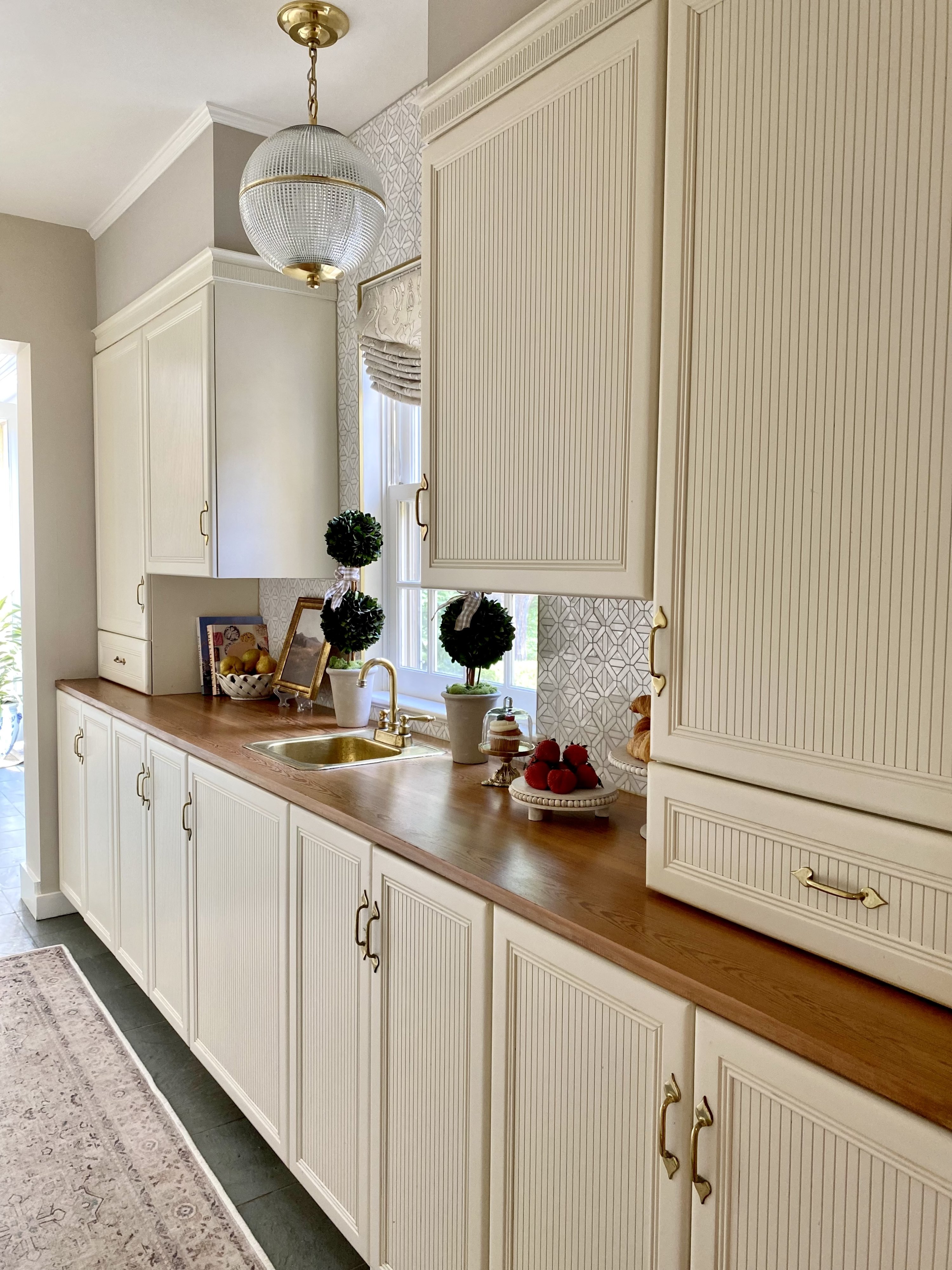 What's your favorite part of the house?
There are so many special places, but I do enjoy my office. It was originally the kitchen, but is now lined with bookshelves. The vaulted ceiling has open beams and the fireplace has the original wooden hearth with hand-hewn ax marks. I get a sense of the history every time I sit in there. 
Tig would say the pool area. She routinely works from a chaise on the pool deck while taking calls and writing contracts. When she needs a break, she takes a dip. The pool is surrounded by nature, and looking up, all you see is the sky framed by trees.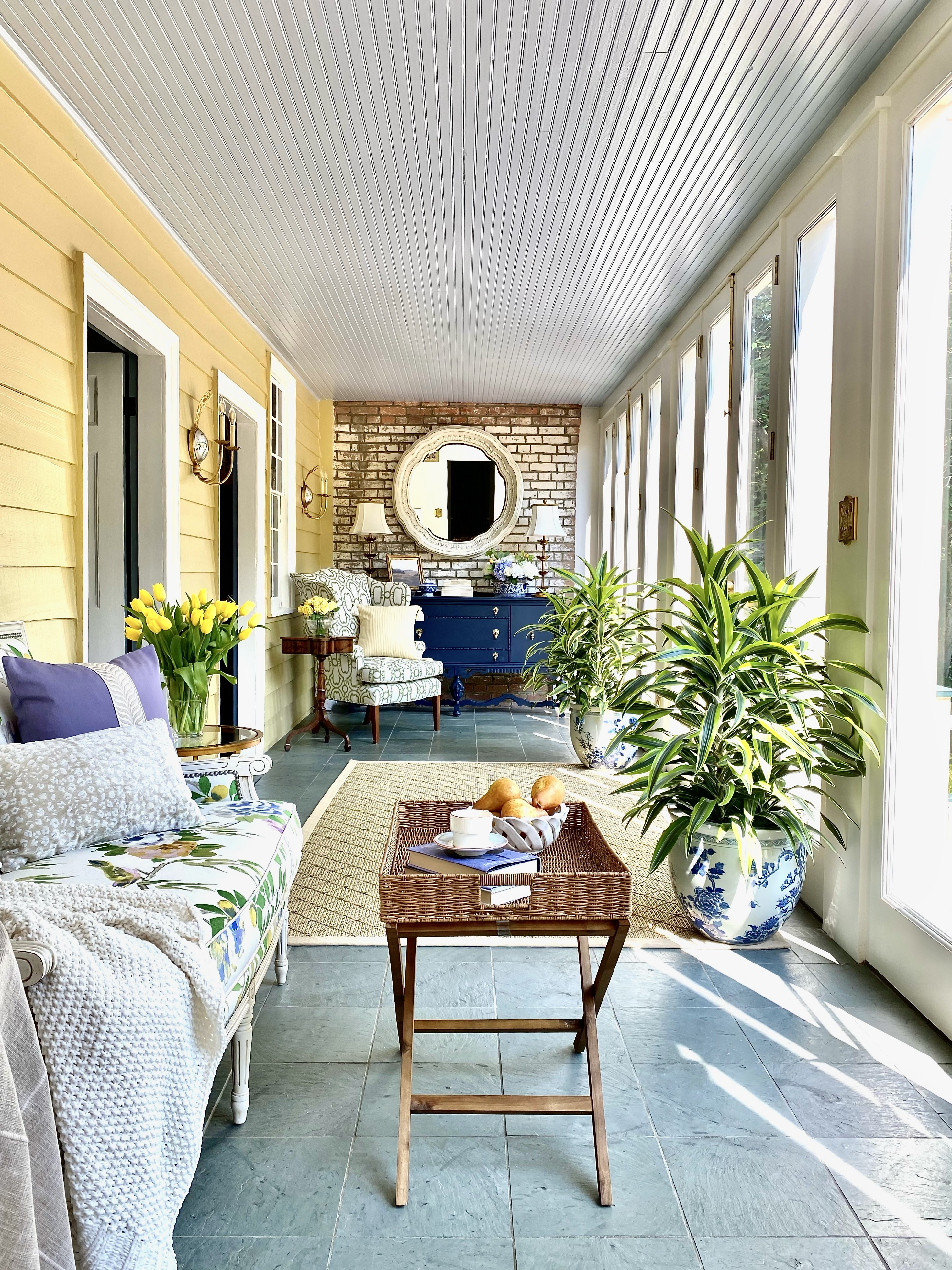 What's your favorite item in your home?
The original wood beams from the basement, which we had to remove based on our engineer's recommendation. These large beams have so much character and have held the house firm for 200 years. I'm repurposing them into shelves in our mini museum area. This will be a space to display the history of the house, as well as artifacts found on the property.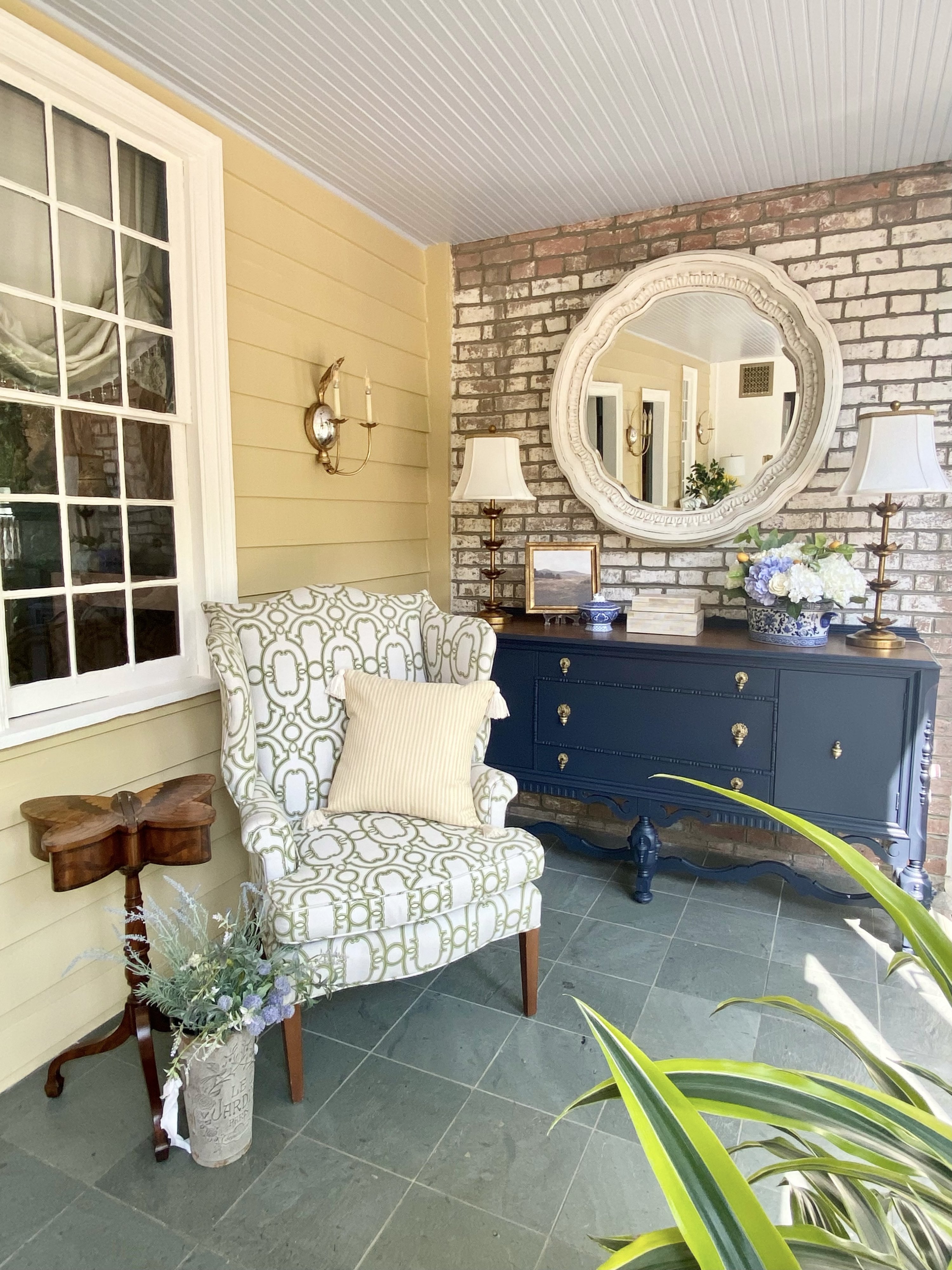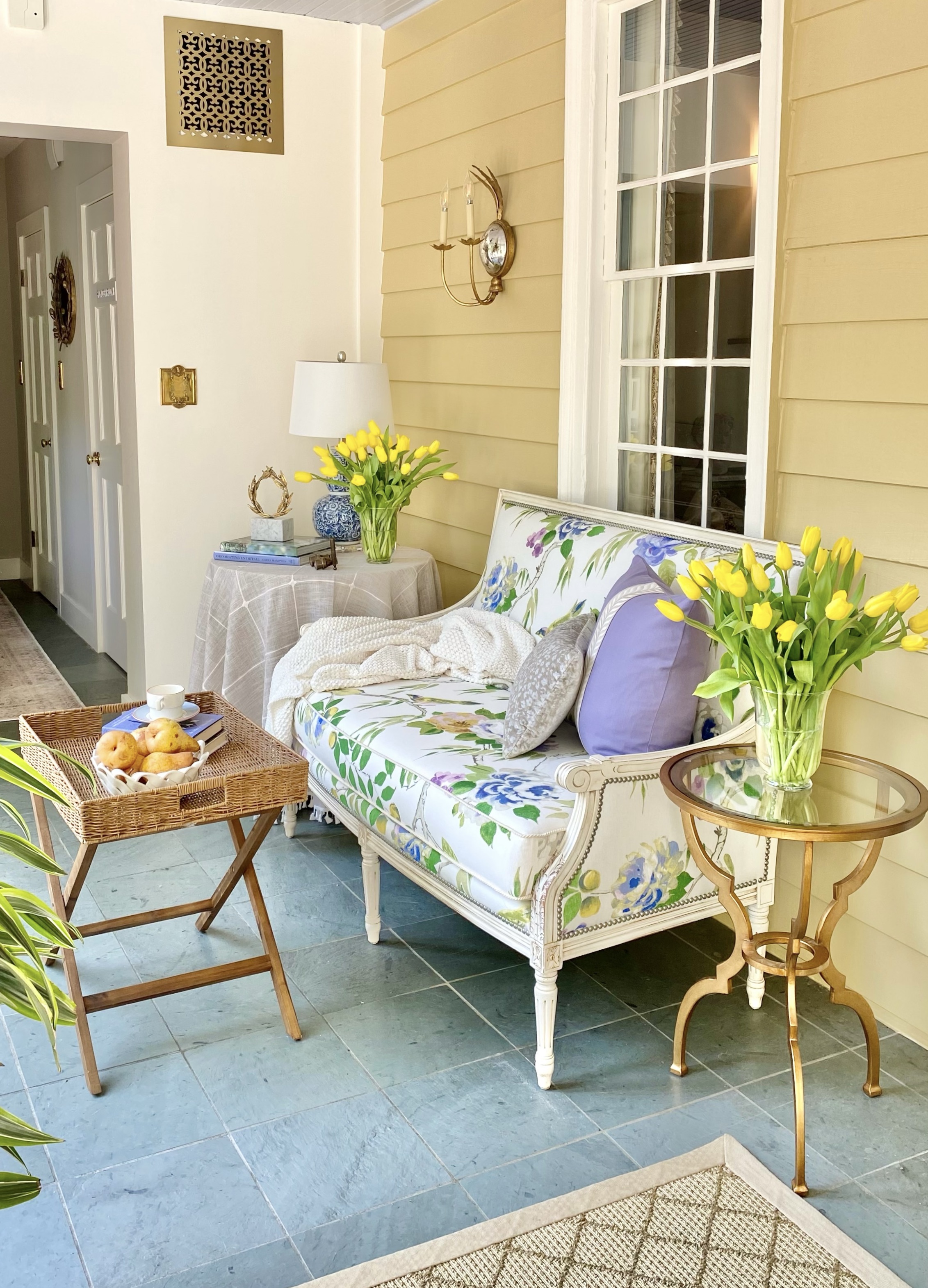 What's your favorite thing to do when at home?
Every day we take time to walk around the grounds outside. We check on the garden, talk about plans for the house, and catch up on our day with each other.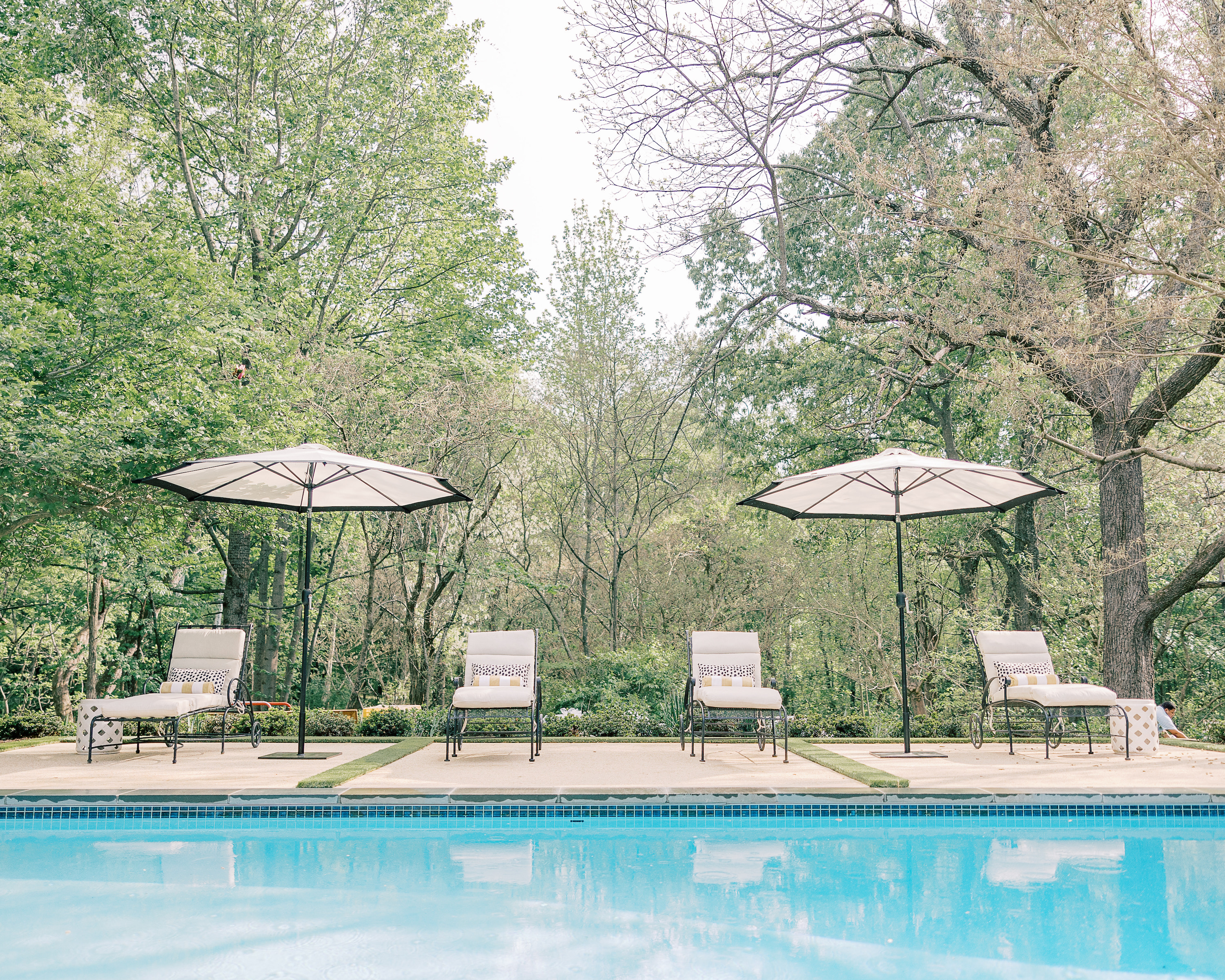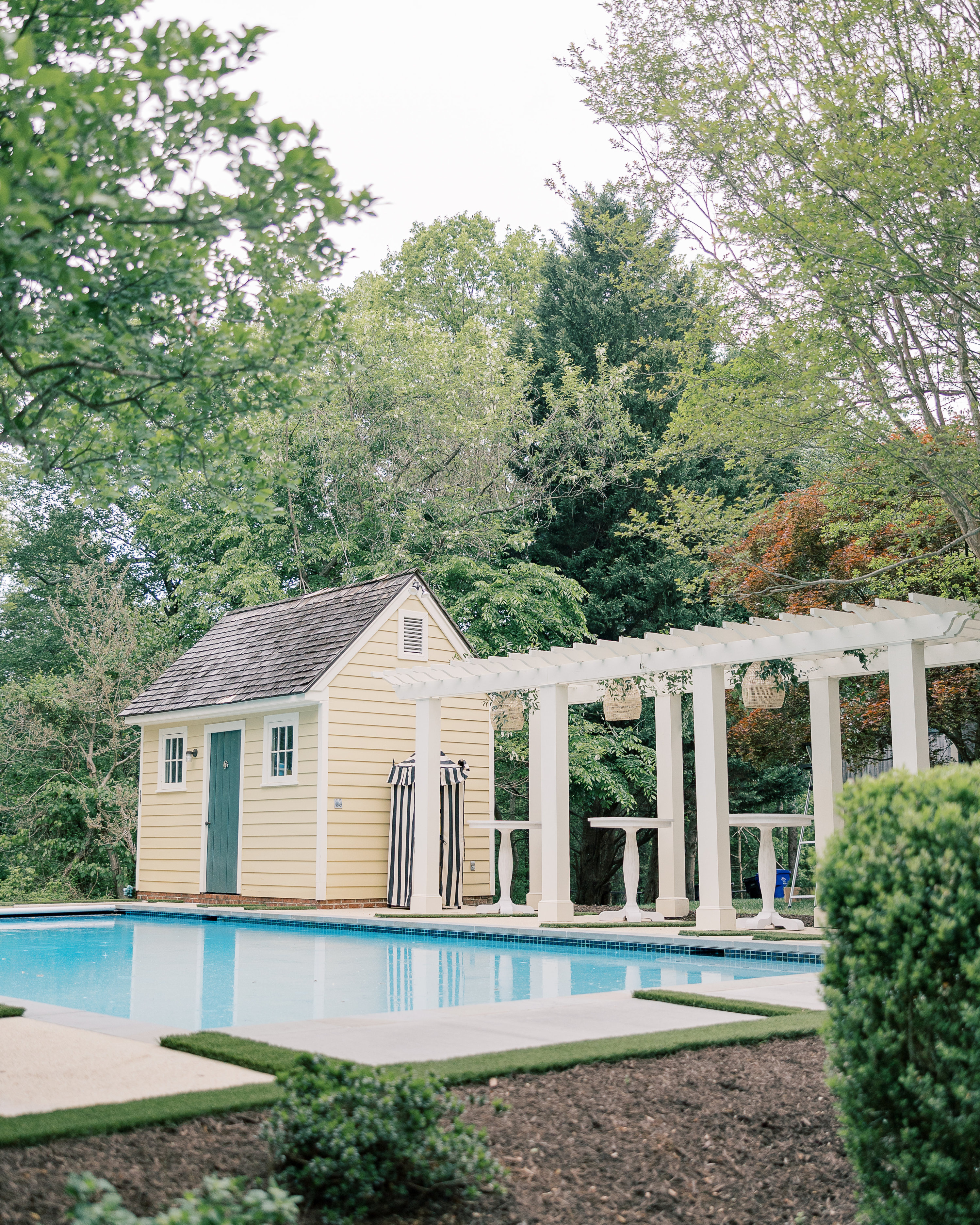 Who would your top three dream guests be for a dinner party at your home?
Abraham Lincoln, Samuel L. Jackson, and Martha Stewart.