While Georgetown has long been a tony and significant DC neighborhood—it dates to 1751 and was the city's first designated historic district—it's hardly staid, attracting tons of buzzy restaurants, chichi cocktail bars, and big-name retailers. Here's what's new, and what's happening, along its picturesque streets.
EAT AND DRINK
---
Kyojin
Cady's Alley, the quiet brick lane behind M Street, is now home to Kyojin, a cavernous sushi spot with extravagant dishes. The dimly lit underground space incorporates traditional Japanese design elements like shou sugi ban burnt wood, while an intimate, reservation-­only sake bar adjoins the dining room. Owner Jeff King and chef Saran "Peter" Kannasute's menu is more irreverent than that of their other restaurant, Arlington's Yume Sushi: Nigiri come with wasabi truffle oil, seared foie gras appears in several dishes, and one sashimi box is cold-smoked with lavender. (Note: Kyojin is "not kid-friendly," according to its site, and doesn't allow patrons under 16 after 7 PM.)
Back to Top
Two Nine
Kyojin will be joined by another hidden-­alley sushi bar by early 2024: Two Nine is the most ambitious project yet from Zach Ramos and Amy Phan. The duo met at Sushi Taro before launching Ama Ami, which delivered "homakase" feasts (a.k.a. at-home omakase) during Covid. At Two Nine, Ramos and Phan will continue offering elegant sushi tasting menus at an upstairs omakase counter. Downstairs, choose from a selection of takeout chirashi bowls made of high-quality fish sourced via Tokyo's Toyosu wholesale market.
Back to Top
Bright Lights, New City
Four New York City–born chains now have Georgetown outposts. Maman (1353 Wisconsin Ave., NW) a Provençal-style cafe and bakery, arrived earlier this year with brunchy quiches and tartines, plus the nut-filled chocolate-chip cookies that Grub Street once dubbed among New York's best. Van Leeuwen (3245 Prospect St., NW) is now serving its seasonal ice-cream flavors—pumpkin cheesecake, anyone?—as well as shakes, pints, and vegan scoops, near Cafe Milano. Next door is a new Blank Street (3201 Prospect St., NW). The coffee startup's spartan locations are designed for on-the-go cold-brews, cortados, and pastries. And the fast-casual bowl chain Dig (1301 Wisconsin Ave., NW) recently took over the cottage-like corner building occupied for years by Paolo's, where it's serving dishes such as charred chicken with roasted sweet potatoes and broccoli.
Back to Top
Yellow
Chef Michael Rafidi helms Michelin-­starred Albi but has earned nearly as much attention for his casual Levantine eatery, Yellow. The sunny, colorful Georgetown cafe—another location is in Navy Yard—serves lunch offerings such as wood-fired pitas stuffed with chicken shawarma, lamb shoulder, or falafel and dressed with cabbage slaw and whipped tahini. For breakfast, sip a baklava mocha and sample a za'atar croissant covered with a fried egg and labneh or a halva-­and-raspberry cruffin. Or try Rafidi's new sit-down dinner concept, "(Not) Pizza," focused on 12-inch flatbreads—with toppings including harissa, summer squash, and soujek sausage—accompanied by Mediterranean wines and cocktails.
Back to Top
Baker's Daughter
Chef Matt Baker, who runs the Michelin-­starred restaurant Gravitas, also owns a set of DC cafes called Baker's Daughter. The latest opened next to Filomena Ristorante in October. Inside the white-brick storefront is a quick-serve space offering Baker's juices, bowls, and breakfast sandwiches, as well as deli items such as a Cubano, a grilled-chicken "BLT," and a truffle grilled cheese. Also, try the two Georgetown-specific items: a croissant croque madame and the Hoya Club, served on a toasted croissant.
Back to Top
The Fountain Inn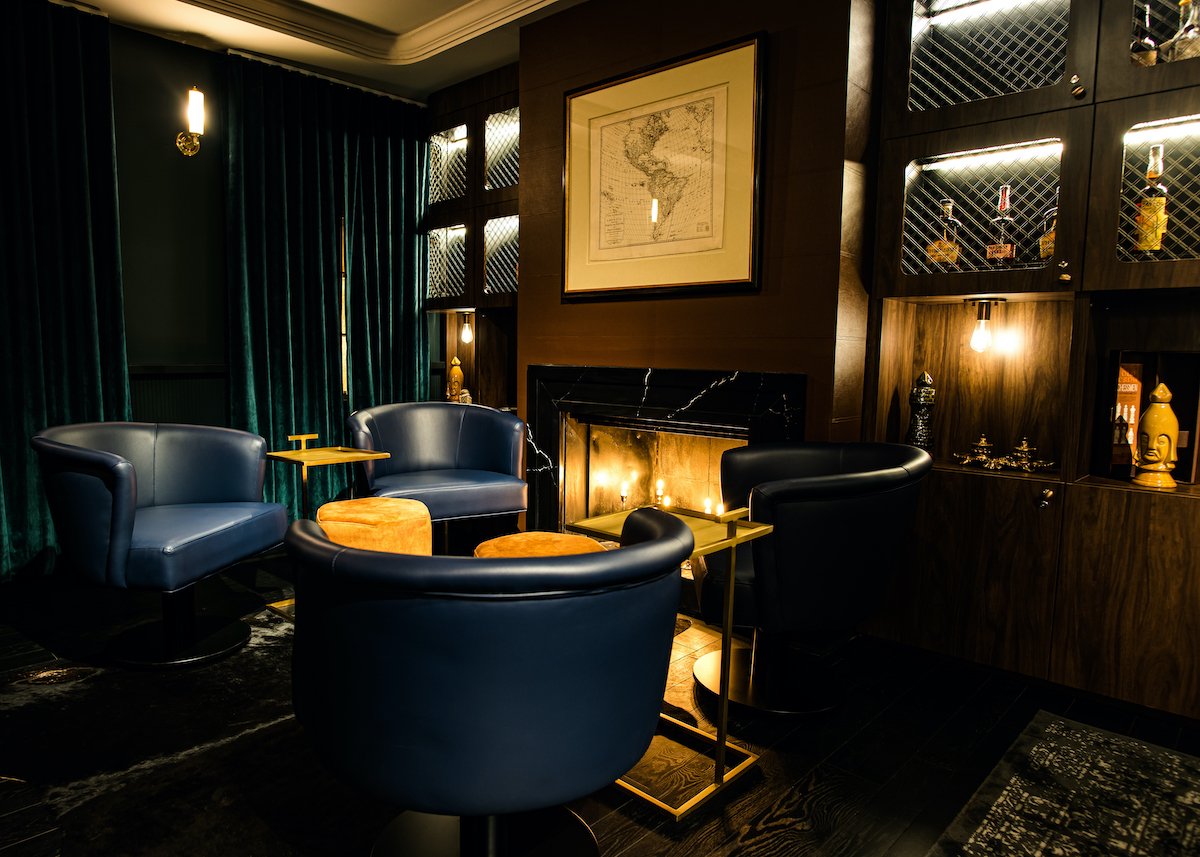 Opened last year, this rare-spirits tasting room and bar revives the name of a historic Georgetown tavern shuttered by the turn of the 19th century—the Fountain Inn. The new iteration is less than a mile north of the original's likely site, where in 1791 George Washington reviewed Pierre L'Enfant's early proposals for the future capital of DC. The modern-day bar is a playground for big-spending whiskey enthusiasts, thanks to former Jack Rose spirit director Morgan Kirchner's library of rare whiskey—including a Willett Family Estate 24-year rye going for $1,095 a pour—and custom-tailored tastings. The atmosphere is refined, with dark-wood cabinets, leather seating, and candles in a brick hearth.
Back to Top
L'Avant-Garde
Helmed by Brittany-born executive chef Gilles Epié, new brasserie L'Avant-Garde, shows how exciting a traditional French restaurant can be. The chic space—clad in dark wood with a fireplace, plus Champagne buckets alongside each banquette—isn't another nostalgic bistro, thanks to Epié's dishes: bouillabaisse with macaroni under puff pastry, a salad of Salanova lettuce grown to the chef's specifications, Amish roast chicken, and Chateaubriand with pommes Anna. Desserts include a chocolate mille-feuille and an oversize raspberry macaron. And don't forget to check out the very long—and very French—wine list.
Back to Top
Osteria Mozza
For more than four years, the 158-year-old brick landmark that once housed the Georgetown Market and Dean & DeLuca has sat empty. Last year, Le Diplomate restaurateur Stephen Starr and Los Angeles chef Nancy Silverton announced plans for a 20,000-square-foot Italian marketplace combined with the first East Coast site of Silverton's Michelin-starred Italian spot, Osteria Mozza. Menu offerings are still in the works, but don't get too hungry—the place won't open until 2024 at the earliest, per Starr's representatives.
Back to Top
Taking Up Residence
A new concept from one of DC's most Instagrammable bars is on its way to the Georgetown waterfront. An unnamed new drinking-­and-eating venture from the owners of Dupont Circle's Residents Cafe & Bar will arrive in the huge Washington Harbour development (3000 K St., NW) next summer. Plans are for 105 seats inside and a 40-seat summer garden, as well as a different, more extensive menu than in Dupont, with many vegan and gluten-free options.
Back to Top
La Bonne Vache
The corner storefront that housed the longtime sandwich shop Booeymonger is expected to get an exciting new tenant this fall: La Bonne Vache, a cheery French bistro and wine bar from Stephen Starr veteran chef Rob Aikens; his wife, Rachel; Chaplin restaurateurs Ari and Claire Wilder; and lawyer Amanda Klingler. The centerpiece of the menu: "steak haché" burgers with toppings inspired by French dishes like boeuf bourguignon and Gruyère fondue. Baguette sandwiches, bistro salads, and hors d'oeuvres such as salmon rillettes round out the offerings.
NEIGHBORHOOD NEWS
---
Back to Top
(Optimus) Prime Real Estate
If you're ambling along Prospect Street, you might see two huge Transformers statues. They're more than just ten-foot-tall, $25,000 Bumblebee and Optimus Prime figurines—they're the focus of an eccentric land-use dispute. After cognitive scientist and Georgetown professor Newton Howard placed them outside his home in 2021, some neighbors complained, saying they posed a safety threat and contradicted the neighborhood's historic-preservation goals, among other things. When a local board voted in April that Howard should remove the robots, he lawyered up and headed to the DC Public Space Committee. There, he advocated for the statues alongside former Transformers voice actors, who delivered statements in character. Howard's request was denied, but the statues still stand and he plans to appeal.
Back to Top
Train Trials
After years of debate, it's possible Georgetown might get a Metro stop. This summer, WMATA released six proposals to improve the Blue, Silver, and Orange lines, and four of them feature a Georgetown station. The projects could run anywhere from $25 billion to $45 billion. WMATA is reviewing community feedback before making a decision.
Back to Top
Hit the Water
Georgetown Heritage—the first boat in a decade to carry passengers down the historic C&O Canal—was launched last year by the community-restoration group of the same name. The boat, designed to look like a 19th-century vessel, takes sightseers on an hourlong aquatic tour of Georgetown's classic architecture and the waterway's history. Finished in 1850, the canal transported large items like lumber and coal until it closed to trade in 1924 due to flooding. It was designated a national park in 1971. As of this fall, touring is on a two-year pause while the channel is drained for repairs. But good news: A plan for canal walking tours in the interim is underway, says a group spokesperson.
SHOPPING: WHAT'S NEW
---
The retail-packed neighborhood has recently added a slew of stores.
Back to Top
Away
This popular online travel company opened its first DC store in September. One of the brand's 14 brick-and-mortars across the country, it offers luggage and travel accessories.
Back to Top
Boat House Apparel
This preppy, lake-life-inspired company opened its first DC shop in April. It sells apparel and accessories for men, women, and children–including a "tailgate" line for game-day merch–plus home goods and gifts.
Back to Top
Fangyán
This clothing group opened its first permanent DC location earlier this year after a Georgetown pop-up run. Fangyán–"dialect" in Chinese–carries styles by 15 Chinese designers as well as its own line of cashmere and silk outfits.
Back to Top
Glossier
This beauty-supply retailer debuted a DC outpost in summer 2022. The brand–which outfits each store with a distinct, experiential design–went with a "jet age" theme, including a runway-­inspired entrance, airplane windows as mirrors, and a "baggage claim"–like space where shoppers pick up purchases.
Back to Top
Hobo
The Annapolis-based, female-founded leather-accessories line–popular for its handbags and wallets–opened its first DC brick-and-mortar store last fall.
Back to Top
Little Words Project
If you were at Taylor Swift's "Eras" tour, you know all about the friendship-­bracelet trend. Little Words Project's DC pop-up is bringing the craze here with its bright beaded bracelets sporting affirmations. And, yes, you can make your own.
Back to Top
Studs
The ear-piercing and jewelry company is known for its TikToks, multi-piercing "earscapes," and neon-yellow branding. Check it out IRL at this location, which opened in May.
Back to Top
What's Selling
The quickly growing Capitol Riverfront neighborhood has plenty of green space along the waterfront, Metro access, tons of restaurants and bars, and a mix of new luxury apartment buildings and rowhouses. Here's a sample of what's sold in the past few months.
This article appears in the November 2023 issue of Washingtonian.