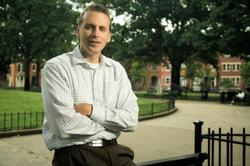 The July issue of the magazine includes our annual Best & Worst poll, where readers weighed in on coffee shops, pizza, celebrities, spas, and more.
This year, we also invited a few of Washington's top bloggers to tell us their summertime favorites.
We asked Ken Johnson, whose blog DCmud.blogspot.com tracks commercial and residential real-estate development, to pick a few of his favorite—and least favorite—Washington-area neighborhoods, condo buildings, and more. Johnson also runs DCRealestate.com, a sales and marketing company with an emphasis on urban neighborhoods. Read below for an expanded version of Johnson's picks.
To see other local bloggers' bests—like Amanda McClements of Metrocurean.com, Melissa McCart of Counterintelligenceblog.com, and Washingtonian.com's own Best Bites, After Hours, and Open House bloggers—check out the July issue, on newsstands now.
Best neighborhood to buy in right now: For value, try Silver Spring and DC's Petworth and Shaw. Have patience. If you have no patience, DC's Logan Circle.
Best rooftop deck to watch the fireworks from: The Solo Piazza on 13th Street or the Cairo in Dupont Circle, an oldie but goodie.

Condo or apartment building with the best views: For views from each unit, the Carillon House Apartments on Wisconsin Avenue (unless you're on the back staring into the Russian Embassy. Wait, that's cool too). Or City Overlook Condos in Columbia Heights. The rooftop from the Odyssey in Arlington certainly makes the list, as does the Valley Vista in Kalorama, with magical views of Rock Creek Park, the National Cathedral and the Taft Bridge.

Best place to live if you love the water: Lewes, Deleware. Oh, in DC? National Harbor, I hope, when it's built. For now, Old Town takes the prize. Most affordable: Southwest DC, where you can buy for under $1 million.

Best place to live if you love golf: Avenel in Potomac. And some of the yards are as big as the back 9.

Worst neighborhood to buy in right now: Ivy City in DC—relocation of strip clubs to this neighborhood is the best thing to happen there in 50 years. Or Landmark in Alexandria—I-395 at rush hour; enough said.

Development you can't wait to see completed: The Metropole. Best interior design south of Manhattan.

Most over-hyped condo building: Canyon Ranch—lots of advertising and press, and it didn't even break ground. Were they ever serious?

Neighborhood to watch: Rosslyn, which several urban planners were pointing to until recently as a model of how not to plan a city. But there's hope.

Worst condo fees you've heard of: The Ritz. $1,000 to $3,000 per month for someone to say "Hello Ms. Smith" when you walk through the door. Okay, maybe you get more than that, but still.