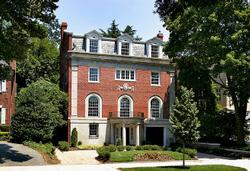 Where: 2507 Massachusetts Avenue, NW
Listing Price: $4,499,000
Time on the Market: 14 months
Bedrooms: four
Bathrooms: seven
Details: This Kalorama Heights estate was built in 1926 and was remodeled last year with a new roof and plumbing as well as new electrical, heating, and cooling systems. The brick, neo-Georgian style home has more than 6,000 square feet of living space, spread over four levels. It offers an elevator, five fireplaces, a climate-controlled wine cellar, a butler's pantry, and a library. The master bathroom has heated marble floors, a Jacuzzi tub, and a steam shower with three shower heads.