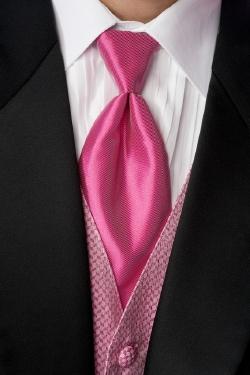 Attention, grooms: While your fiancées are busy experimenting with Steve Madden's design-a-shoe tool, you can do a little e-planning of your own. MW Tux, the formalwear division of Men's Wearhouse, has an online tuxedo color coordinator that takes your wedding's color scheme and spits out a selection of complementary vest and tie shades.
Select the color block on the screen that's the closest fit to your bridesmaid dresses, and the what-your-groomsmen-should-wear suggestion will appear on the bottom in swatch form and on the right as the actual vest. Even if you're not using Men's Wearhouse for the big day, it's a good way to brainstorm color options. Teal with light blue? Who knew?

Bridal Party wants to know: Do you think groomsmen and bridesmaids should match exactly, or wear complementary shades? Share your thoughts in the comments section.
To read the latest Bridal Party blog posts, click here.