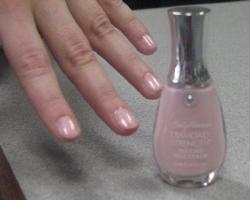 Sally Hansen and Brides magazine recently teamed up to release eight shades of nail polish that they call the Just Engaged! collection, and it's now in CVS stores all over Washington. What makes a nail polish bridal, you ask? Every color is a pink, white, or nude; they have names like First Dance and True Love; and each bottle has a front-and-center sparkly rhinestone.
I actually do love how my nails look wearing the shimmery pink Wedding Bells, but I also paid almost $5 for the bottle. My recommendation: Save the money for the wedding (every little bit counts) and stick to a cheaper—and less cheesy—shade.
Have you tried the Just Engaged! polish? Share your thoughts in the comments section.

To read the latest Bridal Party blog posts, click here.