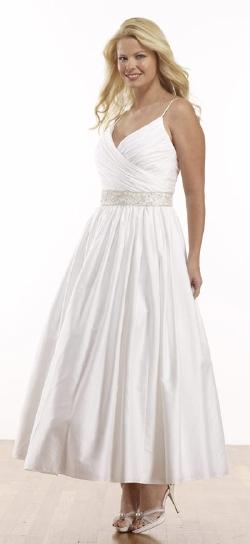 If TV has taught me anything, it's (1) the number to Empire Today ("Eight hundred, five eight eight, two three hundred . . . Empire!") and (2) that cotton is the fabric of my life. Apparently, New York designer Chris Kole has picked up on that second lesson, as he recently created a line of wedding dresses made out of, yes, cotton. Some of the dresses landed in Washington on February 1, but this weekend you can see the entire line at a Cotton Bride trunk show at Harriet Kassman Bridal Salon in Mazza Gallerie (5300 Wisconsin Ave., NW; 202-363-1870). I turned to Kole to get the scoop on what inspired the dresses, who he sees wearing them, and what he's planning for next season.
Who is the Cotton Bride?
The Cotton Bride is a young girl. Young in age, maybe, but young at heart, yes. She's modern. She's easygoing. She's a free spirit. She has her own sense of style, but she wants to have fun. She's not your usual Bridezilla, for sure.
What inspired you to make this line?
The inspiration came from wanting to make clothes that were comfortable. It's more fitting to the lifestyle of the young bride today. I feel like not every girl wants an overly done wedding dress. There are plenty of people who want simplicity.
So the dresses aren't just for beach weddings?
You could get married anywhere in these dresses. Yes, I think they may be more suitable for a beach wedding or a garden wedding. They're cooler. But they are still very elegant and absolutely would be appropriate for a church. Like I said, not every bride wants to be in a heavy, satin dress.
It's much easier to dance in a lightweight dress, that's for sure! Do you make any short dresses for the really casual bride?
I have made a couple of short dresses in this collection. There are three or four tea-length gowns. But yes, any of my long gowns can be made short. We always do changes on the clothes if needed.
So I could, say, add straps to a strapless dress?
Yes. We work with stores that carry the collection. [Editor's note: In Washington, Harriet Kassman is the only store that carries Cotton Bride dresses.] The bride goes and tries on the dress and will choose the one that looks best on her, and then we make the clothes in New York. Absolutely everything is made by hand. So if we get a customer who wants to make changes, we do that also. We'll add straps to a dress or sleeves, or we'll offer her other options like a bolero or shawl.
What kind of jewelry works with a cotton wedding dress? Is a veil too much?
I love a simple and classic look. She can do platinum diamonds for a more classic look or try natural stones or shells—jewelry that is more relaxed. I think you can accessorize these gown with a beautiful tiara, but absolutely you can also wear a veil if you want to.
Do you make cotton bridesmaid dresses?
Not at the moment, but we are thinking of making them in the future.
Will a cotton dress wrinkle as badly as my cotton tees? And can I just toss the dress into the washing machine?
They don't wrinkle any more than other dress fabrics, and cotton is very easy to steam or iron. As far as the cleaning, professional dry cleaning would be the best. I wouldn't put it in the washing machine. But you can definitely dye it if you like and make it into a color that you may want to wear as an evening dress later on. They're very easy to dye. I call it recycling with style.
Last question: Are the dresses really 100 percent cotton?
No. Doing the ballgown look, I have to use crinolines to poof the skirt out. And there are plenty of embellishments made of lace and beading. But the fabrics are cotton. They are cool, they are fresh, they are light. In the next season, I'm planning on introducing more organic cottons. The next collection will be out in the fall.
Chris Kole's Cotton Bride dresses start at $1,800. On Saturday, February 16, Kole will be at Harriet Kassman from noon to 4 answering questions about the dresses. Appointments are recommended; call 202-363-1870.
To read the latest Bridal Party blog posts, click here.