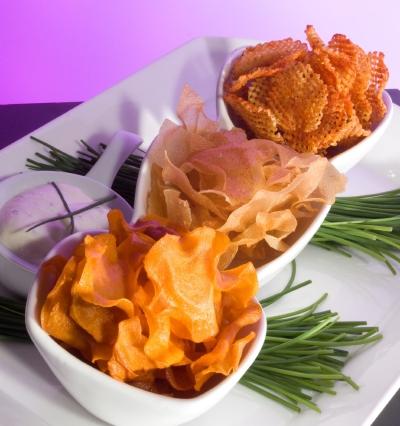 Within 24 hours of setting a date, you were probably online looking for wedding advice. (When should I book the caterer? What flowers are in season in October?) But tip after tip isn't enough to plan your big day—you also need some inspiration. In Caterer's Choice, Bridal Party asks local caterers to highlight a trendy hors d'oeuvre or mini-dessert to spark ideas for your own reception.
The dish: Hand-cut Potato Chips Three Ways; created by Occasions Caterers in Northeast DC
The scoop: You get a plate with a small serving of three types of hand-cut potato chips: classic Idaho with seasoned salt, waffle-cut sweet-potato chips, and spicy Yukon Gold potato triangles, all served with a sour-cream/chive mousseline.

Get it while it's hot: This is a great hors d'oeuvre because it takes a familiar food (read: picky Aunt Enid won't be scared off) but gives it an unexpected twist, says Eric Michael, owner of Occasions. "It's fresh but also comforting," he says. "Everyone knows and loves chips and dip." And with three flavors to try, you really can't eat just one.
What hors d'oeuvres were a hit at your wedding? Share in the comments section.
To read the latest Bridal Party blog posts, click here.