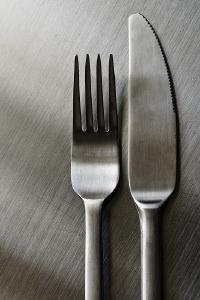 Last weekend I interviewed an engaged couple who, after our meeting, planned to hit the department stores to register. The guy laughed and pointed to his cup of coffee: "That's why I ordered this."
If the thought of trekking around Macy's choosing china and place settings exhausts both of you—or maybe you already have what you need to start a home together—check out two alternatives to the traditional registry:

Traveler's Joy (travelersjoy.com)
This site, which just announced a partnership with the Wedding Channel, lets your friends donate money toward that honeymoon to Tuscany or Turks and Caicos. Set up a free account by entering information including a (secret) total of how much money you need for the trip, and you'll get a registry Web site where you can post pictures and videos, write messages to your guests, and put up a page about your honeymoon destination.
Alert friends and family with an e-mail or site-designed note cards you print and mail. When a pal visits your page, she can donate using Visa, MasterCard, or American Express. To make it more personal, add an activities page that breaks down your tentative itinerary, and your best bud can pay for your scuba-diving lesson or French-cooking class. To get the cash, click on "redeem gifts" and Traveler's Joy will send you a check or do a wire transfer. The site takes a 7.5-percent cut of everything donated (so if someone gives $100, you get $92.50), which it says goes toward credit-card processing fees.
New American Dream Alternative Gift Registry (alternativegiftregistry.org)
If you'd rather have friends give you a home-cooked dinner than a $300 mixer, check out the Alternative Gift Registry from the Takoma Park-based Center for a New American Dream. Create a free wedding registry (you can also do birthdays and baby showers) and the site offers suggestions for gifts that are nonmaterial (such as an hour of DJing at the wedding), homemade (a book of favorite recipes), or store-bought but environmentally friendly. Have your own green ideas? Even better. Once you list what you want, send an e-card to your friends and make room—or time—for a heap of meaningful presents.
What's the best wedding gift you've given or received? Tell us in the comments section.
To read the latest Bridal Party blog posts, click here.