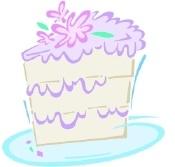 No one is more inspiring in a wedding gown than Carrie Bradshaw. [via {ritzy bee}]
Check out these groom's cakes! [via Weddingbee]
Let's just say a horse is a lot harder to hide in a glass of Champagne.
Jennifer Love Hewitt pins her engagement ring inside of her clothes while shooting scenes.
Is Rosario Dawson engaged?
Have bridal news to share? E-mail mconrad@washingtonian.com.
To read the latest Bridal Party blog posts, click here.