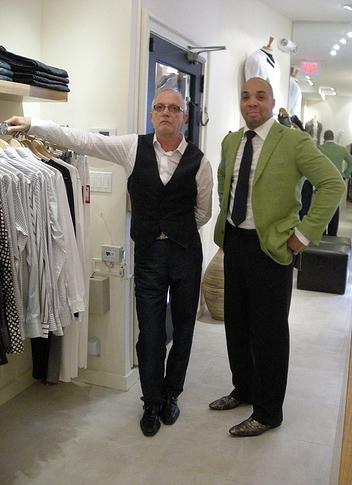 Names: Anthony Polimero, 60, and Torre Mattison, 34
What are you wearing?
Polimero: "Everything is Palzileri—the jeans, shirt, and vest. The belt is Cortigiani. I don't remember about the shoes."
Mattison: "Jacket from Bello, Ted Baker tie and pants, Gianni Barbato shoes, Nagual Designs beaded cuff, ring from Ruka."
Thoughts on style in Philly?
Polimero: "Oh, I won't get into that. If people shop here, they will be fine."
Mattison: "It's a too conservative, I think—there's no vision. No one wants to step out and be noticed. And it's a little too casual. A lot of guys don't know how to buy suits that fit them. Italian suits have nice high armholes that fit the shoulder and just mold to your body, but a lot of guys think that's tight. In terms of women's dress, the older women dress better here. In the next couple years and as more people move here from New York [he points to some condo construction across the street], things are going to change."

Where are the top places for both men and women to shop in Philly?
Mattison: "For women, Joan Shepp. It's one of the best stores in Philly. Echo is a bit artier. The owner used to be Eve's stylist. Of course Bello for men, and a Gianni Barbato store is opening soon here."
Rachel says:
How is it that I've never been to Philadelphia? With its clean, walkable blocks loaded with restaurants and shopping, Philly is a mix of the best of DC and New York.
The suits walking around DC could take a styling tip or two from Bello, which stocks impeccably tailored Italian clothing, including some gorgeous cotton and linen pants and tops appropriate for the weekend and vacations. Prices are steep, but if you stay just a little while, out comes the wine and down come the prices.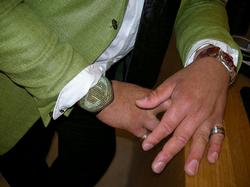 I focused on my two loves while in Philly: food and fashion. I adored the gooey goat-cheese-and-egg-white omelet and the sugar-and-fresh-mint-laced fruit plate at Rouge, right on Rittenhouse Square, and loved the artful Mexican fare at El Vez (try the "iced coffee" and the addictively spicy tortilla soup). I'm on a tight budget for clothes at the moment (sigh, when am I not?) but managed to score two dresses and a skirt at the discount store Daffy's—apparently quite a feat considering the Yelp reviews of the women's section. I adored everything at Petulia's Folly, though it was just too rich for my blood. (The James Robyn jeans I tried on there will be mine as soon as I have an influx of cash.) Over on South Street, I walked out of the thrift store Retrospect with two pairs of jeans and two silk tops, none of which was more than $20. I popped a few cans of PBR down the street at the Tattooed Mom, which reminded me of the Palace of Wonders on H Street here in the District (minus the burlesque dancers!).
Anyone have favorite shopping spots in Philly?
More>> Shop Around Blog | Style | Find a Spa