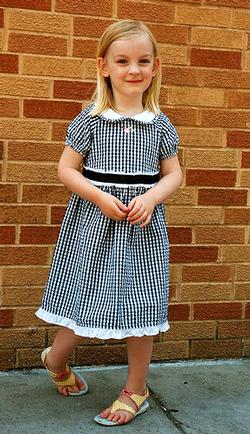 Sophie Bruch, four, wants to be "a princess" when she grows up.
Sophie's mom likes to buy clothes for her online; this dress is from Hanna Andersson. Sophie especially likes the embroidered flowers. Her sandals, from Stride Rite, are a play on the '60s novelty song "Itsy Bitsy Teeny Weeny Yellow Polka Dot Bikini."
When asked about the favorite item in her wardrobe, Sophie told me quite simply that she doesn't have a closet. (Her dad says she has a dresser.) However, she does have a brand-new Tinkerbell toy from Target that she's certain no other Washington fashionista owns. When she's not wearing "dresses that twirl," she's running around town in Disney princess dresses.
Take that, Carrie Bradshaw. This little lady is clearly the heroine of her own fashion fairy tale.
More>> Shop Around Blog | Style | Find a Spa | Sidewalk Styles