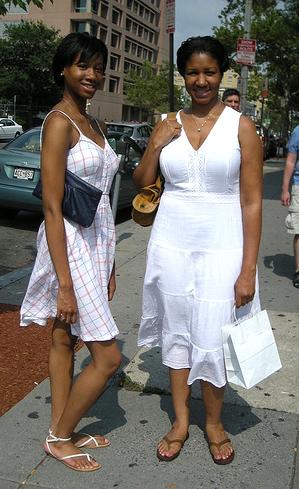 Like mother, like daughter. This week we stopped Dawn and Dominique Hobdy, a mother/daughter pair from Silver Spring, shopping along DC's U Street corridor over the last day of the holiday weekend. Both beat the heat with summery white cotton dresses in figure-flattering shapes and shared accessories.
Where did you find what you're wearing?
Dominique: "The dress is from Forever 21, the necklace is from Tiffany, and the purse and shoes are Nordstrom."
Dawn: "I picked up this dress at Marshalls. And the bag is hers from Forever 21!"
Where do you like to shop?
Dominique: "Columbia Mall is nice, and it's never too crowded. I always find tons of stuff for basically nothing at Nordstrom. I like unique things, though, and that's why I like coming down to the boutiques here and in Georgetown."
Dawn: "I really like Banana Republic. I used to like Ann Taylor, too, but now it's gotten so corny I can't stand it."
So you guys share things?
Dawn: "We share everything! I borrow bags from her because I never buy them."
Dominique: "I borrow her jewelry. I'm wearing her earrings right now. And we wear the same size shoe."
So Dominique, what's most exciting to you about starting at Howard?
"I'm going to study fashion, and I'm excited for that because it's one thing to like clothes and to shop, but it's another thing to know how to market clothes and to understand the industry. I'm excited to meet new people and to be on my own."
Rachel says: What really caught my eye about these two was their obvious knowledge of what shapes looked best on their bodies. Dawn takes advantage of her pretty hourglass shape, while Dominique can get away with a simpler style with thin straps. They reminded me of the relationship I have with my mom, who is one of the few people I like to shop with—really!
Weigh in on mother-daughter style-swapping!
Earlier: Sidewalk Style: Romp Around
All Sidewalk Style Archives
More>> Shop Around Blog | Style | Find a Spa