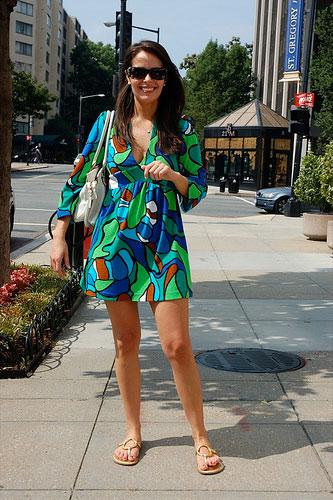 What are you wearing? "I got the dress from this online shopping club called Gilt Groupe. It's Tibi. I found out about Gilt Groupe from Daily Candy. I'm an obsessive online shopper. The shoes are Bernardo, and the bag is Kate Spade."
Gilt Groupe is kind of like a sample sale. How much was the dress? "It was $79 with shipping. It was originally $300. My only problem with the site is the return policy. It's really strict. You can only do store credit, and that's only for some things. The other thing is that you have to be fast if you want something. You can put something in your cart and five minutes later it's gone in your size!"
Where else online do you shop? "I like Shopbop.com and Saks.com, but I really love Revolveclothing.com. They have free shipping and returns. Once when I needed to return something for a different size that they were out of, they gave me a coupon in addition to the refund. They will do anything for you. Their models are a little weird, though."
How would you describe your style? "I love to wear dresses. If I can find an excuse to wear a dress, I will. I don't really like jeans. My work outfits can be pretty boring, unfortunately, so I wear cool accessories to make it fun."
Rachel says: I, too, have a membership to Gilt Groupe, and it tempts me all of the time. (Sales this week include Thakoon, Walter, Ralph Lauren Black Label, and the adorable kid's clothing line Lucy Sykes.) Back to Caitlin's dress, though: How cute that it's terry cloth?! It does double-duty as a fun day dress as well as a glam cover-up for the pool or beach. The proportions are good, too—she's showing her legs, and she's keeping relatively covered up top.
Weigh in on Caitlin's style!
What do you think of Caitlin's dress? We want to know! Leave your thoughts and opinions in the comments.
Earlier:
Sidewalk Style: Summer in the City
View All Sidewalk Styles
More>> Shop Around Blog | Style | Find a Spa