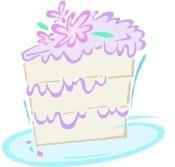 The only aisle Survivor host Jeff Probst could soon be walking down is the red carpeted aisle at the Emmy Awards.
As if cupcakes weren't adorable enough on their own, here's a way to make them even cuter. (Hint: We love cupcake stencils!) [via It's a Jaime Thing]
A wedding with wings. [via DC Nearlyweds]
American Beauty star Mena Suvari is engaged.
Take me out to the . . . wedding! [via Ritzy Bee]
Have bridal news to share? E-mail lshallcross@washingtonian.com.