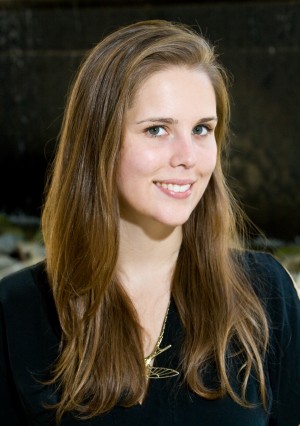 Erykah before her makeover. Photograph by
Chris Leaman
Erykah Jeffers, 24

Sales and marketing assistant, Ritz-Carlton, Tysons Corner
Why she wanted a makeover:

Six months out of college and working her first "real" job, Erykah wanted to trade her long, plain-Jane locks for a more professional, age-appropriate style. "I was a bartender when I was in school, so there was very little I could do with my hair because I needed to pull it back," she says. "Now I'm ready for a change."
Date of her last haircut:

February 2008.
Reaction when she found out she was getting a Washingtonian.com makeover:

"I think I screamed."
What she likes and dislikes about her current look:

"I like that it's low-maintenance, but that's about it. I've never particularly liked the color of my hair and that it has no style to it. I want layers to volumize. The last time I colored my hair was three or four years ago. It was highlighted and I liked it, but it wasn't easy to maintain."
Her makeup dilemma:

"I put makeup on—usually a loose powder and a little mascara—but no one ever notices. When I darken it up with a little eye liner and shadow, people are like, 'Oh, wow, you're wearing makeup today.' But I wear it every day! Why make the effort if no one notices?"
How she wants to look afterward:

"I'd love my hair to be shorter. I've always liked Meg Ryan's hair in You've Got Mail, sort of short and choppy. But mostly, I want to come out of it looking and feeling more sophisticated, and with tools and tips for styling my hair and doing makeup at home."
See Erykah's transformation after the jump!
Erykah after her makeover. Photograph by
Chris Leaman
Where we sent her:

For cut and color: Joey Noufal, co-owner of Noufal Haircolor Studio in Vienna. Though he's a wizard with scissors, Joey's expertise is color. Ten years ago while working for Goldwell, a company that makes color lines for salons, he invented a process that allows stylists to do overall color and highlights at the same time, saving clients time in the salon chair. That process is now used in salons around the world.
For makeup: Irina Russu, makeup artist at Noufal Haircolor Studio.
Joey's impression of Erykah's "before" look:

"It wasn't updated or stylish. It looked frumpy. Erykah has fine hair, and it was really flat on her. Her natural color is a dark, ashy blond, and I thought she needed it to be lighter and brighter. She was just bubbly and fun, and she needed something fun and bouncy to go with it. I gave her a style that fit her personality."
What they did:

For a cut, a modern bob with long, texturized layers. "Texturizing helps create a smooth transition between the layers," Joey explains. Erykah has an oval face and fine, soft hair, so he chose a cut that would be bouncy and wouldn't flatten throughout the day: "This look is versatile. She can wear it curly or straight, up or down."
For color, Joey went with golden-blond tones. He used three-tone highlights: a medium gold to play up her natural color, a lighter gold to enhance the shine, and an even lighter gold here and there on top to soften up her skin. "Using several layers of color helps ensure that her hair doesn't turn brassy, and it helps with fading," Joey says. To style it, he taught Erykah how to use a round brush and apply mousse to the roots for more volume.
Irina tackled Erykah's makeup dilemma by using an oil-free Lancôme foundation for the base and creating smoky eyes for an evening look. She used blue and purple eye shadows with a touch of gold. The result brought out Erykah's blue eyes and complemented the blue dress she was wearing for an evening out that night.
Number of inches cut from Erykah's hair:
Eleven. "I didn't know I had that much hair!" says Erykah. She donated it to the charity Locks of Love, where it will be used to make a hairpiece for a child who's lost hair as a result of a medical condition.

Hours spent at the salon:
Three.
Erykah's reaction to her new look:
"I love it, and it's been easy to recreate. Joey was really able to capture my personality. I just spent the weekend with my boyfriend Jimmy's family and heard nothing but good things from all of them. It's always nice to get the stamp of approval—especially from my soon-to-be in-laws!"
Weigh in on this makeover transformation!
Tired of your look and ready for a change? Send an e-mail with a recent photo to makeovers@washingtonian.com, and tell us why you're ready for a new look.

More>> Shop Around Blog | Style | Find a Spa