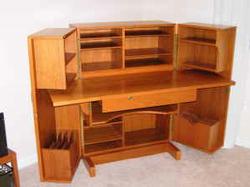 This teak desk is $150. Perfect for someone whose workspace is often cluttered, the desk's sides can be folded in to hide a mess. When closed, the desk is 21 inches deep by 32 inches wide and 45 inches high.
More good finds:
• Crate & Barrel red leather deco arm chair for best offer.
• Custom arm chairs and ottoman for $750.
• Black leather Barcelona chair and ottoman for $350.
• 1950's Daum lamp for best offer.
• Modern black granite coffee table for $125
Thanks, Craig!