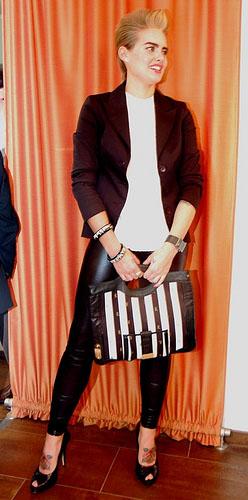 Jennifer Cross, 28.
Personal assistant by day, printmaking artist by night.
What she's wearing: Bettino Liano blazer from Australia (she lived there for two years), Silence + Noise top and leggings ("great designs that are beautifully made with a vintage feel to them") from Urban Outfitters, Bakers shoes, L.A.M.B. bag, Jessica Kagan Cushman bracelets from Neiman Marcus, and hair by Remi at Salon one80 ("I don't let anyone but Remi touch my hair"). The tattoos are from Susan at Jinx Proof in Georgetown.
So those leggings look like leather but they're not. Are they comfortable?
"They're surprisingly comfortable and warm. I have two pairs!"
How would you describe your look?
"I don't really have a specific style; it really depends on my mood. If I'm going out for a specific event where I need to dress it up a bit, it usually ends up looking glamour-rock with a vintage clutch. But on an everyday basis, you'll find me in a pair of super-skinny tapered jeans, a T-shirt, light jacket, ballerina flats—I live in flats—and a big purse. I'm Mary Poppins. I'm attracted to things you wouldn't find on anyone. I never shop for an outfit; it's usually me buying a piece here or a piece there, then I throw different pieces together and pray it works."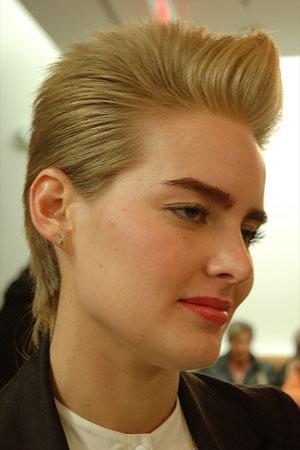 The hair is awesome.
"My hairstyle is very me, and everything falls around the hair. I feel feminine and at my most confident with this hairstyle. I used to have hair down to my hips for years, but slowly I began to cut it shorter and shorter. I get bored and sick of hair fast. This is the only style that has really stuck. It screams 'me.' I get mixed reactions from people: Most people love it, but some people laugh in a negative way and think it's a joke, but those are the people who I feel aren't brave enough to step out of their comfort zones. It's funny, the elderly are the ones who really dig it. This older woman in the grocery store went whizzing by me in her scooter and said that when her hair grows back, this is how she is going to wear it. I think she was getting treatment for cancer. That makes me smile. I'm a short-hair girl now and always will be."
Favorite places to shop in DC?
"I try to hold out on shopping for when I visit San Francisco a few times a year. It's the best place on earth to shop! But I love to buy my jeans from Denim Bar. They have all my favorites—Ksubi, Nudie, April 77, Cheap Monday. It's really the only thing I splurge on. Some girls are purse girls, some girls are shoe girls. Me, I'm a jeans girl. I mainly look at stuff online. Free People and South Moon Under usually have some items I like, such as fitted vests, James Perse tees, silk blouses for those dressier occasions, and of course I love Betsey Johnson—she's wild! My thing is this: If I see something I like, no matter where it's from, I'll buy it. It can be from Target, Urban Outfitters, even J. Crew, which is more conservative than my taste. If I like it, I buy it."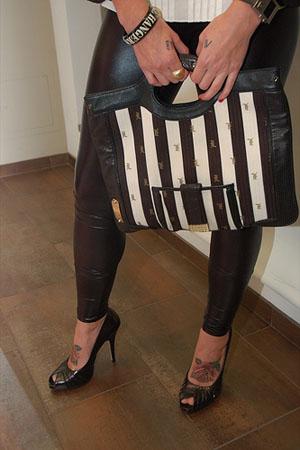 Tell me about the tattoos. Any faves?
"The mourning doves on my back. When I was a little girl, I used to sleep at my grandparents' house quite often, and each morning when I woke up, I'd hear the same sound, almost like an owl. It wasn't until a few years ago that I discovered that it was the call of a mourning dove. So every time I hear it, it reminds me of the mornings of my childhood at my grandmother's house. I love that they are called mourning doves. The most beautiful sound comes from them. I just finished a sleeve that takes up about three-quarters of my left arm that consists of all my favorite flowers and three hummingbirds. I have 19 now, I think, and each one has a great story behind it. I'm an artist who sees my skin as a blank canvas, so I choose to decorate it with beautiful art tattoos. I'm influenced every day by art and nature, so I really don't see myself stopping anytime soon. I've got about three more lined up at the moment."
What's on your style wish list right now?
"A pair of Christian Louboutin pumps. He's brilliant! I just can't spend that much on a pair of shoes, so they'd have to come from Santa."
Rachel says:
Fierce! I absolutely love Jennifer's edgy, pretty look. This really shows how important a great hairstyle is to completing a look.
Weigh in on Jennifer's style!
Related:
Sidewalk Style: Officially Chic
Sidewalk Style: Grrrr-unge!
See All Sidewalk Styles
More>> Shop Around Blog | Style | Find a Spa