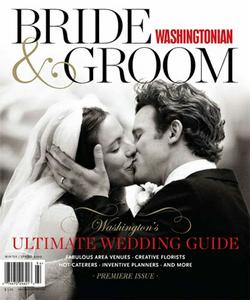 Planning a wedding in Washington? You're not going to want to miss this event. Let "Washingtonian Bride & Groom: Unveiled" send you down the aisle in style.
Once you've read the new Washingtonian Bride & Groom (on sale Monday, December 15) from cover to cover, grab your calendar and put a big red circle around January 25. Join The Washingtonian, the area's top wedding experts, and other brides- and grooms-to-be at this ultimate wedding showcase, "Washingtonian Bride & Groom: Unveiled."
The showcase will be held at the Park Hyatt (24th and M sts., NW; 202-789-1234) from 11:30 to 3. Need a few reasons to come?
• Mindy Weiss, wedding planner to the stars, will be there.
• You can check out a Monique Lhuillier designer runway show featuring bride and mother-of-the bride gowns.
• Washington's best wedding experts—florists, wedding planners, invitation consultants, bakers, jewelers, and more—will all be there.
• Plus we'll have Champagne, contemporary cocktails, hors d'oeuvres, desserts, and wedding cakes by chef Brian McBride of Blue Duck Tavern.
Buy your tickets today and we'll see you there!
More>> Bridal Party Blog | Wedding Guide | Wedding Vendor Search