In the second installment of the Frugal Fashionista, we've asked A Not So Capitol Idea blogger Chandler Ramelli to come up with a swoon-worthy New Year's Eve outfit around $100.
Not familiar with the series? Here are the details: Every other week, we ask a local stylista to complete a fashion task—sometimes seasonal, sometimes fun—on a budget.
We assumed that the 34-year-old Ramelli owned basic undergarments and tights—but nothing fancy.
New Year's Eve needs a little glitz and glam, says Ramelli, but she knows that a wear-once outfit shouldn't cost a lot. So she immediately turned to favorite retailers such as T.J. Maxx and Marshalls to satisfy her designer tastes on a discount budget.
And Ramelli didn't disappoint: She came up with not only one but two variations on a look, each for around $100 and suitable for a variety of body types.
Here's what she chose: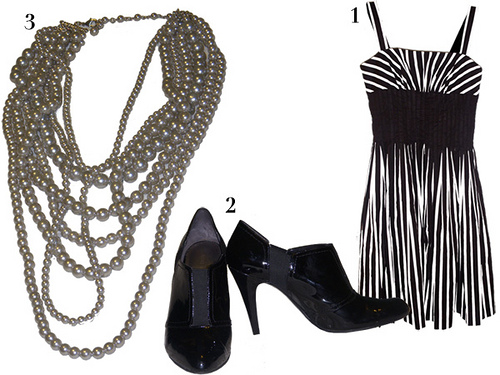 Outfit one:

Ramelli's first outfit features a black-and-white cocktail dress paired with a pearl necklace, fishnet stockings, and patent-leather booties. We love the mix of classic and mod. This season's "it" shoe, the bootie really makes the outfit stand out. Plus, the flattering skirt and banding around the chest make this a figure-flattering choice for a variety of figures. Yes, she's slightly over budget, but we give her credit for finding a necklace that works in a number of situations.
1. Dress: White House/Black Market in Queenstown for $39.
2. Shoes: Nine West at both T.J. Maxx and Marshalls for $39.
3. Pearl necklace (with matching earrings) from Bella Luna in Rehoboth for $36.
Fishnet stockings from Target for $5.99.
Total: $119.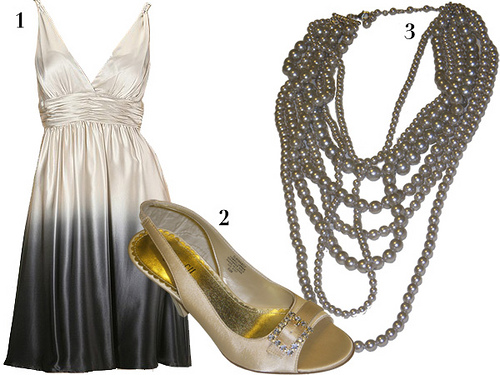 Outfit two:

We love the gold in this outfit—it's perfect for New Year's Eve, and the modest cut of the dress means that it works in many other situations. Plus, the dip-dye effect is fun, not cheesy. The shoes are girly and a little bit funky, and the lower heel means that your feet won't hurt after a night of dancing. And at only $12, they're a real bargain! We especially love that she thought to add makeup to this look. A luminizer is a grown-up alternative to glitter and a perfect add-on to the outfit.
1. Dress: Calvin Klein dress at T.J. Maxx for $29.
2. Shoes: Sam and Libby gold shoes from Marshalls for $12.
3. Pearl strands and matching earrings from Bella Luna in Rehoboth on Main Street for $36.
Stila All-Over Luminizer from Sephora for $22.
Total: $99.
What do you think of these New Year's Eve getups? Would you wear them? What do you have planned for your outfit on December 31? Let us know in the comments below.
Think you're a budget-balancing babe (or boy)? Send mclean.robbins@gmail.com a note if you'd like to be featured in an upcoming segment.
Previously: Frugal Fashionista: Holiday Party Chic for $50
More>> Shop Around Blog | Style | Find a Spa



Want to ring in 2009 in a big way? We've got the goods. From restaurant dinners to parties to the best ways to cure those inevitable hangovers, here's our guide to New Year's Eve in Washington.
–New Year's Parties, Galas and More

–Guide to Eating Out on New Year's Eve

–What's Your Best Hangover Cure?

–A New Year's Eve-Worthy Outfit—for $100

–Bottomless Champagne and Mimosa Brunches