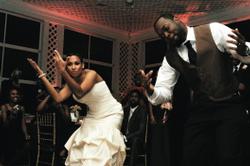 What's In
■ Bright colors. Brides are making bolder choices when it comes to flowers and bridesmaid dresses, choosing such hues as tangerine, mango, and pomegranate.
■ Mini foods. Small passed appetizers like whipped potatoes in a sherry glass and one-bite desserts—tiramisu in a demitasse or Key-lime pie on a stick—give guests a taste of something delicious without having to sit down.
■ Celebrating ethnicity. More menus and song playlists are honoring couples' family backgrounds. At one recent wedding, Occasions Caterers set up a buffet that included both Chinese food and a Jewish deli station.
■ Signature drinks. Caterers and couples are concocting cocktails that match wedding colors or mirror the event's theme—such as a sake martini for Asian-themed nuptials.
■ Going green. From serving organic and local foods to using biodegradable containers for centerpieces, couples are throwing more ecoconscious celebrations.
■ New first-dance favorites. Think less Eric Clapton's "Wonderful Tonight" and more Nina Simone's "My Baby Just Cares for Me." DJ Chris Laich of DC says that for first dances, couples are choosing everything from Kenny Chesney to Paul Anka remixes to punk rock by the Suicide Machines. One couple recently walked down the aisle to Coldplay.
What's Out
■ Going by the book. "People are less wed to tradition in terms of receiving lines and speeches," says Elizabeth Petty, owner of the Catering Company of Washington. Instead of standing half an hour or more in a receiving line, couples are spending the cocktail hour mingling with guests.
■ Garter and bouquet toss. With more couples getting married when they're older, fewer single friends are there to catch a bouquet. And why not let guests get in extra time on the dance floor?
■ Traditional desserts. Couples are offering old-fashioned or cultural favorites with a twist: personal-size wedding cakes, pie stations, and cupcake trees. At a Chinese wedding, Occasions served green-tea ice cream.
■ Formal wedding gowns. More brides are wearing modified A-line dresses, fitted through the body and flaring slightly at the bottom, says Carin Rosenberg Levine of Hitched, a Georgetown bridal salon.
■ Calla lilies. Florists say Black Magic roses and dendrobium and cymbidium orchids now top brides' lists. "We get a lot of people who say, 'We see callas in every wedding,' " says Rebecca Henry of Petal's Edge Floral Design. "They want something different."
Related:
Washingtonian Wedding Guide
More>> Bridal Party Blog | Wedding Guide | Wedding Vendor Search