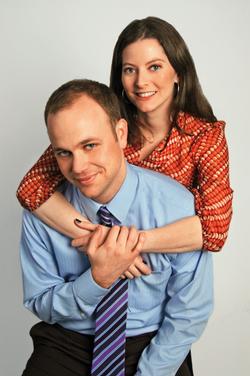 If John Paul Fawcett had met Juliette Niehuss a few months earlier, he might have asked her to dinner or a movie. But the timing wasn't right. It was January 2000, and John, a senior at the University of Kansas, and Juliette, a junior at Amherst, had both just arrived in Egypt for a study-abroad program.
"Cultural restrictions make it so you can't really go out on normal dates," says Juliette, who grew up in DC. "You could go out and have ice cream, and maybe hold hands—but even that is kind of taboo."
She and John were allowed to spend time together only in the dorm's lobby or the study room. But during an orientation trip to Alexandria, Egypt, they stayed up talking one night over Arabic tea.
Two weeks later, they took a cab to the Giza pyramids at 4 am to watch the sun rise, but the grounds were closed. While they tried to find their way in, a pack of stray dogs began to circle them. Juliette was so scared that she couldn't move.
"I'll never let anything bad happen to you," John told her. "I promise."
They started spending lazy afternoons at a pastry shop and went out for coffee and walks. "There's an armed guard on every corner," John says. "If you look like you're getting cozy, they'll give you a little stare."
A year after leaving Egypt, they got an apartment together in DC's Adams Morgan. John proposed on the couple's seventh anniversary.
"I made her waffles and got her a little tipsy on mimosas," he says.
They're tying the knot this month at the American University chapel—Juliette attended law school there; John went to the School of International Service.
"Apparently, I said yes," says Juliette.
John laughs: "We proceeded as if she did."
Engaged or married—and have a Love Story just dying to be told? E-mail lshallcross@washingtonian.com.
Related:
Washingtonian Wedding Guide
Read All Love Stories
More>> Bridal Party Blog | Wedding Guide | Wedding Vendor Search