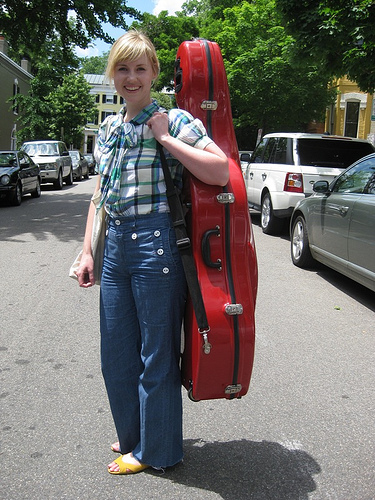 Brittany Watson, 26
Student at Corcoran College of Art + Design and cello teacher
What she's wearing: Sailor pants from Urban Outfitters ("I had to cut off the bottoms because they were five inches too long, and now they're a little too short, so—word to the wise—don't cut them off yourself!"), plaid puff-sleeve top from French Connection, $7 yellow flats from Banana Republic, her mother's (very cool, modern) wedding band, and bag from a boutique in Charlottesville ("It's funny—it was the first time I'd been there, and my souvenir was a DC-map bag!").
The yellow shoes are really fun. "I have about ten pairs of yellow shoes because I love all things mustard."
What do you think of the shopping scene in Washington? "Shopping in Washington is tough. I made a New Year's resolution not to buy anything brand new. I poke my head in at some of the stores here in Georgetown, including Annie Creamcheese, Anthropologie, and Urban Chic, which always have nice things. I like Cusp because it has lots of bright things."
How would you describe your style: "Number one, color. I'm attracted to things that are bright. I was talking to a friend the other day about how she only buys basics and I only buy signature pieces, because I'm not attracted to boring clothes. I like a mix of preppy with a mix of boho. I like things to be tailored and flirty but not overdone. No sparkles. I'm not ultra-girly that way."
Do you believe in wearing white before Memorial Day? "Yeah, I do. I'm not opposed to breaking rules."
What are you looking forward to this summer? "Well I'm moving to Copenhagen for the summer, actually. I leave on Tuesday!"
Are you packed? "Not at all."
Rachel says: What put me over the edge in stopping Brittany was her huge red cello case. Accessories make the outfit. It doesn't make sense to lug something like that around all day (I spotted her getting out of her car and going into her house), but also consider the details of her outfit: the white buttons on her jeans, the puff sleeves and bow on her shirt, the pop of yellow at her feet. Each adds to the look, and with minimal effort, it's all built in!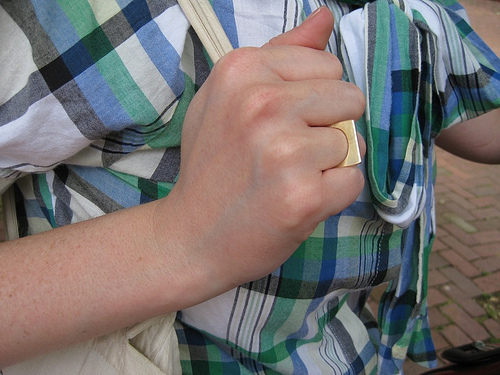 Earlier:
Video Sidewalk Style: Southern Belle
Sidewalk Style: Cardigan Cute
All Sidewalk Styles
More>> Shop Around Blog | Style | Find a Spa