We know, we've been remiss—but Frugal Fashionista is back, and we're ready to bargain shop. In case you aren't familiar with the series, we ask fashionable Washingtonians to complete a Look for Less-style challenge using either a set budget or major trend. Our fashionable bargain hunter offers his or her take on each look, but it's up to you, the reader, to decide whether it's a success or failure.
Here's the scoop on this week's trendsetter: At just 18 years old, DC native and soon-to-be Catholic University student Anatole Jenkins has a passion for fashion, which he shows off on his blog, KidGQ. We asked Jenkins to show us several iterations of a trend for men that's wearable in Washington, not just on the runway.
Jenkins loves the fashion-forward look of straight-leg pants and jeans. "Unlike boot-cut jeans, the straight-leg cut offers a closer fit and can easily be worn to showcase your ankles, which is a huge trend this summer," he says. As for finding the best fit: "Buy straight legs so they gather a tad around the ankles and fit snug around the waist." This season, he says, the look is worn best without socks.
Slim-fitting shirts best complement this silhouette, and accessorizing is easy, says Jenkins: "A great hat always tickles my buttons."
Denim Throwdown
Splurge: Dolce & Gabbana Power, $310.
Steal: Gap, $54.50.

Why he likes it: "Although you don't get the detailed stitching and zipper that come with the D&G pair, you still get the dark color wash. And really, that's all a great pair of jeans is about. As a general rule, simple is better—and the Gap pair certainly fits the bill."
War of the Whites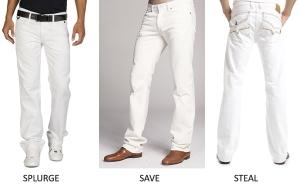 Splurge: Dolce & Gabbana Magic, $260.
Save: Acne, $150.
Why he likes it: "This pair has the same great fit and simplicity as the D&G pair, yet they offer another trend that seems to be growing at a fast pace: distressed jeans. In a great unisex fit, these jeans feature minimal tears and wear that are noticeable only through detail because of their color. And on sale for $150, they're more affordable than the D&G option."
Steal: Guess Rhodes Jeans, $98.

Why he likes it: "This pair is a great alternative because it features the dramatic white-denim look of the D&G pair but for almost a third of the price. And though the fit is a tad different than the D&G, it makes up for it with its back-pocket design that complements the color palette and balances out the fit."
Gray Gardens
Splurge: Armani Exchange, $135.
Steal: J. Crew, $98.
Why he likes it: "Though the pair from J. Crew is a bit longer and baggier, they can be rolled up, which makes them comparable to the high-on-the-ankle Armani Exchange pair. Plus, the color is almost an exact match."
Casual and Cool in Khaki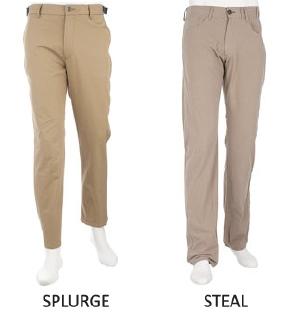 Splurge: Rag and Bone, Barneys, $275.
Steal: Paul Smith, Barneys, $93 on sale.

Why he likes it: "A great pair of khakis is important in a man's wardrobe, especially in DC. It says, 'I'm all about business, but I know how to relax.' The 'steal' is great because it offers that same relaxed feel but goes a bit further in the business department with the pinstripe print. For a more relaxed look, choose this pair from Banana Republic in a lighter color."
What we think: Jenkins has a good grasp on looks that offer a similar feel to high-end brands at affordable prices. We especially like that he's opted for stores known for their durable and classic pieces—Banana Republic, J. Crew, and Gap can provide wardrobe staples that will last for years. Pants may not be the most exciting clothes on the planet, but they're certainly an important part of any man's wardrobe.
More>> Shop Around Blog | Style | Find a Spa