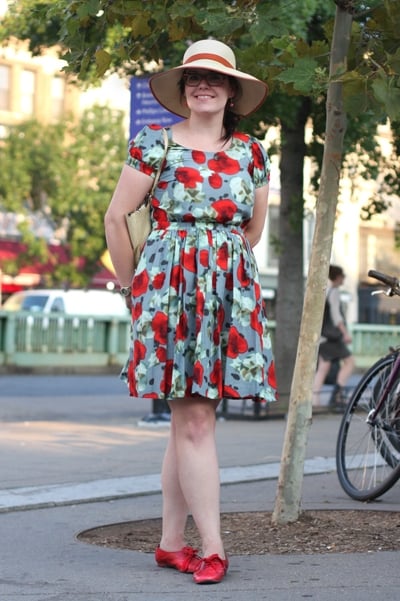 Sidewalk Style is our endless pursuit of the most eye-catching street style in Washington. The scout? Brooke Kao, of the fashion blog MOOHOOP.
Who: Kim Baker, 33
Where: DC's Dupont Circle
What do you do for a living? "I work for the General Services Administration in the Art and Architecture Program. We commission artworks for federal buildings."
I'd love to know where you got your dress. "Loehmann's. It's just happy, you know? I like red."
It's almost a '50s style. Do you watch Mad Men, by any chance? "No, but I'm so happy that the style is permeating. If you're not a stick, it's okay, because the clothes actually look good on people with a little bit of curve."
What about the glasses? "I got them in Georgetown at See Eyewear."
So where are you headed today? "I'm going to Tabletop to buy some Moleskine notebooks."
What for? "Just for taking notes. I don't like regular binders."
>> What do you think of Kim's look? Let us know in the comments below!
Subscribe to Washingtonian
Follow Washingtonian on Twitter
More>> Shop Around Blog | Style | Find a Spa