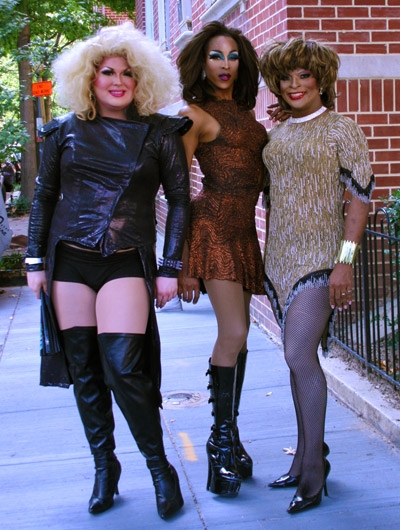 Who (from left): Ba'Naka, Jessica Spaulding, and Shi-Queeta-Lee.
Where: At the inaugural 17th Street Festival.
So who are you ladies representing?
Shi-Queeta-Lee: "We're from the Town Danceboutique, which is a gay club in DC. We do performances there, and we were on America's Got Talent last year. We also work at Cobalt, another gay club."
Are you channeling anyone in particular?
Shi-Queeta-Lee: "I'm supposed to be portraying Tina Turner doing 'Proud Mary.' "
Jessica Spaulding: "I'm just being a strumpet!"
Ba'Naka: "And I'm in the illusion of Lady Gaga."
>> Dupont's annual High Heel Race is today! Check out Where & When for details, or click here for photos from last years event.
Subscribe to Washingtonian
Follow Washingtonian on Twitter
More>> After Hours Blog | Arts & Events | Happy Hour Finder | Calendar of Events