DRESSING UP
Current Boutique
2529 Wilson Blvd.; 703-528-3079
This modern consignment store is packed with gently used, work-appropriate separates as well as casual weekend clothes, typically at one-third their original retail prices. A small collection of new pieces in the front of the store features printed dresses and tops from hard-to-find labels including Ark & Co. and Esley. Fashionistas looking to make money instead of spending it will be happy to know that Current buys pieces every day it's open, no appointment necessary. Hard-core deal hunters might want to head elsewhere: For an inventory that's more Ann Taylor than Marc Jacobs, prices here skew high.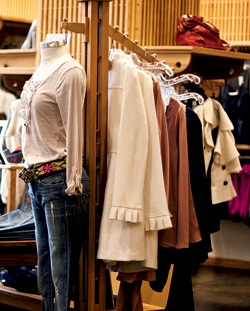 Free People
2700 Clarendon Blvd.; 703-528-6718
One of the brand's two stand-alone stores in Virginia (the other is in McLean), Free People carries artisan-inspired jewelry, chunky sweaters, and romantic lace and floral blouses for the New Age bohemian. Though the line is designed with twentysomethings in mind, a surprising number of options—especially the detail-laden jackets and statement belts—work for anyone who likes the look. The spacious changing rooms, with brightly patterned curtains, comfy benches, and plush pillows, make you feel as though you're trying on clothes in the bedroom of a design-savvy friend.
ShoeFly
2727 Wilson Blvd.; 703-243-6490
The punchy teal walls and funky footwear at this local chain are sure to brighten your mood. Shop for folksy heels from brands such as Seychelles and Miz Mooz, sturdy Frye biker boots, or affordable costume jewelry and brightly colored bags. With its small selection and playful aesthetic, ShoeFly might not be your first choice for an understated work pump, but put it on your list if you're in the market for something out of the ordinary.
Sisters3
2729 Wilson Blvd.; 703-525-3333
Part lingerie boutique, part waxing salon, this small independent store knows that a good outfit starts with solid foundations. Browse through flirty bras and panties from Betsey Johnson and the Little Bra company or stock up on double-sided fabric tape, shapewear from Spanx, or—for those dresses that call for the barest coverage possible—discreet and tasteful pasties. Getting ready for a wedding? Sisters3 carries bride-and-groom-themed undergarments and sexy nightgowns. The cheekily titled spa menu—a Brazilian wax is referred to as the Rio de Clarendon—caters to your grooming needs.
South Moon Under
2700 Clarendon Blvd.; 703-807-4083
This branch of the local chain is a reliable place for of-the-moment night-out tops, designer jeans, and luxe basics. This fall, it carries BB Dakota's adorable—and affordable—trenches and jackets, floaty blouses and blouson dresses from Patterson J. Kinkaid, and Nicole Richie's House of Harlow jewelry, filled with tribal-inspired rings and necklaces. The smaller but well-stocked men's section offers rugged flannel shirts from RVCA, sporty Alternative Apparel hoodies, and a bevy of versatile jackets. South Moon Under also boasts one of the area's best off-season selections of swimsuits.

FOR PETS
PetMAC
822 N. Kenmore St.; 703-908-7387
At this socially conscious pet boutique, shoppers can get all-natural products for their dogs while helping other four-legged friends in need—the store donates a half percent of its gross sales to the local animal-rescue organization Homeward Trails. We especially like Mutt Licks, an ice cream for dogs; Pet Head shampoos and conditioners, animal versions of the popular salon line Bed Head; and the large selection of toys and products for cats.
Wylie Wagg
2509 N. Franklin Rd.; 703-875-2007
In a refurbished brick house, this cheery store carries products for animals and the people who love them. The gourmet dog cookies and biscuits, made in New England and displayed on pretty glass trays, look tastier than many things you'd find in a regular bakery. There's shelf after shelf of speciality dog foods as well as beds, bowls, leashes, treats, and apparel. Though the Arlington store offers less for humans than the Falls Church and Fairfax outlets, pet lovers can find car decals and adorable wag more bark less cups.

FOR THE ATHLETE
Conte's & Potomac River Running Company
3924 Wilson Blvd.; 703-248-9600
Adrenaline junkies will find this gigantic fitness superstore—formed in 2009 when Conte's Bicycle and Fitness teamed up with Potomac River Running Company—the perfect one-stop shop. The friendly and knowledgeable staff helps athletes use the Aetrex iStep machine—which digitally maps footprints to give laser-accurate assessments of size, arches, and pressure points—to find the perfect running shoe, fix gear and brake problems on bikes, or pick up a wetsuit for open-water swims. The store also sponsors running teams, organizes informal runs, and hosts training classes and seminars.
Lululemon Athletica
2847 Clarendon Blvd.; 703-807-0539
This cheerful chain supplies streamlined workout wear for yoga enthusiasts, runners, and cyclists. While most fans (affectionately called Luluheads) come for the huge selection of Lycra yoga pants and leggings and supportive workout bras, its running gear shouldn't be overlooked—the shorts and pullovers are renowned for their wicking abilities. The Arlington branch offers free Saturday group runs and Sunday-night yoga classes.

GIFTS AND MORE
Arlington Arts Center
3550 Wilson Blvd.; 703-248-6800
Housed in the historic Maury Elementary School—converted into an arts space in 1976—the three-level Arlington Arts Center is a contemporary nonprofit gallery that supports emerging artists in the Mid-Atlantic. The top floor houses ten studios where resident artists work and sell their wares five times a year at exhibits. On the lower levels, you'll find a constant rotation of juried solo shows, curated displays, and experimental and mixed-media pieces. Most work is for sale; prices vary widely but rarely top $3,000.
CD Cellar
2607 Wilson Blvd.; 703-248-0635
Even in the age of iTunes and MP3s, this local secondhand music chain thrives. Vintage-vinyl collectors as well as teenagers looking for inexpensive bedroom art browse through bins of albums and a small assortment of 45s. Fans looking for real steals probably should head to the Falls Church location: Though both give off the musty vibe of old-school music cellars, vinylphiles prefer the original store for its larger selection and deeper discounts.
This article first appeared in the November 2010 issue of The Washingtonian.
Subscribe to Washingtonian
Follow Washingtonian on Twitter
More>> Shop Around Blog | Style | Find a Spa