When Jessica Blaszczak isn't coordinating the Ballston Market in Virginia, helping to manage Silver Spring's Fenton Street Market, or working in her own studio, she somehow finds time to band together with a small group who are working day and night to promote Washington's burgeoning craft community.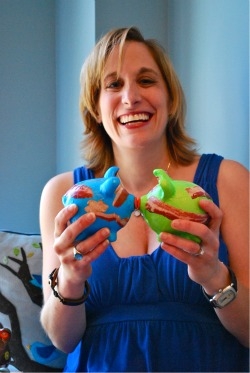 Blaszczak and her cohort call themselves the Craft Mafia. Their first Spring Thing craft show on Saturday, May 21, will feature more than 40 independent crafters from across the metropolitan area offering an array of handmade products. And although it's held in a church parking lot (St. Luke's Episcopal, nestled between Logan and Dupont circles), it's a far cry from traditional craft fairs of yesteryear. Or more recent years, for that matter. The entire show is 100 percent handmade and infused with Craft Mafia's alternative, DIY ethic. "We have a mix of vendors and something to satisfy a wide variety of interests," Blaszczak says.
Her own work takes the form of piggy banks covered in paper patterns, ranging from delicate flowers to skulls and crossbones. Sorting through the inventory in her Arlington studio one afternoon, she peers at a Redskins-logo-plastered pig. "This is my most popular pattern," she says, shrugging. "Men's stuff is hard." The markets and shows she works with make efforts to pull men into the female-heavy crafting circle. Screen-printing and funky T-shirt vendors have both shown Y-chromosome curb appeal. She points out that DC's Craft Mafia even has a male representative. He focuses on the group's Web design.
The first Craft Mafia formed in Texas in 2003. The idea spread quickly, with "mafia" groups of passionate, community-minded creatives popping up in cities such as Atlanta, Chicago, and eventually Washington. Jewelry artist Daisy McClellan learned of DC's chapter during the Mount Pleasant Temporium, where she met Blaszczak and fellow jeweler Lucia Hamilton. McClellan says she's getting a lot out of meeting fellow local crafters who advise one another. Her line, Lanyapi Designs, was featured at the Mount Pleasant Temporium, Fashion District, and the Adams Morgan Pop-Up Shop.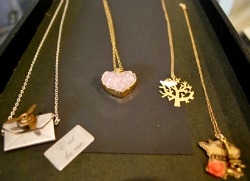 She credits those innovative events for bringing attention to the area's growing craft scene. "It's up and coming," she says. "Last year if you asked me about crafting in DC, I'd say, 'We don't have a scene.' "
Washington's Craft Mafia attends craft shows as a group, both to represent the movement and to show support for other crafters. They educate as they go, trying to break the misconception that crafting is not art. "We believe anyone who is creating what they love is an artist," Blaszczak says.
Spring Thing, six months in the making from conception, will feature musical performances by Dave Tieff and the acoustic blues band Snakehead Run. A Fojol Bros. truck is slated to park nearby, and a half dozen other food trucks are likely to appear. All they need is a partly cloudy sky and post-brunch foot traffic to guarantee a success.
But is that all it takes? Can Washington compete with the vibrant craft communities that exist in other cities twice our height?
Blaszczak has faith. "The craft scene is taking off. If you provide talent, people will come. Crafting proves that there are other outlets to art, and you can be a part of it."
Spring Thing is set to take place, rain or shine, on May 21 from 11 to 5 at the corner of Church and 15th streets, Northwest.
Subscribe to Washingtonian
Follow Washingtonian on Twitter
More>> Shop Around Blog | Style | Find a Spa