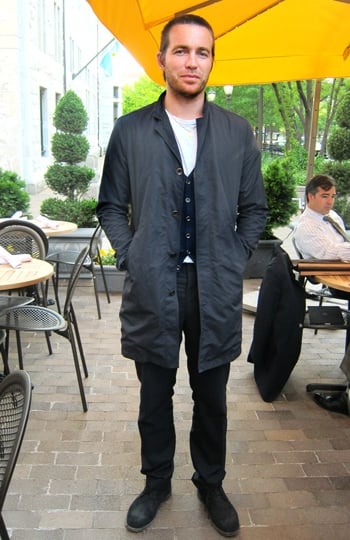 Who: David Neville, 34
Designer, Rag & Bone
Where: Fiola restaurant
What he's wearing: Rag & Bone—"aside from the boxer shorts and socks."
How would you describe your style?
The interesting thing about clothes is that whatever a person chooses to wear is usually a reflection of themselves. I like traditional clothes—I would never dress too avant-garde. I also usually dress down. My look is classic and disheveled at the same time. Rag & Bone is an extreme reflection of co-designer Marcus Wainwright and me. If I didn't want to wear my own clothes, that wouldn't be a good thing, right?
Any thoughts on Washington style?
To be honest, I don't really know. I don't think you can pigeonhole anything—generalizing an entire community by one style is hard to do. Though it seems like the people in DC are insecure about the way they dress.
Brooke says: In case you haven't heard by now, Rag & Bone opened its first standalone store outside of New York in Georgetown earlier this month. David Neville and Marcus Wainwright, the designers behind the brand, hosted a dinner in honor of the opening, and they were kind enough to invite me. Surprise, surprise—his dark cardigan/overcoat combo is the perfect example of the classic, disheveled look Rag & Bone is known for.
Subscribe to Washingtonian
Follow Washingtonian on Twitter

More>> Shop Around Blog | Style | Find a Spa