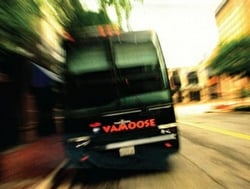 Each year as the temperature rises, so does the cost of fuel. This summer is no exception, with gas often topping $4 a gallon in the DC metro area. While commuters are feeling pain at the pump, some of the inexpensive intercity bus lines that serve Washington are not.
Sure, the buses that travel from DC to New York and other east coast cities run on gasoline, but most companies say their fares will not rise in response to the high price of fuel. Instead, some bus companies are seeing an increase in ridership, which is helping make up for rising fuel costs. None of the major carriers, Greyhound, Megabus, and Vamoose Bus, have raised ticket prices this summer.
"In the big picture we continue to see growth with passenger volume, which is more than offsetting the price of fuel," says Dale Moser, president and chief operating officer of Megabus. "We're taking advantage of this opportunity to get people out of their automobiles and onto the bus."
Moser says summer is traditionally a very profitable time for Megabus, and so far this summer is no exception. With more people traveling thanks to school being out, his company is able to pick up more riders than ever.
"We strategically just try to control the pricing and keep it at a price point that is receptive to the market," Moser says. "We'll take a view of it constantly, but right now we haven't made any decisions to raise fares."
While Megabus credits an increase in ridership with keeping ticket prices down, Greyhound has another strategy.
"Greyhound builds in the cost of fuel as part of its cost of business," says spokeswoman Maureen Richmond, adding that like Megabus, Greyhound has seen an increase in ridership since gas prices spiked. "So Greyhound doesn't need to worry about raising fares."
While Greyhound may be immune to high gas costs, its sister company Bolt Bus is not.
"Bolt Bus conversely has raised prices slightly because it's a curbside service," Richmond says. "It's a different model, of course. As a curbside carrier it doesn't have a lot of the overhead you get with a Greyhound."
Richmond was unable to say exactly how much Bolt Bus has increased prices, and a quick glance at their Web site shows it's difficult to even see the difference: Same-day fares to New York are still running at about $25, while advance purchase tickets about a month away are as low as $13. Richmond does say Bolt Bus fares are unlikely to increase again this summer. In fact, if fuel costs drop back down in the fall she says there's a possibility that ticket prices will decrease.
Despite raising ticket prices, Bolt Bus has not seen a decrease in ridership.
Subscribe to Washingtonian
Follow Washingtonian on Twitter
More >> Hotel Finder | Weekend Getaways | Great Getaways Blog