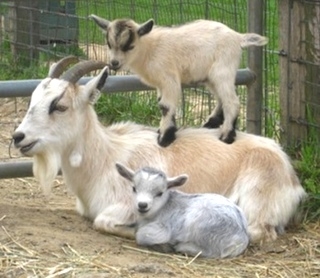 Clark's Elioak Farm
10500 Clarksville Pike, Ellicott City, Md. 410-730-4049
Step through the castle facade of Clark's Elioak Farm in Ellicott City and you're sure to hear laughter. This 540-acre cattle, sheep, and vegetable farm is a family favorite thanks to its simple pleasures.
The Clark family has been operating the Howard County farm since the 1930s, and over the past few years Elioak began adding attractions to entice more visitors. In 2006, the Clarks rescued and restored dozens of storybook statues from a now-shuttered theme park, the Enchanted Forest. Today the big statues of fairytale characters, such as Mother Goose and Cinderella with her pumpkin coach, are scattered throughout the property. Children can shoot down the slide from the Old Woman's story-high shoe and climb aboard a grinning boat called Little Toot.
A maze created with tall pine trees and fairytale relics, such as Little Red Riding Hood, was added two years ago. Elioak has a petting zoo with sheep, donkeys, chickens, bunnies, and an emu. Goats are the standouts, with angoras, pygmies, and alpines that children are welcome to feed. The farm also offers hay rides over its pastures ($2) and pony rides in the pen ($2).
Many families make a day of it, picnicking at tables provided by Elioak, which sells snacks including chips and ice cream.
Before heading home, you can stop at the farm store to buy local, free-range beef and lamb. The farm also sells pick-your-own flowers and herbs.
Entrance fee is $5 a person.