Eriksdotter's bright paintings make perfect wedding gifts. Photograph by Casey Collings
One of the perks of being a bride is carrying around a gorgeous floral arrangement all day. Unfortunately, unless you're careful, the flowers will probably start wilting by the end of the night. Drying a bridal bouquet has long been the only way to preserve its memory, but a Reston artist has come up with a different solution.
Erica Eriksdotter, a native of Sweden, paints portraits of a bridal bouquet, a venture that combines her love of creating original art (her grandfather was a talented watercolorist) and flowers (her mother is a florist and she cites Georgia O'Keefe as a major inspiration).
A self-trained painter, Eriksdotter sold her first painting in Sweden when she was just ten years old. After moving to Washington to study communications at George Mason University, a friend asked her to create a painting for as a wedding present to his future wife. She decided to paint the bridal bouquet, and the rest is history.
"I love painting bouquets," says Eriksdotter. "I really get filled with the joy of the occasion, and enjoy getting a peek at a couple's special day."
The process simple: Book Eriksdotter well in advance of your wedding day (because the paintings take 50 to 100 hours each, she only takes about 20 custom orders a year), and be sure to tell your photographer to take some close-up shots of your bouquet. Then, send Eriksdotter the photos and she'll create a painting either on a square canvas (starting at 18 inches by 18 inches) for a round bouquet or a rectangle (starting at 20 inches by 16 inches) for a cascading arrangement. She'll also help you decide a background color, usually a shade that matches your wedding color scheme or home décor.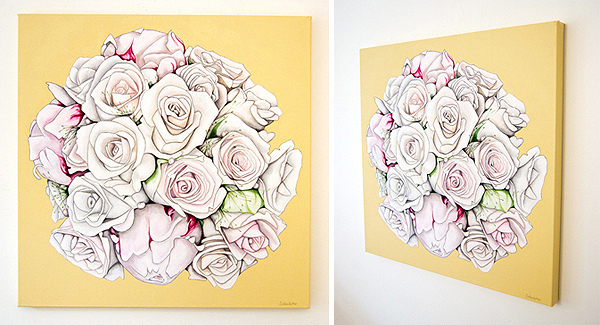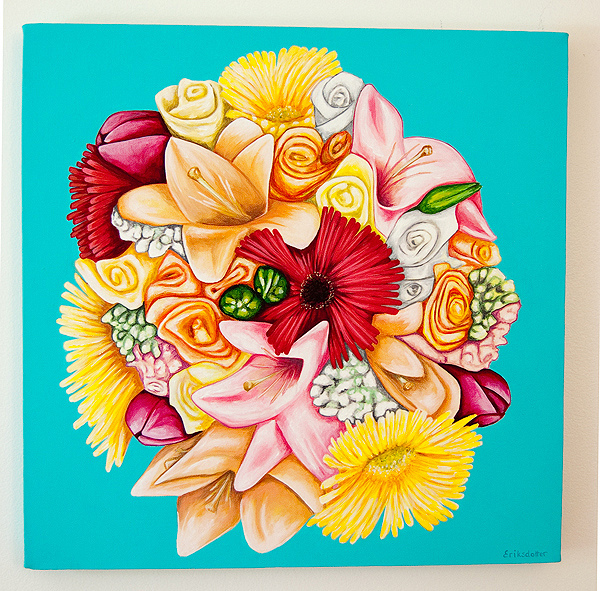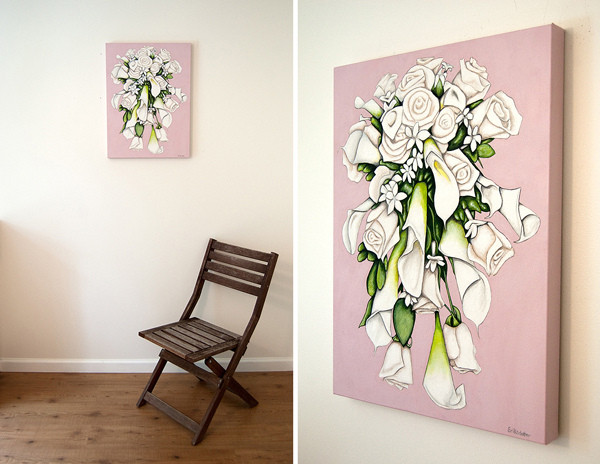 While some couples purchase the paintings themselves, Eriksdotter finds that her bouquet art often serves as a unique gift: a wedding present from a group of bridesmaids (she can create a personalized "gift certificate" to give the newlyweds) or an anniversary gift between spouses.
"I have been so surprised by how many men order this for a wedding anniversary present," says Eriksdotter. "It's so romantic."
The paintings start at $475. Eriksdotter ships worldwide, but she can schedule delivery or pickup to Washington-area residents. If you'd like to view her artwork in person, she'll be at the Arts on Foot festival in Penn Quarter on September 10 and 11, as well as the Washington Bridal Showcase at the Patriot Center on September 18. Visit Eriksdotter's Web site for more details or to order.
Subscribe to Washingtonian
Follow Washingtonian Bride & Groom on Twitter
More>> Bridal Party Blog | Wedding Guide | Wedding Vendor Search