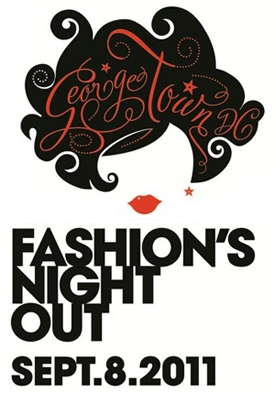 Washington's second annual Fashion's Night Out is taking over the city in a big way this Thursday. Stores in your favorite shopping neighborhoods are staying open late, filling with theme parties, promotions, and cocktails, and even offering up a few special discounts and gifts with purchase. Come support Anna Wintour supporting retail therapy, and bookmark this handy guide to make sure you don't miss any of the best events. Happy shopping!
PS—Can't wait two more days for the fun? Keep yourself entertained with our street style pictures from last year's event, or watch Lea Michele strut her little Balenciaga-clad heart out to David Bowie's "Fashion" in the Glee promotional video. And if you know of any other can't-miss events, tell us about them in the comments.
The official Washington sponsor of Fashion's Night Out, Georgetown is staying up late with the most concentrated selection of parties, sales, and cocktails in the area. Many stores will be open until 11 PM, but check with individual stores for hours. Here's what we'll be hitting up:
Aldo | 202-337-1515
Gift with $50 purchase.

AllSaints | 202-595-9828
The British rocker label (click here for a photo preview of the store)) stays open until 11 with music, style makeovers, food, and drinks.
Appalachian Spring | 202-337-5780
Author and style expert Amy E. Goodman will be signing copies of her book Wear This, Toss That from 7–8:30 PM. There will also be an Anna Balkan jewelry trunk show.
BCBG | 202-333-2224
Open until 11 with 20 percent off regular price merchandise (worth it for the sexy-fierce leopard and pink selections they've currently got in stock), gift with purchase, champagne, and appetizers.

Betsey Johnson | 202-338-4090
Skinnygirl margaritas, candy treats, and live Candyland models will make for a sweet evening of shopping.
Babette | 202-339-9885
This newly opened San Francisco import is hosting make-up artist Carl Ray (a Washingtonian and Washingtonian Bride & Groom Favorite) and hair stylist Ismail Tekin for beauty consults from 7 to 9 PM.
BlueMercury | 202-965-1300
Anniversary gift with purchase of $100, plus complimentary champagne and sweet treats. You can also meet with Lance Etchison, whom we named Best Eyebrow Wax, for a brow and skin care consultation.
Calvin Klein Underwear
The recently opened purveyor of our favorite underthings is staying open until 1 with product discounts, complimentary bra fittings, and refreshments.
Charm | 202-298-0420
Champagne and 10 percent of all purchases of $100 or more.
City Sports Georgetown | 202-944-9600
Get 15 percent off your entire purchase, plus a raffle, food, and drinks.
CUSP | 202-625-0898
Get a gift with purchase, plus a chance to get your glam FNO outfit shot in Walter Grio's photobooth. 8 to 10 PM.
Darrell Dean | 202-333-6330
The antiques store will reprise last year's "Living Pictures", with models interacting with furniture and high end design pieces. Stop by if you're in the mood for a little fashion-focused performance art.
Diesel | 202-747-7855
Meet DJ Samy K from radio station HOT 99.5 and enjoy food, wine, and cocktails.

The Gap | 202-333-2805
Get 25 percent off your purchase of $100 or more.
Get Hitched in Georgetown
At "Get Hitched In Georgetown," watch 50 engaged couples compete for the ultimate prize—a free wedding at Sequoia with all the trimmings, from a designer wedding gown to a grand wedding cake to a honeymoon wardrobe. The contest will be held at TD Bank Georgetown starting at 8:30 PM, and Kim Forrest, Washingtonian's very own bridal blogger, will be a judge. Click here for more details.
Hu's Wear and Hu's Shoes | 202-342-2020
Hu's spring and summer collections will be a whopping 80 percent off until 11 PM. You'll also get the chance to see vintage pieces from the Hu's archive and preview fall collections.
Hugh & Crye | 202-250-3807
The homegrown men's shirting brand opens up their Wisconsin Avenue offices for music, refreshments, and a gift with purchase.
Juicy Couture | 202-337-4131
Get 20 percent off full-price merchandise.
Kiehl's | 202-333-5101
A carnival-themed party will take over the space until 11 PM with cocktails, games, raffles, samples, and discounts.
Lost Boys | 202-333-0093
Kelly Muccio turns her men's boutique into an old-fashioned haberdashery with traditional straight razor shaves, shoe shines, and a barber shop quartet. Scotch tutorials will be offered from 6 to 9 PM.
LUSH | 202-333-6950
Hand and foot treatments will be available in a disco-party atmosphere. Open until 11.
M29 | 202-295-2829
Meet Fashion Washington assistant editor Katherine Boyle from 8:30 to 9:30 PM amidst a '70s-themed fall fashion party.
Madewell | 202-333-3599
The J. Crew offshoot hosts Treasury and Pretty People Vintage pop-up shops, and offers a dotted denim tote (while supplies last) with purchases of $150 or more.
Nectar Skin Bar | 202-333-4332
The spa's backyard Garden Beauty Party will feature refreshments, skin consultations, mini-treatments, drawings, and gifts.
Second Time Around | 202-333-2355
The consignment chain offers 20 percent off new arrivals and 70 percent off summer styles.
Urban Chic | 202-338-5398
A Shoshanna pop-up shop (sure to be filled will adorable girly dresses) makes it's grand debut, and you'll receive 15 percent off all Shoshana purchases. Food from Freshii, cocktails, fashion jeopardy, and an appearance by K Street Kate round out the party.
2001 International Drive; McLean, Virginia; 703-827-7730; 6 to 9 PM.
At Anne Fontaine, a glam rock DJ, "Barock'n Roll" cocktail, and an in-store candy bar make the party, but there's also gift card raffles and a chance to win a Gabro evening bag. You'll also receive a vintage-inspired T-shirt, created exclusively for Fashion's Night Out, with any purchase of $250 or more. Be one of the first to spend $150 or more at J. Crew and you'll receive a custom Fashion's Night Out tote (limited quantities available). Elie Tahari, Stuart Weitzman, Nicole Miller, and Vineyard Vines are also offering gifts with purchase. Saks Fifth Avenue puts a health-conscious spin on the night with appearances by Laurent Amzallag, former trainer for Oprah's Live Your Best Life tour, and Dr. Jen Faber, who served as chiropractor to Lada Gaga's dancers. Chefs from area restaurants will dole out healthy goodies, and the department store will also unveil Brian Atwood's hotly anticipated diffusion shoe collection.
1961 Chain Bridge Rd; Tysons Corner, Virginia; 6 to 8 PM.
BareEscentuals is offering a free tote bag with any $50 purchase. There will be complimentary cupcakes and champagne at bra boutique Intimacy, and the first 50 guests will receive a free goodie bag. Nine West is offering $15 off a purchase of $100 or more. Receive a crystallized compact with any $150 purchase at Swarovski, or grab a red velvet cupcake or crystal tattoo just for stopping by. Starting at 6 PM, Nordstrom offers trend seminars, feather hair extensions in the t.b.d. department, and a local artist will be on hand to airbrush personalized designs on your Toms shoes.
Neiman Marcus Mazza Gallerie

5300 Wisconsin Ave., NW 202-966-9700; 6 to 9 PM.

The Mazza Gallerie store will have a fall fashion runway show at 7 PM, a Michael Kors presentation, cocktails and treats, live music from a capella group The Butterflies, and a photo booth. To RSVP, call 202-274-3911 or e-mail RSVPWashington@NeimanMarcus.com.
118 N. Fayette St., Alexandria; 703-535-6748; 6 to 11 PM.
Alexandria's plus-size vintage boutique stays open until 11 with a fashion showcase featuring Ear Candy Accessories, PopUp Plus, and plus-size designer Curvysta. There will also be food, music, and prizes.
Subscribe to Washingtonian
Follow Washingtonian on Twitter

More>> Shop Around Blog | Style | Find a Spa