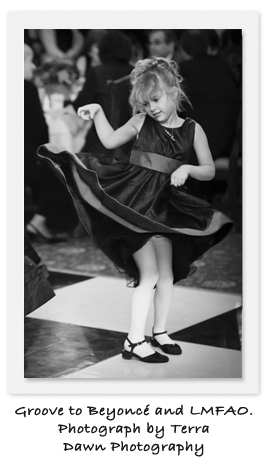 For the past few weeks, several area DJs have provided their dream wedding reception playlists. Today, we asked Shelli Lord-Cinotti, leader of the wedding dance band NightLife to share her group's recent favorites.
Listen to Lord-Cinotti's playlist on Spotify (if you don't have Spotify, download it here).
Bridal Party Entrance: "Crazy in Love" by Beyoncé, featuring Jay-Z
Couple's Entrance: "Right Here, Right Now" by Fatboy Slim
First Dance: "Come Away With Me" by Norah Jones
Father/Daughter Dance: "My Little Girl" by Tim McGraw
Mother/Son Dance: "Don't Blink" by Kenny Chesney
Cake Cutting Song: "How Sweet It Is (To Be Loved By You)" by James Taylor
Song to Play During Dinner: "Your Love Is King" by Sade
Song to Get Everyone on the Dance Floor: "Party Rock" by LMFAO, Lauren Bennett, GoonRock
Slow Song: "At Last" by Etta James
Last Dance: "Don't Stop Believin' " by Journey
Did you have an amazing wedding playlist? Send it to us at kforrest@washingtonian.com and we'll post it on the blog!