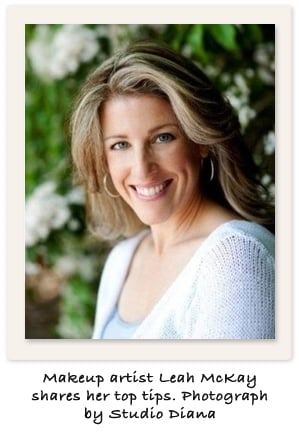 Leah McKay is a Falls Church makeup artist who has worked for such major cosmetic companies as Bobbi Brown and Estée Lauder. Today, she answers your questions on taking inspiration from celebrities, avoiding pimples, and airbrush makeup. Check back tomorrow for part two of her Q&A!
CELEBRITY INSPIRATION
Question: I've heard it's a good idea to show your makeup artist photos of celebrities whose makeup you want to emulate on your wedding day. I love how Taylor Swift does her makeup, but I look absolutely nothing like her. Should I only show my makeup artist photos of celebrities I look like?
McKay says: "Photos can certainly be helpful to illustrate the kind of "look" that you have in mind for your wedding makeup, whether a celebrity, model, or even photos of yourself to show how you've liked your makeup for special events. However, it's essential that your makeup artist spends some time talking with you, and asking the right questions to determine your own personal style and comfort level."
• • •
PIMPLE PROBLEMS
Question: I am terrified of waking up the morning of my wedding with a giant pimple. How do I prevent this from happening, and do you have any tricks to quickly get rid of a zit if it does?
McKay says: "Many brides have experienced the worry of waking up with a giant pimple! Your best bet is preventive action. Work with your artist to determine gentle, simple skin care with products that are right for your skin. In addition, get plenty of sleep, drink lots of water, pay attention to what you eat, add in Omega 3's (like fish oils and flax) and try some relaxation techniques when you're feeling anxious or stressed. If one does happen to show up, don't squeeze it or try to exfoliate it away, because it will only get worse! Let it be, and trust you makeup artist to do what they do best."
• • •
AIRBRUSH MAKEUP: YEA OR NAY?
Question: I've been hearing a lot about airbrush makeup. What are the pros and cons?
McKay says: "Airbrush makeup has gained popularity with brides, and there are pros and cons to employing this technique. There are two basic formulas, water-based or silicone. A water-based formula feels very light on the skin, and looks quite natural. The silicone finish illustrates the "flawless" face that many see in magazines, but it has a plastic appearance in person, and you can feel it, so it doesn't really translate well for bridal makeup. While the photos are important, your family, friends and husband are seeing you up close! The former choice is optimum for women that don't generally wear any makeup at all, because the finish is lovely, and it can last for hours. However, a highly skilled artist can provide beautiful results through traditional makeup methods just as easily."
Be sure to visit Leah McKay's Web site for more information, and check back tomorrow for part two of the Q&A with Leah!