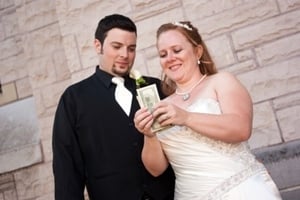 My daughter wants to ask for cash instead of wedding presents. Is there a tactful way of doing this?
There are online registries where guests can contribute to a honeymoon fund, a mortgage fund, or a larger gift. You daughter can certainly register with one of these and inform guests who ask about where she is registered. There are also stores that will give cash for returned wedding gifts. But there is no tactful way to tell guests it's the money, not the thought, that counts. She needs to remember that wedding guests are being invited to share her joy, not underwrite her future.
Do I have to invite my mother-in-law wedding dress shopping? I know she'd love to come, but I feel uncomfortable having her there.
Shopping for a wedding dress is an intimate experience, and your discomfort is understandable. Would you be okay with having her join you for your first fitting, once your dress is selected? That way she can still be part of things.
Do you have an etiquette question for Leslie? E-mail kforrest@washingtonian.com and we'll get you the answer.